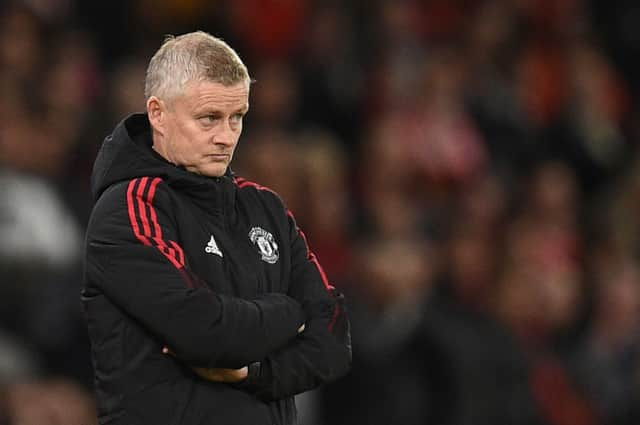 This is on the back of the Red Devils' humiliating loss against Liverpool on Sunday, where Jurgen Klopp's men won 5-0 thanks to goals from Naby Keita, Diogo Jota and a hat-trick from in-form Mohamed Salah.
What's been reported?
Jamie Jackson and Fabrizio Romano claimed on Monday that the club's managing director Richard Arnold had cancelled all appointments that day to hold talks with Glazer.
The Guardian also reported that several players are questioning Solskjaer's position and there is a belief he is not good enough for his current role. "The 48-year-old is considered tactically underwhelming, while being well-liked by the squad and within the wider club," they added.
Elsewhere, ESPN have said only the "British players and a small number of the team's overseas players" still back Solskjaer.
They also state the Liverpool defeat amplified existing doubts, and that players have grown irritated by his '"favouritism" of certain members of the squad and his inability to sort the club's defensive issues.
According to ESPN, Solskjaer has failed to "impose his authority" over the team's forwards and the squad want clearer tactical instructions from the manager.
The Manchester Evening News echo those reports and claim several first-team stars are surprised at the lack of opportunities afforded to Jesse Lingard and Donny van de Beek, while the club are not responding to requests about Solskjaer's future.
Meanwhile, the Telegraph state the players no longer trust Solskjaer's judgement and question his decision to assemble a big squad and then freeze out the likes of Lingard, Van de Beek and Eric Bailly.
Reports also emerged from the Daily Mail that Solskjaer was at the club's training ground for around two-and-a-half hours on Monday and is preparing for the Spurs game, although no assurances have been given that he'll still be in a job by then.
Reporter Chris Wheeler described United's silence throughout the day as "deafening" given Solskjaer has previously been unequivocally backed by club sources. According to the Mail, Joel and Avi Glazer held talks with Ed Woodward and Arnold on Monday.
Who could replace him?
The Guardian claim Antonio Conte would be interested in the role and would accept an offer mid-season as he considers the United position "a special opportunity".
According to ESPN, there is a reluctance from the club's hierarchy to turn to the former Chelsea boss due to his "abrasive" style, but it's acknowledged he's the best available option at present.
The Telegraph also are reporting that Conte is interested in the role but there are concerns at Old Trafford that his style is too similar to that of Jose Mourinho.
They also claim Mauricio Pochettino is a long-term target but it is unlikely Paris Saint-Germain would let him leave during the season.
Why has the pressure built?
Results simply haven't been good enough of late. United have won once in the last four in all competitions, have picked up a solitary point from the previous four league matches and have already been eliminated from the Carabao Cup.
But it's also the performances which have caused concern. From 13 games in 2021/22, United have only really played well once and that was in the season opener against Leeds United. Against Liverpool, Leicester City and Villarreal they were dominated and United have also dropped points to Southampton, Aston Villa and Everton.
In addition, the Red Devils are struggling to keep clean sheets - they've registered just one shut out in each of the last 21 matches and have conceded 11 in the last three.
The summer transfers have also warped the perceptions and expectations of fans. The arrivals of Raphael Varane, Jadon Sancho and Cristiano Ronaldo were supposed to indicate a new dawn at Old Trafford, one in which they could compete for major silverware. Instead, United never looked further from that under Solskjaer's tenure.
What has Solskjaer said?
"I have come too far, we have come too far as a group. We are too close to give up now," the 48-year-old told reporters on Sunday evening.
"I do believe in myself, I do believe that I am getting close to what I want with the club, what we've done, what I've seen, the development. The results lately haven't been good enough, it's hands up and that brings doubt in anyone's mind probably, but I've got to keep strong and believe in what we're doing.
"Today's rock bottom [and we're] low in confidence. Next week is Tottenham away, then it's a Champions League game at Atalanta and the next team who visits us is Manchester City. We have to make sure we go into the next training session in the right frame of mind."
"It is not easy to say something apart from that it is the darkest day I have had leading these players," Solskjaer added.
"We were not good enough individually and as a team we can't give a team like Liverpool those chances but we did. I am sad, disappointed and angry of course. My emotion doesn't matter apart from what we do to improve and make sure it doesn't happen."