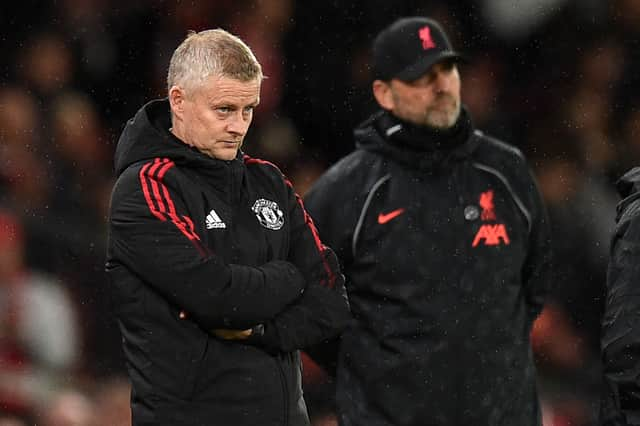 Those 6-1 losses to Manchester City and Tottenham Hotspur, in 2011 and 2020 respectively, were humiliating, but even they felt like something out of the blue as United were hit by quickfire goals and impacted by dismissals - by the time Paul Pogba was sent off on Sunday it was already 5-0.
The big difference is, this wasn't a freak performance, in fact it felt so predictable that United would be easily dispatched at Old Trafford, although few could realistically have guessed it would be quite so emphatic.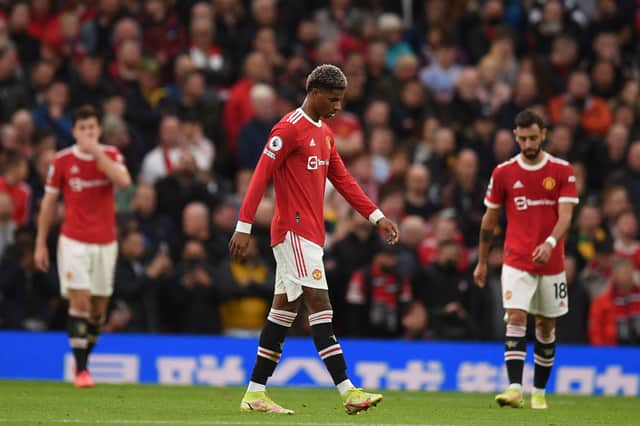 If anything indicates just how embarrassing it was for the Red Devils, chants of 'Ole's at the wheel', 'Ole, give us a wave' and 'can we play you every week?' from the away end show how far the gap remains between these great clubs.
Evidently, conceding four first-half goals is humiliating for any side, let alone Manchester United, but the ease by which Liverpool tore through them was truly remarkable, especially given the visitors weren't really at their best in the opening stages.
Then there was the defending… an amalgamation of individual mistakes, disorganisation and plain fear made the defence look amateurish, and all four of Aaron Wan-Bissaka, Victor Lindelof, Harry Maguire and Luke Shaw seemed determined to present Liverpool's ruthless attackers with as many shooting opportunities as possible.
As for the shield of Scott McTominay and Fred, in a few months they've gone from a vital yet unloved component of a good side, to an utterly irrelevant part of a haphazard team.
Then there's Cristiano Ronaldo, who will either come up with an injury-time winner or simply impede a team who desperately need everyone to be singing from the same hymn sheet. At the moment, he's whistling along to his own tune.
Put it all together and you get a disjointed side, lacking structure or any chance of dominating games, or keeping clean sheets. Yes, there will be victories against poorer opponents, maybe even the odd win over a stronger outfit, but it's impossible to effectively maintain that over a season. Serious changes need to be made if they have any hope of competing with the top sides.
If the first 45 minutes were the stuff of nightmares, the second was like sleep paralysis, watching and wondering if any of this is real and how much longer it'll go on for.
Mohamed Salah netted his third, and Liverpool's fifth, with 40 minutes left, before Paul Pogba showed the sort of ill discipline he's become all-too synonymous with. From there the 10 men of United sat behind the ball, struggling to get a touch as Liverpool nonchalantly knocked it about, while a touch from the hosts drew ironic cheers from the visiting masses.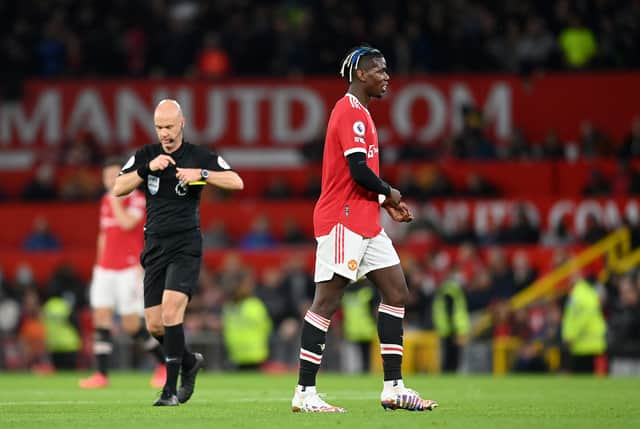 At times it was like watching the Year 9 side take on Year 7 - is anyone really benefiting from this? In reality, it was the difference between a well-coached team and one evidently in need of clear instructions.
While Solskjaer will dominate Monday's headlines, serious questions must be asked of the players, who lacked any spirit, courage or ingenuity.
In midweek, they played like a team who still believe in their manager - Solskjaer was even irritated by the mere suggestion his players would give anything less than 100% - but Sunday was a showing where every player was off the pace and looked overwhelmed.
When United went down to 10 men the manager opted to go with a 5-3-1 shape, similar to the debacle against Young Boys, and kept the immobile Ronaldo up front while Edinson Cavani dropped into centre-midfield. Solskjaer just repeated the same mistakes he made in Bern and it was only Liverpool's shyness in front of goal that prevented the scoreline from increasing.
This just goes against the grain of what happens for the Norwegian in these spells, when he's in dire need of a result. Normally he puts together a run that abates the criticism for a while, but since the international break there have been three poor performances which have resulted in two defeats and an unconvincing victory.
But this just feels so different from previous times. The summer signings have warped the perception and expectations around Old Trafford and in truth, Solskjaer has run out of excuses.
This is worse than the period which resulted in Jose Mourinho losing his job in December 2018, yet there's no immediate sense Solskjaer has used up eight of his nine lives. Next, it's Mourinho's old side, Tottenham, where a defeat in the capital would pose more unwanted questions for Solskjaer and the United hierarchy.
While that could be the final nail in the coffin, Sunday very much felt like the beginning of the end, the first pages of the closing chapter. The manager was starting to lose the support of regular match-goers prior to Sunday and a defeat of this magnitude will only reinforce the feeling to many that he's out of his depth in the Old Trafford hotseat.
This may not be the result which sees Solskjaer leave United, but it may be one which ultimately seals his fate.