From being homeless and starting out in cooking by making meals in her kitchen and having them delivered via JustEat to having two Greater Manchester restaurants - it's fair to say Yetti Tabai has been on something of a journey.
The entrepreneur behind Yetti's Kitchen has spoken about the humble beginnings of her Afro-British cuisine and the high hopes and ambitions she has for her business.
Yetti's Kitchen is taking its biggest step so far by bringing its menus of Nigerian and Caribbean food to Manchester nightlife hub the Printworks.
And if all that were not enough, Yetti is also a musician and has been involved in projects ranging from supplying food to private airlines to feeding Manchester's rough sleepers.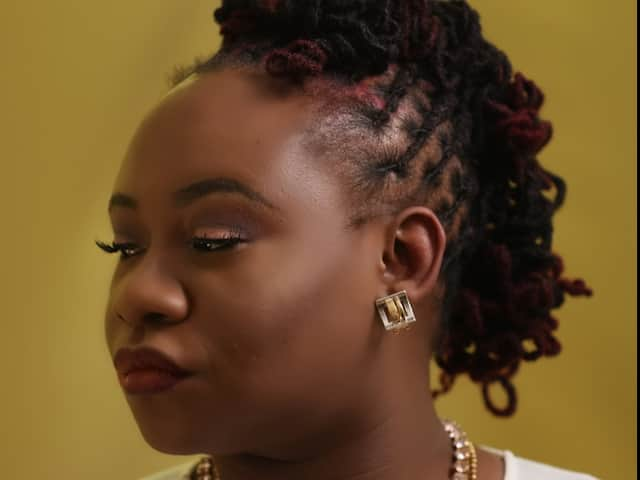 An extraordinarily tough first few years in the UK
Yetti's arrival in the UK from Nigeria where she was brought up did not go smoothly. She came over to Britain having already graduated Nigerian high school and wanting to go on to study at university.
However, she was told she was not old enough and had to be enrolled in the UK school system to do her GCSEs and then her A-levels.
When she was finally able to go to university and got onto a law course at Luton (now the University of Bedfordshire) another disaster then struck when she was refused her student loan.
Despite some desperate attempts to make ends meet, Yetti eventually ended up on the streets.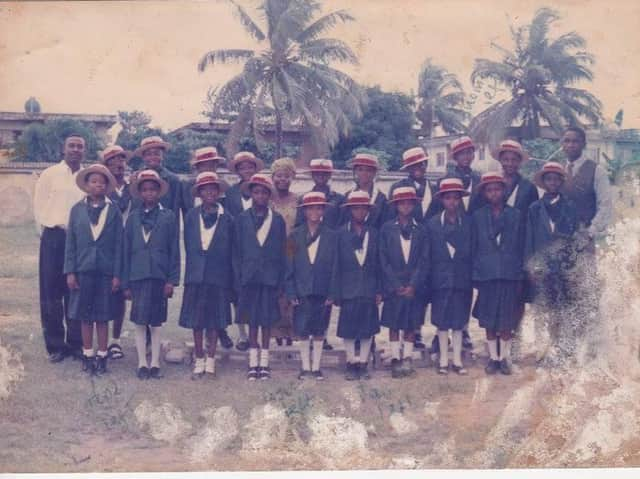 She said: "Within the first three months at Luton I was owing for student accommodation and had student fees to pay for. While studying a full-time law degree I started working at Nandos.
"I got a bicycle because I couldn't afford the bus and cycled to Nandos and back seven days a week. I used that to pay off my uni fees but couldn't afford the rent and got kicked out.
"I ended up in a homeless shelter but they kicked me out as well because they said that if I was going to uni I wasn't really homeless."
Yetti says salvation arrived in the shape of a Good Samaritan, a woman from Cameroon who she met through a church and who took her in for six months.
The restaurant Yetti's Kitchen now has 10 portraits showing the people who have played the most important roles in the business' journey and Yetti says the woman, who she calls her stepmum, is among them.
Getting into cooking
Yetti was living in Milton Keynes when she first started cooking for other people. Her first foray into a kitchen was not exactly auspicious - her grandmother in Nigeria telling her she was "a terrible cook" and not letting her help out when she asked.
However, in the UK when she started making meals for her family and friends she got extremely positive feedback, which she described as "a breath of fresh air".
Even though she was working a nine-to-five job at the time, she decided to see how far her skills in the kitchen would take her, using the knowledge of technology she had gained through a customer service role at Carphone Warehouse to distribute her food to customers via ordering online.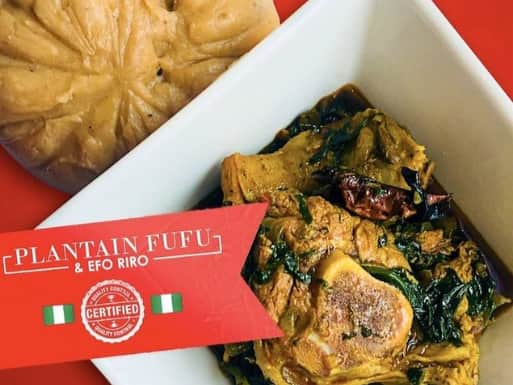 She said: "When I got home from my job I would cook and then give it to the delivery drivers to send out through Just Eat, I did that until I moved to Manchester.
"I got great reviews on Just Eat and I thought this was a way forward."
How Yetti's Kitchen was born
A self-confessed nomad, Yetti moved to Manchester almost four years ago after her husband was working in the area and admitted she fell in love with the place.
Yetti's Kitchen followed in Eccles as Yetti served up what she called her Afro-British food, which involves classic Nigerian dishes such as jollof rice with some unusual twists that perhaps would not generally be found in kitchens in the West African country.
She said: "There are really no rules in cooking. If it tastes good we do it. You would typically get chips in a British restaurant so I put rum-tendered chicken on them.
"Everything has been an experiment with putting in things you wouldn't expect in Nigerian food. It's all about the flavours."
However, Yetti says that when she opened in Eccles there was a major problem in that Nigerian food was not as well known as other cuisines from around the world.
She decided to branch out somewhat and put some Caribbean dishes on the menu as well, which quickly got diners coming through the doors and being happy to try out some West African food for the first time under her guidance.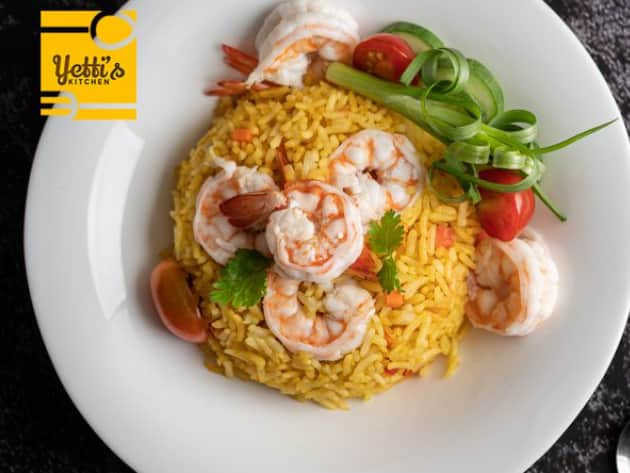 She said: "Opening in Eccles was a rude awakening. For almost a year we basically had no sales. I would sit there crying my eyes out.
"I had a thoroughly Nigerian menu and no-one knew what was on it. There aren't many Nigerian chefs on the scene and people had heard of Nigeria but didn't know what we eat.
"Caribbean people have done a great job of introducing their cuisine to the British public, everyone knows curry goat and jerk chicken. I included some of these dishes and people came in for their jerk chicken or their curry goat.
"I would then suggest that they try jollof rice as a side dish. They would try it and then they got what Nigerian food is."
Something else Yetti is passionate about raising awareness of is the history and tradition of plant-based cooking in African culture, a subject she explored in her recipe cookbook African Vegan.
She said: "When most people think vegan they don't think of African ingredients but we have quite a few things that are vegan. Our stewed beans and lentil dishes are vegan and jollof rice, the national dish of Nigeria, can be made vegan as well.
"A lot of what we eat is vegetable-based. Meat and fish was something you couldn't afford, if you could have beef or chicken you would have to be rich. Animals were mainly kept for milk or clothing.
"Now people want meat and fish but for a long time they couldn't get them. Our traditional dishes were literally from the trees, herbs and plants around us."
Opening up in the Printworks
Yetti says the arrival of her business in the Printworks, where the second Yetti's Kitchen is opening up thanks to a link-up with Brazilian cocktail bar Floripa, is a huge step forward.
The second Yetti's Kitchen will have a somewhat different menu to the restaurant in Eccles as she hopes to create a place the city centre clientele will want to head for.
"In Manchester we've got things like African burritos and lamb chops. Going into the Printworks is amazing, it's a major thing for us. We will be in a position where the high-flier clients are. You can get straight from the airports to the city centre, go into the Printworks and get some good African, Caribbean or British food with our twist."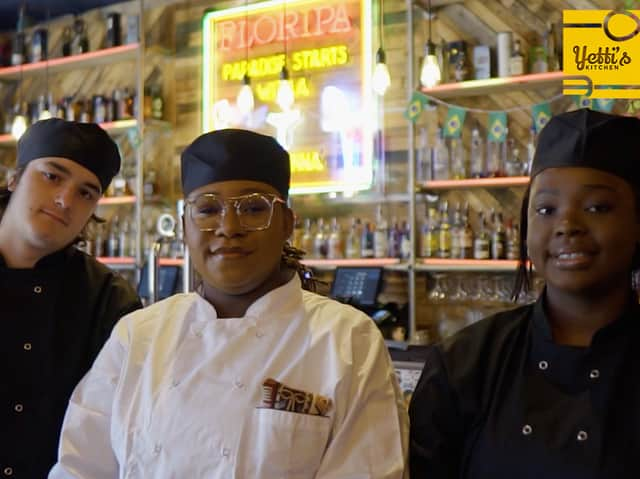 Nevertheless, Yetti's Kitchen is expanding into the Printworks at a time when the hospitality industry is finding it tough going, with the cost of living crisis meaning people are cutting back on discretionary spending like going out to eat when the cost of everything from ingredients to utilities is going through the roof.
Yetti admits to a little trepidation about this next move for her business, saying she can only begin to imagine how tough people are currently finding things financially, but says she hopes that by running a tight financial ship it can thrive.
She says the restaurant is committed to paying staff fairly, using good-quality ingredients and delivering service with a smile.
An entrepreneur with many strings to her bow
Running Yetti's Kitchen is far from the only thing Yetti has on her plate. She is also a very keen musician and has brought out her debut single Beautiful Liar, which she describes as a mix of rock and funk sounds, with the hope of putting an album together by the end of this year.
She says the lyrics to Beautiful Liar, which is about just how attractive the entirely-false narratives some people weave can be, was also partly inspired by the restaurant business.
She said: "In a restaurant you hear all different stories of heartbreak. If you are happy you go to a restaurant, if you are sad you go a restaurant. It's about experiences I've listened to as a chef."
Yetti says her love of music also plays a vital role in her cooking and the restaurant itself.
She said: "Music is a major part of a restaurant, boring music affects your experience of one. I'm known as the 'headphone chef' because I always have a pair of headphones on.
"The restaurant environment can be very chaotic and you need good music to get your head in the right place."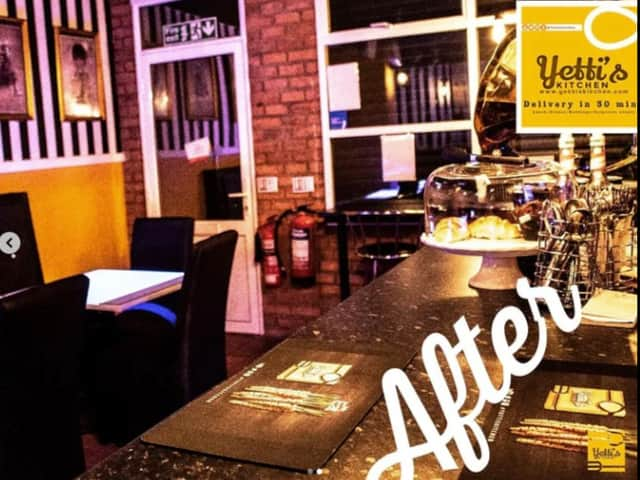 Another important aspect of Yetti's life is her commitment to feeding homeless people in Manchester city centre once a month and giving something back as she was once on the streets herself.
She said: "It's a very humbling experience. When I was in the homeless shelter I had a dream and a destination and that is why I could get out, but many people don't have a way forward or a choice. I would get up at 5am to shower because later on there would be no hot water.
"People see people begging for food or money and think they are scamming you, but there are former city executives who are homeless. What jobs people had before they became homeless is never written on their face.
"You can also never imagine what a difference a hot meal makes to somebody in that position.
"Every time I turn on the heat I remember having no heating. I ate once a day in London because I didn't have money for the bus. I was living on £1 a day."
The business has also branched out in recent times into providing in-flight meals for private airlines, with Yetti's dishes even being served on a plane carrying professional boxer Tyson Fury to one of his fights.
Yetti says this is something she would like to extend further.
She said: "We want to say we're tired of sandwiches on commercial flights. We want some good old curry and jerk chicken. We need a bit of inclusion in this. We can't just eat sandwiches on planes for the rest of our lives."
And after taking to the skies, having been asked about her further ambitions for her business Yetti admits her ultimate goal is - quite literally - out of this world.
She said: "I was saying to my partner the other day that we have our food on land and in the air, so we need to take our food into space. We would love to carry our jollof rice into space. This is a call-out to Virgin Atlantic!
"My son said you can't have rice in space, so I said I will make it work. Let's push the boundaries. This is my challenge to overcome in my lifetime."