Rail passengers in Manchester are being urged not to travel on Sunday by a major train operator.
TransPennine Express (TPE) says anyone thinking of making a journey on 12 June should consider making alternative arrangements or going on another day.
That is because there are a number of large-scale music events taking place in the city.
Industrial action is also happening that day as part of a dispute with the RMT trade union, which called TPE's actions an "absolute scandal".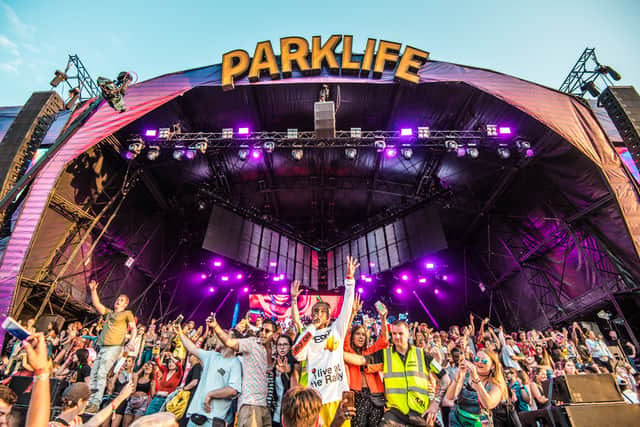 Why has TransPennine Express asked people not to travel on Sunday?
It has been estimated that more than 200,000 people could be descending on the city for a massive weekend of gigs which also includes The Killers playing at Emirates Old Trafford and Alicia Keys performing at the AO Arena.
TPE says the sheer numbers of people coming to the Sunday events will make getting into and around the city extremely tricky.
The train operator will also be running a much-reduced service on Sunday as there are industrial issues including the RMT trade union taking action short of strikes.
The RMT has been running a sustained programme of industrial action, including walk-outs on Sundays and at weekends, for a couple of months as a dispute with TPE over conductors' pay and terms of contract has continued without resolution.
With fewer than normal trains running, any services going to and from Manchester are expected to be crammed.
What has been said about travel on Sunday?
Kathryn O'Brien, customer experience director at TPE, said: "We don't issue 'do not travel' advice lightly, but we have to be realistic and need our customers to understand the difficulties they will face if they try to travel by rail on Sunday.
"We're really sorry for any disruption to people's plans. I'm now calling on our customers to look carefully at their journey options and seek alternative modes of transport, particularly for travel after the events as we simply will not have capacity to get people where they need to be."
What has the RMT said and how has TPE responded?
The RMT has slammed TPE's move and called for action to be taken against the train operator.
The union's general secretary Mick Lynch said: "It's an absolute scandal that a private train operating company is telling its customers not to travel this Sunday, while it is telling a large number of its train conductors not to come into work for their booked shifts and cancelling services.
"This is just the latest in a long list of calamities from this company, and enough is enough.
"They're clearly not fit to run a franchise on the railway and it's time they were stripped of their right to run services."
In response TPE said that only a "small number of conductors" had been scheduled to work but would now "be asked to support service resilience on the day and run additional services where resource and network availability permits".
The train operator said "many conductors" were "not volunteering to make themselves available for work" on Sunday as part of the industrial action.
Ms O'Brien added: "This highlights the urgent need for us to work together with RMT to modernise historic working practices to create a service that reflects the needs of how customers live and work today – including having a truly seven-day-a-week railway, with services as frequent on a Sunday as every other day."
What else do I need to know?
TPE said on Thursday (9 June) that it was still finalising its Sunday timetables and customers should check the website here.
Passengers can also find information on the National Rail Enquiries website here.