Top Manchester music school hits out after airline loses seven musical instruments on flight back from Italy
Chetham's School of Music says the nightmare experience with Lufthansa - just days before one of the biggest concerts on its annual calendar - is an increasingly-common problem for musicians travelling abroad.
Watch more of our videos on Shots!
and live on Freeview channel 276
Visit Shots! now
A top Manchester music school has hit out at an airline after it managed to lose seven expensive musical instruments on a flight back from Italy.
Chetham's School of Music students recently flew back to the UK after performing a concert on the island of Ischia with Lufthansa but found that six trombones and a tuba did not come back with them.
It has left the prestigious institution scrambling around to find instruments as the Chetham's Symphony Orchestra is playing the school's end-of-year concert, one of the most prestigious nights on its annual calendar, this week at The Bridgewater Hall.
The school says airlines losing or leaving behind instruments which are vital to musicians' careers is becoming an increasingly common hazard when travelling abroad.
Lufthansa said airlines are currently experiencing extremely difficult circumstances due to staff shortages in the industry.
What happened to Chetham's School of Music students when they flew back from Italy with Lufthansa?
Students at Chetham's School of Music performed in the public gardens of La Mortella, which is a well-known spot in the musical world as the gardens were designed by Susanna Walton, the wife of Oldham-born composer William Walton.
However, things went wrong on the return flight to the UK when they realised six trombones and a tuba had not made it onto the Lufthansa plane.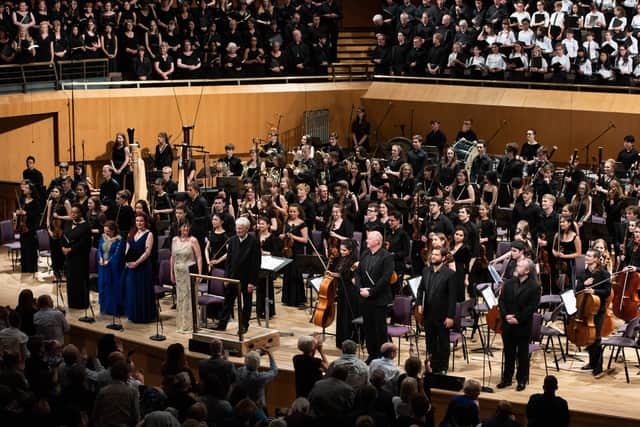 That left Chetham's with a search for instruments before the end-of-year orchestral concert at The Bridgewater Hall on Friday (8 July).
The school has managed to give the musicians involved some replacement instruments, but said this is not in any way the same as the ones they are used to performing on.
What has the school said?
Tom Redmond, joint principal at Chetham's School of Music, said: "Six trombones and a tuba is quite large, distinctive cargo. We hoped they wouldn't be too hard for an airline to keep track of, but alas that doesn't seem to be the case.
"So, right now, Chetham's Symphony Orchestra's heavy brass section is missing quite a large quantity of brass.
"These are some of the finest young musicians in the UK, set to perform the biggest concert of their lives in The Bridgewater Hall on Friday.
"The school has provided them with a set of spare instruments, but a musician's own instrument is a deeply personal item and no replacement can do justice to the one they've learnt on and fallen in love with.
"All we can do is plead with Lufthansa to return their instruments, This is very much part of a wider trend for musicians everywhere. Touring musicians live with this nightmare on a daily basis as they travel between shows. Enough is enough."
In a potential sign of the frustration in the musical world around air travel and instruments going missing Mr Redmond's tweet about the Lufthansa debacle attracted more than 350 likes.
What has Lufthansa said?
A Lufthansa spokesperson said: "The entire aviation industry, especially in Europe, is currently suffering from bottlenecks and staff shortages. Air transport functions through a carefully coordinated system of all partners, i.e. airports, airlines, ground handlers, state security controllers and air traffic controllers. This cooperation based on the division of labor has been tried and tested.
"At present, the personnel-intensive system of baggage handling is under considerable pressure due to the shortage of personnel in all the areas mentioned. All system partners are working under high pressure to ensure that passengers and their baggage take off and land on time.
"Due to the current staff shortages and because aircraft cannot wait indefinitely due to booked turnarounds, baggage may not have been loaded in time and may arrive late, like in this case.
"In these cases, passengers who filed a lost baggage report will be informed promptly about the delay and also when the baggage will arrive.
"For customer data protection we cannot disclose the whereabouts of specific bags. I hope the instruments will arrive very soon in Manchester."