A Manchester orchestra has released a moving short film chronicling the extraordinary life of its musical director which has been shot by a film-maker from the city-region.
The Manchester Camerata has released the third in its series of Untold videos which explore the lives of people closely involved with the ensemble.
The latest film puts the spotlight on the Camerata's musical director Gábor Takács-Nagy to look at the ups and downs of a brilliant career which saw him play in one of the world's most acclaimed string quartets, suffer a devastating end to his career as a professional violinist before re-emerging as a conductor.
There are more local links in the film, too, as the director's role has been taken by Stockport film-maker Joseph Lynn.
What does the Untold film about Gábor Takács-Nagy depict?
The 15-minute film tells the remarkable life story of the Camerata's musical director, which began with an early start as a violinist aged eight in his native Hungary and enrolment in the prestigious Franz Liszt music school in Budapest at 18.
As a violinist in his Takács Quartet he performed more than 1,000 international concerts in 17 years which saw the ensemble become one of the world's top string quartets, with critics particularly acclaiming its recordings of the complete Beethoven quartets.
He shares anecdotes and experiences, truths and pivotal moments in his life – many for the first time - in the short film.
This includes opening up on the devastation he felt when he realised his professional violin playing days were coming to an end.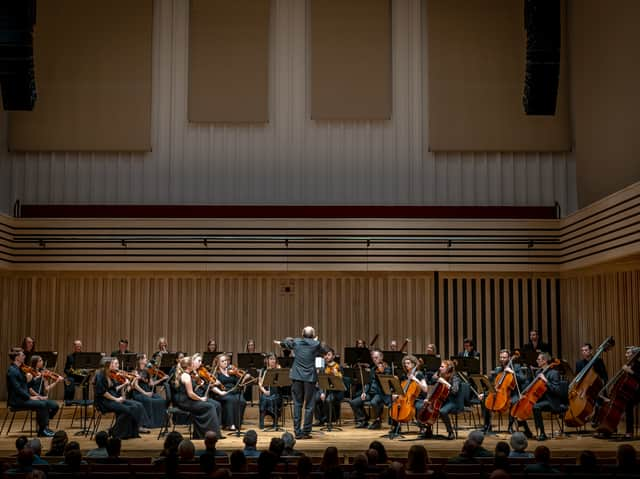 He said: "I was in Tokyo during a concert we played Bartok's fifth string quartet and I found that I couldn't use the whole bow. Later in the US during a concert I found that I could use even less bow. This is one of the biggest defeats of my life.
"I stopped a concert and got up and left, it was like a nightmare. I was a kind of successful person that almost everybody liked and suddenly I found myself in a situation not playing very well and everybody is frustrated with me, even myself...but I was struggling and I knew it was not possible.
"We all agreed in our friend's kitchen in 1992 that I am leaving the quartet – it was obvious – it was painful."
However, that was far from the end of his musical journey as he reinvented himself as a conductor, a change of career which would lead him to his current role waving the baton for the Camerata.
Ultimately, Gabor wants his contribution to the Untold series to be seen as a celebration of life and the triumph of the human spirit.
He said: "I went through so many emotions but as a musician today I feel I am somewhere richer because I went through this...I am a conductor who was a violinist but I am saying I am a musician. I am still a musician."
What did director Joseph Lynn say about making the whole film?
Joseph, who now lives in London after heading south from Greater Manchester to study film at university, is no stranger to the city's arts and culture scene having worked extensively with the likes of the state-of-the-art concert venue The Stoller Hall.
He received a two-hour interview with the conductor and said listening to his words as he shaped the final selection to accompany the images made a huge impression on him.
Joseph said: "Anyone who has met with Gabor knows he is an extremely enlightening, enigmatic, charming and captivating figure.
"He's got an amazing way of being, talking and storytelling and his life is very cinematic, with travelling around the world and his almost otherworldly talent for music which started in a Communist country at a very young age.
"I've worked with classical musicians before and when I said I was working with Gabor they all knew who he was.
"We shot some footage of him conducting at Stoller Hall which was amazing. He had the music book ready and I asked him if he wanted some music playing back but he said no, it was all in his head. He just conducted entirely from his knowledge of music as though there was an orchestra in front of him when there was nothing there, just silence.
"He's a very honest person. We showed it to him and at the end I asked if there was anything missing. He said no, it was honest and truthful. That's all he is interested in. He has no ego at all."
Joseph filmed footage at an estate near Clitheroe and used different film techniques and media to connect to the different times and eras Gabor was talking about in his interview.
At some points Gabor's face is also is superimposed on some of the interiors of the building where Joseph filmed.
The film also features a soundtrack chosen by Gabor including extracts from Haydn and Beethoven string quartets and a piece by Tchaikovsky, with footage of musicians playing also featuring in the documentary.
What is Untold and how can I watch the film about Gabor?
Untold was first launched in 2020 and is a series of digital films fusing music with poetry and film.
The project shares the individual stories of people who are important to the orchestra, from its musicians and collaborators to those whose lives have been impacted and improved through participation in Camerata's year-round community engagement work.
Each film centres a different person speaking about their experiences, with all the films being united by what Gabor himself has called "the healing power of music" which inspires the orchestra and his career.
Previous films in the Untold series have focused on the Camerata's leader and lead violinist Caroline Pether and her struggle to feel accepted as a gay, Christian woman and Keith, an active participant in the orchestra's groundbreaking Music for Dementia community programme who was diagnosed with early-onset dementia.
You can watch the film about Gabor on YouTube here.