Parts of Greater Manchester have no properties which would be affordable for someone on benefits to rent, data has revealed.
Research by the Bureau of Investigative Journalism has found that just 1.8% of more than 1,000 two-bedroom homes listed for rental on Rightmove in July in Greater Manchester were within the means of a potential renter on Universal Credit or housing benefit.
And in several parts of the city-region the researchers could not find a single affordable property to let.
Charities say rising rental costs and frozen housing benefits are a combination which is leaving more and more people at risk of homelessness, while the Government says it has increased benefits and is investing in affordable homes.
How did the study work and what does the data show for Greater Manchester?
These were then compared against the localised Broad Rental Market Area (BRMA) rate for Local Housing Allowance to see if someone in receipt of benefits would be able to afford those properties.
The study focused on two-bed homes as these are the type of house most commonly rented by someone on Universal Credit or benefits.
Across Greater Manchester as a whole the study found just 30 properties out of 1,974 listings which were affordable for someone on benefits. That means that in July a renter on benefits would have just 1.5% of all houses listed to choose from.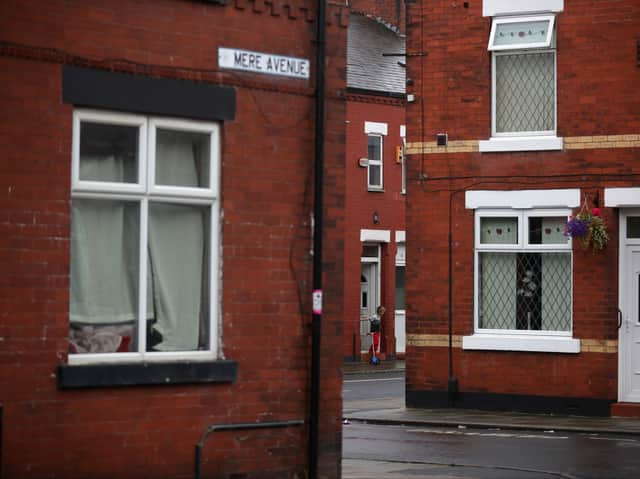 Two boroughs - Oldham and Rochdale - did not have a single property within their means listed in July out of 79 properties advertised in that area.
The research also failed to find a single affordable property in Tameside and Glossop out of the 123 listed.
In the area called Central Greater Manchester, which covers all of Manchester's postcodes with the exception of M22 and some addresses in M23, M19 and SK8, there were 19 affordable properties out of 1,068 listings, meaning 1.8% were potentially open to someone on benefits.
The Southern Greater Manchester area had 1.9% of advertised properties affordable (six out of 322), while the other affordability rates in the city-region were 0.9% in Bolton and Bury (215 properties listed with two affordable) and 1.8% in Wigan (167 properties with three affordable).
Across England as a whole just 2.1% of the two-bedroom properties put on Rightmove were affordable for someone on benefits. In Great Britain, 97.6% of the properties analysed were unaffordable.
Why is this a significant issue?
When he was chancellor Rishi Sunak raised Local Housing Allowance rates from April 2020. As was originally intended for the benefit, this was supposed to cover the bottom 30th percentile of the rental market.
Since then, though, rates have been frozen even though rental prices have risen and the study makes clear that nowhere near 30% of all properties are now within reach of someone on benefits.
The problem is getting worse, too, as the ongoing monitoring of this situation by the Bureau makes clear. In 2020 when similar research was done, 93% of rental properties were unaffordable, less than the 97.6% unaffordability rate recorded this time.
In the past, people renting on benefits have been forced to top up their housing benefits, either by applying to their local council for Discretionary Housing Payments or by dipping into money from other benefits or income.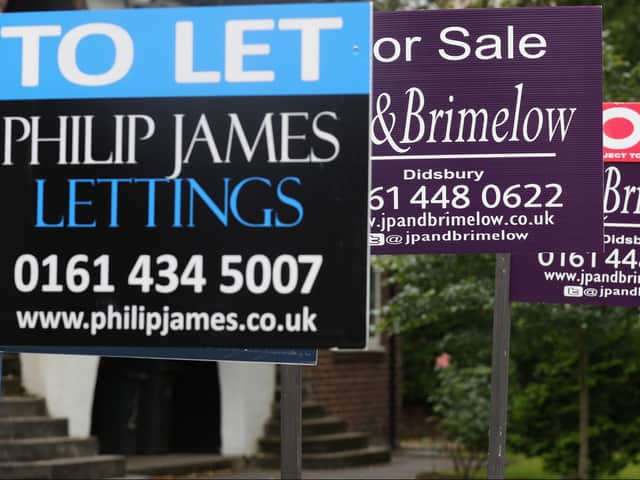 But as energy costs and food prices rise, the Bureau says this becomes less and less viable for those struggling to make ends meet.
And even if affordable properties can be found, that is not the end of difficulties renters on benefits face. The Bureau contacted more than 100 landlords or estate agents listing houses within the means of those on benefits asking if they would take someone on Universal Credit or housing benefit.
The majority failed to respond but the small sample of answers included a couple saying they would not be prepared to rent to someone on benefits at all and others saying they would require some further conditions to be met such as having a guarantor or providing proof of a certain level of income.
A case brought by leading homelessness charity Shelter in England has found that blanket 'no DSS' policies are unlawful as they indirectly discriminate against women and disabled people.
What has been said about the research?
The Government is being urged to act on the yawning gap between benefits and rental prices before more people become homeless or are put at serious risk of losing their homes and also to do more to combat discrimination in renting.
Polly Neate, chief executive of Shelter, said: "These findings back up what we are seeing in our frontline services every day - that finding a safe home if you are on a low income is now like trying to find a needle in a haystack.
"Housing benefit should be the safety net that stops people becoming homeless, but it's frozen at 2020 levels leaving renters desperately trying to make up the shortfall.
"The number of households in England found to be homeless or at imminent risk of becoming homeless at the start of this year jumped by 11% in three months.
"Now, record-high private rents and rocketing prices are leaving even more renters fighting to keep a roof over their heads. The housing emergency is at the core of the cost-of-living crisis, but it is being ignored.
"The new Prime Minister needs to get a grip on housing before even more people lose their homes this winter. Housing benefit must be restored, otherwise struggling families, who've got nothing left to cut back on, will have no hope of paying private rents."
Anny Cullum, policy and research officer at community union ACORN, said: "The problem of housing benefits discrimination remains, and while it is illegal to discriminate directly against benefit claimants, it's often difficult to prove this and enforcement from local authorities is lacking.
"These findings also make it clear that rents are far too high. If the Government is serious about getting a handle on the growing housing crisis, they need to work to bring down spiralling rents which are increasingly inaccessible to many people."
What has the Government said?
A government spokesperson said: "During the pandemic we increased the local housing allowance for housing benefits, with 1.5 million households receiving on average an additional £600 a year.
"We are maintaining this boost, ensuring those who benefitted will continue to do so, whilst also investing £11.5 billion in our affordable homes programme.
"We have also taken action to support the most vulnerable with direct payments worth at least £1,200 while our new energy price guarantee, saving households on average a further £1,000, will help people to pay their bills."