Councils across Greater Manchester are facing a multi-million-pound funding black hole when it comes to supporting children with special educational needs and disabilities (SEND).
Two of the city-region's 10 councils have had to accept additional funding from the Government due to the size of the deficits on their books.
And one parent and campaigner for SEND children says she fears the financial difficulties will lead to more cutbacks and less help in a system which she describes as "already failing".
What does the data show for Greater Manchester?
The Bureau has analysed the balances for local authorities' Dedicated Schools Grant (DSG).
In Greater Manchester, all the 10 councils have a forecasted DSG balance for the end of the 2021-22 financial year with a deficit.
The biggest deficits are in Bury, which was projected to have a deficit of £19,764,000, and Salford where it was forecast to be a hole of £22.5m.
However, these two are also the councils which have accepted so-called "safety valve" funding from the Government to help with the deficits.
Bury took £4m in 2020-21 and Salford received £6.6m in 2021-22, giving it a new forecasted balance for the end of the 2021-22 year which is £15.9m in the red.
Overall, across Greater Manchester the situation is getting worse, with councils predicted to have a negative change in their DSG balance from 2020-21 to the end of 2021-22.
Wigan, for instance, was just in the black at the end of 2020-21 with a balance of £49,000, but this is forecasted to change to a deficit of £411,000.
Rochdale is forecast to be just over £6m in the red by the end of 2021-22, while in Tameside the deficit is predicted to be £3,124,000.
The information was collected from budget performance documents published monthly by each local authority, from figures published by the council's Schools Forum, or by the Bureau contacting the town halls directly.
Why is this significant?
The Bureau's analysis says that funding shortfalls are having a major impact on the quality of provision that can be offered to children who need additional help and the experiences of parents and carers trying to use the system.
Underfunding has helped create an adversarial system in which each side — parents, schools and local authorities — are pitched against one another, with the bottom line becoming a major factor in decisions rather than the needs of the child.
This is backed up by the fact that the vast majority of cases which end up in front of a tribunal challenging the lack of provision for a child find in favour of the parents, not the local authority.
This was recently the subject of a row when a review by the Local Government Association (LGA) claimed this was not evidence that councils were not making lawful decisions but was instead because the system was "imbalanced", leading to a furious response from campaigners and charities.
Faced with government pressure to cut costs, some councils are planning to impose thresholds or introduce other changes that could make it more difficult for children to receive support, or threaten to withdraw or reduce what they already have.
The Bureau says Bury Council is among those considering such moves, although the local authority has not responded to ManchesterWorld's request for further comment.
How does the funding system work?
Funding for special educational needs is complex but essentially there are three elements: the per pupil funding schools receive for all children, an extra £6,000 available for those identified as having SEN, and top-up funding which provides the support outlined in an Education Health and Care (EHC) plan.
However, in practice, the extra £6,000 often includes other already-allocated sources of funding, such as for free school meals and 'looked after' children. As a result, how this money is used and the extent to which it funds SEN support varies from school to school.
The top-up comes from the High Needs Block of the Dedicated Schools Grant (DSG), the main funding stream allocated by the Department for Education (DfE) to local authorities and then distributed to schools.
But the number of children with an EHC plan has risen and there is also higher demand for more costly specialist and alternative provision. Many councils have found the High Needs Block funding insufficient to meet demand and, as a result, have been amassing rapidly-expanding overdrafts on their DSGs.
Councils with an overall DSG deficit of 1% or more have to submit recovery plans to the DfE setting out how they plan to balance the books.
And the Government has confirmed that councils receiving safety valve funding are expected to bring in-year deficits to an end "as quickly as possible" and that the agreements are "closely monitored", with threats to withhold cash if the conditions are not met.
"There should be no doubt that local authorities are responsible in accounting terms for their DSG deficits," a Government spokesperson told the Bureau.
Both Bury and Salford have therefore made these commitments before receiving the safety valve funding.
'It's not a rosy picture at all, it's very difficult'
She has now joined forces with London-based campaign group Let Us Learn Too which is trying to help parents of children with special educational needs.
Deanne says she is extremely worried about any suggestion that more money could have to be saved and cuts made, given how difficult it already is for parents.
She said: "How are councils supposed to save money? Cutting provision isn't really an option and neither is not doing assessments. Are they expected to cut staff who are already overworked and underfunded?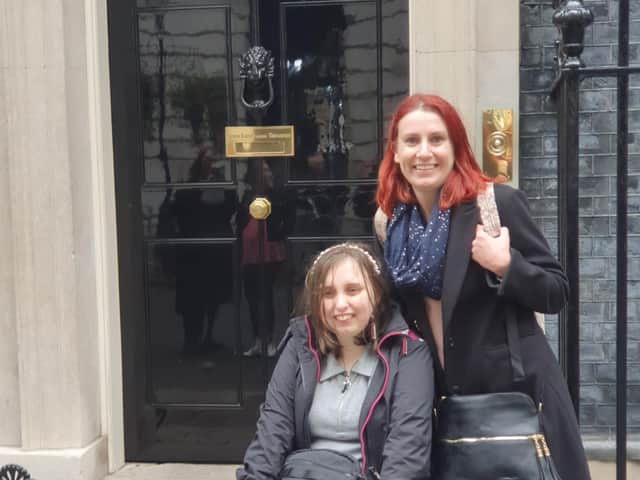 "Some councils are undertaking voluntary agreements but I suspect it's really early days for that and we are not seeing the full impact yet.
"Parents are already battling a system that is really failing.
"To take money out of it and further curtail what are children's actual legal rights and entitlements isn't the way to go.
"It's not a good picture out there at the moment, it's not rosy at all. It's difficult for parents.
"Parents already face a nightmare fighting battles in an adversarial system.
"We recently asked for people's views and there were very few positive experiences."
What have the authorities said about the issue?
ManchesterWorld has asked both Bury and Salford councils for comment on their financial situations.
The Government published its long-awaited green paper on the future of the SEND system in England at the end of March, proposing reforms including promises to simplify EHC plans, with parents now provided with a list of "appropriate placements tailored to their child's needs"; changing the "culture and practice" in mainstream education to promote inclusivity; and increased training for special educational needs co-ordinators (SENCos).
The measures, which are subject to a 13-week public consultation, are backed by £70m of additional funding.