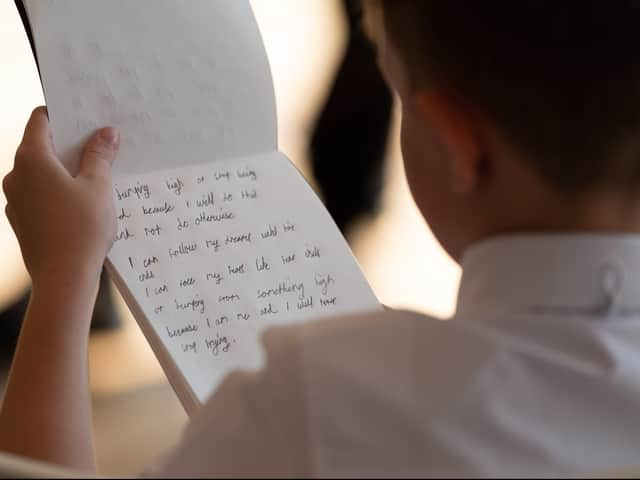 Young poets from across the city-region are creating a declaration of human rights in verse. Photo: David Lake
Pupils in schools across Greater Manchester have been getting their creative juices flowing to reimagine a major document on human rights through the use of poetry.
Schools from the city-region have been involved in a project to produce a new Poetic Declaration, taking a fresh look at the UN's Universal Declaration of Human Rights using the power of verse.
Manchester is the first city to create a Poetic Declaration with its younger generations, and it is hoped others around the UK will now follow.
What is the Greater Manchester Poetic Declaration of Human Rights?
Schools from across the region were enlisted to help create the Greater Manchester Poetic Declaration of Human Rights.
It will consist of 30 original poems inspired by each article of the original document.
The project certainly captured young imaginations, with an incredible 251 pupils attending 15 schools submitting poems.
Schools across Greater Manchester have been taking part in a project to write poems about human rights. Photo: David Lake
An expert panel of judges, including local writer and artist Keisha Thompson, then had the tough task of whittling the submitted entries down to the required 30 works.
Some of the poems have also been recorded.
Schools taking part in the project in Manchester included including Lily Lane Primary School in Moston and Abraham Moss Community School in Crumpsall.
Thinking again about an important document
Curated by Poet Laureate Simon Armitage, it featured contributions from 30 of the world's leading poets.
The charity is now partnering with cities across the UK, starting with Manchester, to create a Poetic Universal Declaration of Human Rights that highlights the experience of young people in each city and envisions the future they want to build.
In total 15 schools in Greater Manchester have been taking part in the project. Photo: David Lake
The project has been developed in partnership with North West-based charity Curious Minds, which works to improve the lives of children and young people by making creative learning opportunities more readily available.
What has been said about the project?
Nichola Watson, executive director at RFK Human Rights UK, said: "Poetry is a fantastic way to bring human rights to life in the classroom, and the Poetic Declaration enables students to engage with issues that will have a lasting impact on their future.
"We're delighted to be working with young people across Manchester, continuing the conversation started by our poets back in September."
Kelly Allen, executive director of social justice at Curious Minds, added: "We are thrilled to be working with RFK Human Rights UK on this project, united by our shared goal of improving the lives of young people and making a positive impact through art and culture.
"RFK Human Rights UK's education programme offers the students of Manchester a unique opportunity to engage deeply with human rights and understand the importance of their own voice."