Thousands of people in Manchester are homeless and the city is among the 25 local authorities in England with the biggest problems on the issue, leading charity Shelter has warned.
The national charity's latest report on homelessness in England says one in every 81 residents in Manchester is homeless.
Manchester came in 25th in a table finding the councils with the highest rates and was also the third-worst outside of London.
Shelter called the scale of homelessness in the North West "shameful" and warned that with protections put in place due to Covid-19 going many more individuals and families could soon be joining those who already do not have a roof over their heads.
Manchester City Council has said it is working to prevent people losing their homes but called for more money from the Government to tackle issues such as housing availability and affordability.
The new deputy mayor for Greater Manchester said there were encouraging signs in the city-region's latest rough sleeper count but stressed there was still more work to be done.
What does the report say about homelessness in Manchester?
Shelter's latest report looked at how many people were homeless, meaning they were either sleeping on the streets or living in temporary accommodation, as of 30 June this year.
It did this by taking a snapshot of the issue on one given night, recognising the considerable difficulties in accurately calculating just how many people do not have a home of their own.
In Manchester 6,780 people were living in temporary accommodation arranged for them by the local authority.
There were also 68 rough sleepers counted in the snapshot.
This gives a rate of homelessness of one resident in 81, the 25th highest in England.
The only local authorities outside of London with higher rates were Luton, which came in 18th with a rate of one in 66, and Brighton and Hove which placed 24th in the table with a rate of one in 78.
Across all 10 boroughs the teams found 89 people sleeping on the city-region's streets.
What did Shelter say about the data in its report?
Shelter says its survey is the most comprehensive look at homelessness in the country, but still believes its figures to underestimate the true scale of the problem.
This is because reporting of the issue is comparatively limited, the charity says.
Shelter also pointed out that some types of homelessness, such as sofa surfing, go entirely unreported.
What has Shelter said about the situation in the North West?
Shelter's report says that across the North West some 12,500 people are homeless.
In Greater Manchester, one in 406 residents is homeless in Salford, while in Oldham the rate is one in 534.
Shelter says it is concerned that the end of measures taken to prevent homelessness during the coronavirus pandemic, such as the Everyone In scheme, the ban on evictions and the boost to Universal Credit, will mean the floodgates opening and soaring numbers of people losing their homes during a difficult winter with rising costs.
The charity says emergency hotlines are receiving large numbers of calls from people fearing they are about to lose their homes and is urging the public to support those on the front line of the issue.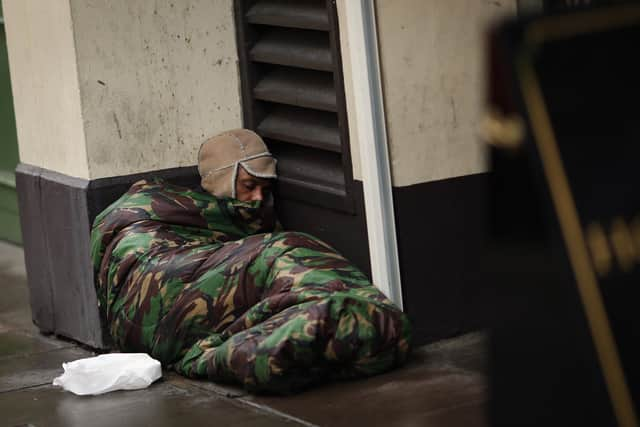 Shelter's chief executive Polly Neate said: "We predicted the pandemic would trigger a rising tide of evictions and our services are starting to see the reality of this now.
"We're flooded with calls from families and people of all ages who are homeless or on the verge of losing their home.
"It is shameful that 12,500 people in the North West are without a home, and with Covid protections now gone thousands more will be joining them. A shoddy hostel room or a freezing cold doorway is no place to wake up on Christmas morning, but sadly so many people will."
What have the authorities in Greater Manchester said?
Coun Luthfur Rahman, deputy leader of Manchester City Council, said: "We know that the best solution for homelessness is early intervention, and prevent people from losing their home in the first place.
"If we can avoid this precipice, it is a far easier task to get people the support they need to maintain a stable life at home.
"We work with partners across the city to help people get advice at an early stage, as well as investing in our own council teams to help make stays in temporary accommodation as quick as possible and enable people to move back into the private rental sector as fast as they can.
"Structurally we need better funding and a greater commitment from central government to address the core problems at the heart of homelessness.
"If issues such as the lack of affordable housing cannot be addressed, people may be locked in a spiral of homelessness for months, if not years."
The new deputy mayor of Greater Manchester, Coun Paul Dennett, spoke about homelessness at the mayoral press briefing on Wednesday 8 December.
He said the latest GMCA rough sleeper count was a considerable fall from the previous year's figure and the first time since 2013 it had been under 100.
However, he said it was still "far too many people" on the streets.
However, he also said there had been a 13% increase in the number of people in temporary accommodation.
And 25 people identified as homeless sadly died in 2020, which he said was too tragic a human toll even if it was a reduction on previous numbers.
Coun Dennett said he and Mr Burnham were currently writing to the Government to try to secure future funding for Housing First and encouraged people to donate to the mayor's charity's winter campaign which is aiming to raise £30,000 to provide 1,000 beds over the festive period.