'Hell of a fight': Tyson Fury names 'hardest fight' of his boxing career - and it's not Wladimir Klitschko
Fury insisted that Wladimir Klitschko was not his toughest opponent in the ring.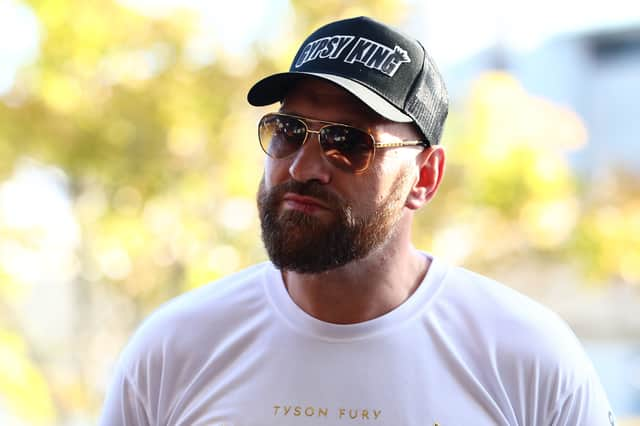 Tyson Fury has endured many challenging fights in his illustrious boxing career, but one is said to have really "took a lot out" of him. The Gypsy King, 34, from Manchester, has faced a heavy hitter in Wladimir Klitschko and has dealt with the rough and aggressive style of Derek Chisora.
However, Fury claims Deontay Wilder was his toughest test in the ring to date. The heavyweights locked horns for the first time in 2018, with both fighters hitting the deck multiple times. Fury shocked the whole world after rising from what looked like a guaranteed knockout and went on to win the penultimate round. Despite this, the fight ended in a controversial draw, and both fighters agreed on a second meeting.
The following bout took place on 22 February 2020, at the MGM Grand Arena, Nevada. Fury dominated Wilder, knocking him down twice before Wilder's corner threw in the towel in the seventh round. Over a year later, on 9 October 2021, Fury fought the American boxer for the third time and won via eleventh-round knockout. It was this fight that he now says was the hardest in his career.
Speaking on social media recently, Fury insisted that Klitschko was not his toughest challenge. He said: "No, I don't think that one was most challenging. I think Wilder three – me and Deontay had a trilogy, three title fights together – I think the third one was probably the hardest fight of my career."
"We both went to war. We both came in with damaging intentions. He put me down twice, I put him down three times, and I ended up getting a knockout in round eleven. But I do believe it took a lot out of both fighters, for sure. Hell of a fight."
Tyson is eager to make a return to the ring after beating Derek Chisora in December 2022. He has been looking for his next opponent after negotiations with Oleksandr Usyk broke down earlier this year.