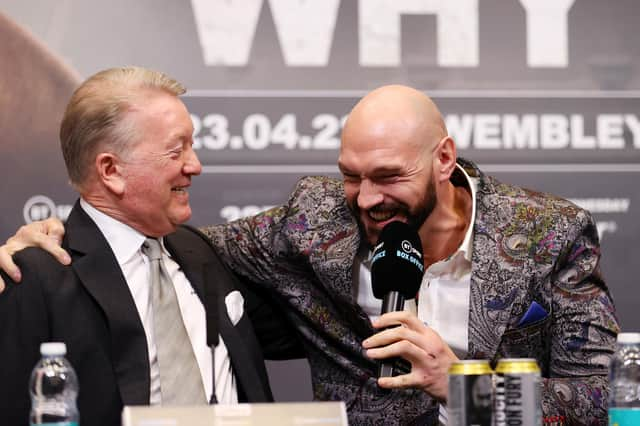 It's looking increasingly likely that Tyson Fury will finally face Oleksandr Usyk at a Saudi Arabian tournament featuring Anthony Joshua and Deontay Wilder this December. Fans are now questioning when the Gypsy King's next fight will be. He hasn't fought since December 2022 when he faced Dereck Chisora in a dominant victory.
Amid rumours and speculation, Fury has been called out to fight by Congolese heavyweight Martin Bakole. The 6'6 titan, boxing out of Scotland, took to Twitter to goad Fury in a video. He says: "Hey Tyson Fury. I heard that you're looking for an opponent. I'm available. Give my team a call. I'm number 7 WBC, number 2 WBA. Give my team a call. I'm ready."
He captioned the tweet: "Ready to go @Tyson_Fury 📞".
Fans of Bakole continued to attempt to provoke the Gypsy King in the replies. One supporter wrote: "@Tyson_Fury wouldn't risk that fight." Another added: "@Tyson_Fury are you scared of @MartinBakole01 ?"
Bakole, 29, has only lost one fight during his professional career spanning 20 matches. 14 of his 19 victories have been won by KO.
After his most recent victory over famed Ukrainian 'Hulk', the seemingly unstoppable Bakole called out Dillian Whyte, Deontay Wilder, and Oleksandr Usyk. He told SkySports "I call people out because I know I can stop them!"
Although reportedly wanting to snub a summer fight, the ball is now in the court of Tyson Fury and his team, who will decide whether he is ready to defend his WBC heavyweight title once again.