Molly-Mae Hague has been praised by fans after speaking candidly about having gained more stretch marks than she was anticipating during her pregnancy.
The former Love Island star, 23, from Hitchin, is currently expecting her first child with boyfriend Tommy Fury, 23, from Manchester, and has taken to YouTube to give her fans an update as she prepares to give birth in the next few weeks.
She admitted to being shocked by the number of stretch marks that she has developed throughout her pregnancy and said creams and oils haven't stopped more from appearing.
Molly-Mae has been praised by viewers for being honest with a flood of commenters also sharing their own similar experiences.
Molly-Mae appeared happy and relaxed as she donned a blue sweater and styled her hair in a high bun for the video titled 'My third trimester Q&A'.
The influencer, who is also creative director at PrettyLittleThing UK, referred to her stretch marks as "tiger stripes" as she showed them to viewers and answered a fan's question about the best cream she has used on them.
Molly-Mae said: "If you guys watch my vlogs, you will know that I feel quite passionately about this topic. I'm not going to lie to you guys, I had kind of cockily... I guess I'll just say stupidly, I had thought that I wasn't going to get stretch marks.
"I don't know why, I've always been blessed with quite good skin on my body apart from a bit of eczema. I had kind of thought that I would be okay with stretch marks, I might get a couple but I won't get loads and I was really wrong.
"I have got a serious amount of stretch marks, mainly on my boobs. My boobs are unrecognisable compared to day one of my pregnancy to now, these are not the same boobs."
Molly-Mae explained that stretch marks have been a "journey" throughout her pregnancy as she has tried every product on the market but nothing has stopped them from appearing.
She said: "I've bought really expensive products for stretch marks that are meant to be absolutely incredible from high end brands and I've also bought stuff from the high street. I bought Bio-oil, stuff from Palmers, Garnier, La Mer, Augustinus Bader.
"I've literally gone through all the different brands and guess what, my body is still covered in stretch marks.
"So this is just reiterating what I said in a vlog a few weeks ago. Please do not worry about stretch marks, if you're getting stretch marks because you're pregnant or you're just getting stretch marks because your body is changing.Please don't beat yourself up about it."
Molly-Mae went on to reassure her fans that she isn't worried about going into labour and admitted that she doesn't expect that her stretch marks will disappear in the future.
"I just can't believe how incredibly smooth [a] journey I've been blessed with, I can't get over it, I would do it all over again in a heartbeat," she said, reflecting on her pregnancy.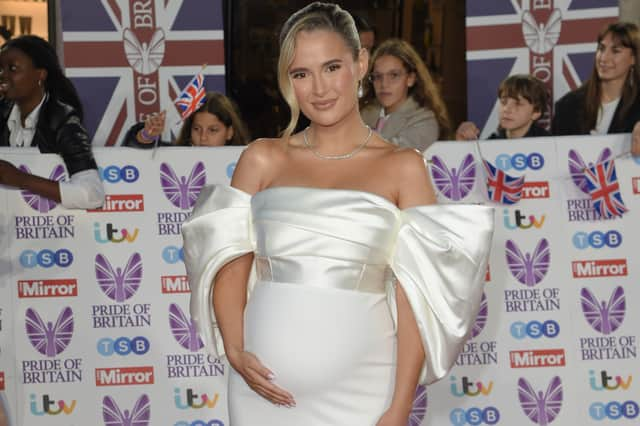 The video racked up hundreds of positive comments with many of Molly-Mae's fans revealing that they are able to relate to her experience of developing stretch marks despite trying lots of different cosmetics.
One wrote: "I just wanted to comment how helpful this video has been for me - I'm about to step into my third trimester and overall I absolutely love being pregnant but have been really struggling the last few days mentally with tiredness/stretch marks/new aches and pains that keep me up worrying, and it's so refreshing hearing someone else go through the same thoughts and feelings so thank you for being so real with your pregnancy! it honestly does make a difference and you've started my day off on a more positive note! X"
Another commented: "Love you Molly!! Thank you for saying about stretch marks - I tried so many different products when I was pregnant and I still got stretch marks - so I was really pleased to hear you saying that as you are an influencer, and your advice about stretch marks is spot on, and is great advice for other young pregnant ladies."
A third said: "Molly I'm 32 weeks pregnant and I'm the exact same with my boobs, I've had no leakages or any signs of milk 🙊 (I'm not too worried) LOVE the 'tiger stripes' instead of stretch mark's definitely going to steal this from you 😂 I only have a few like you, I've been using mamamio tummy cream, I bloody love it, not sure if it's helped me but personally makes my bump and boobs feel amazing ❤"