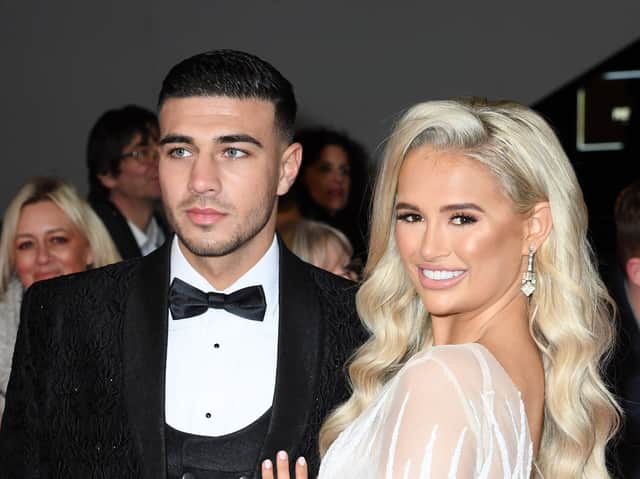 Molly-Mae Hague has been defended by her fans after she faced being 'mum-shamed' by trolls after sharing her nursery reveal.
The 23-year-old from Hitchin, Hertfordshire, rose to fame after appearing on the ITV Reality Television show, Love Island.
Molly-Mae came second on the 2019 series of the show where she met her boyfriend, professional boxer, Tommy Fury, 23, from Manchester.
The couple revealed they were expecting their first child in September after previously sharing her experiences with endometriosis.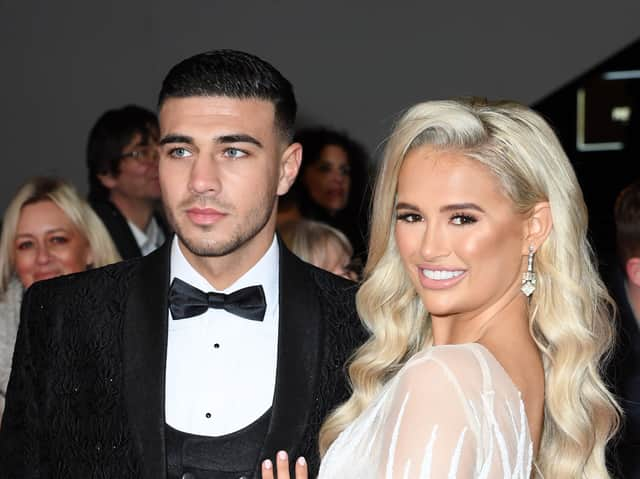 Molly-Mae is due to give birth to her daughter within weeks and has already been hinting they will have another very soon.
During a Q&A on Wednesday (December 21), the reality television star revealed that the couple are hoping to reuse the baby nursery for their next child.
Over on Instagram, Molly-Mae clapped back at one question that criticised her use of designer baby clothes.
The commenter said: "You do know your baby probably won't even get three wears out of designer stuff".
Molly-Mae was quick to defend herself, writing on Instagram: "Her wardrobe is probably 5% designer pieces that were mostly bought as gifts! Everything else is high street.
"I really don't plan to dress her in anything expensive/designer unless it's a special occasion.
"Anything we don't use/she doesn't wear I will be giving to charity."
Fans were quick to defend the reality television star after she shared a glimpse into her daughter's nursery.
One fan replied to the 'mum-shaming' with: "And also people saying 'won't stay like that for long' maybe it won't but does that mean she should have everything unorganised for when baby comes? No I think not… this is what's wrong with the world there's just to many people who are too willing to bat people down when it's so uncalled for unfortunately."
Another also added: "Not one person asked for you're [sp] negative comment not one".
Earlier in the week, the Love Island contestant dropped a big hint to her followers that she is about to give birth.
Molly-Mae left fans thinking that the birth of the baby girl could be closer than expected as she shared a post that read 'goodbye long nails', with a post of her shorter manicure.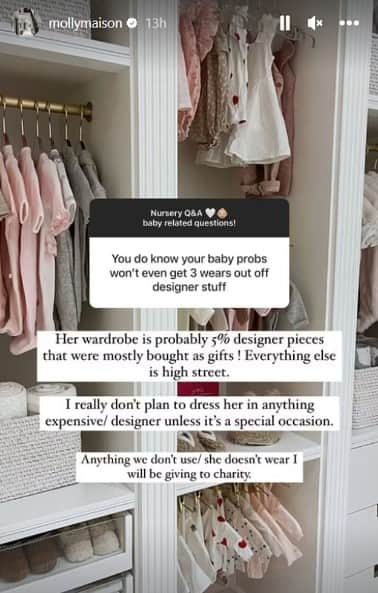 On Tuesday night Molly-Mae Hague shared the picture to her Instagram stories with the caption: "Goodbye long nails… for a very long time"
She also added a shocked, heart, cloud, bubbles and bath, emoji to the social media post.
Molly-Mae and Tommy Fury moved in together in September 2019 following their appearance on ITV's Love Island.
The couple share a £4-million mansion in Cheshire that boasts six bedrooms and a sprawling garden.
In October, Molly-Mae hinted that she would like Tommy to propose, admitting: "I'd like a ring soon, please" after describing her relationship as perfect.
Molly-Mae said: "It's been the best two and a bit years of my life with everything, with my work, with my relationship. I'm just so lucky."