Molly-Mae Hague has delighted fans with her latest pregnancy update after hinting that her first child will be born within the next few weeks.
The Love Island star, 23, from Hitchin, and boyfriend Tommy Fury, 23, from Manchester, announced they were expecting a baby in September after keeping the first five months of Molly-Mae's pregnancy a secret.
Having enjoyed Christmas with her family, Molly-Mae took to TikTok on Tuesday to drop a hint for when her baby girl is due to arrive.
The video has been watched over 3 million times with commenters gushing about her "glowing" appearance.
Molly-Mae donned a grey sweatshirt with black sports leggings and swept her hair into a high ponytail for a relaxed look.
She appears to not be wearing any make-up in the footage, captioned: "How did that happen😳 #fyp #pregnant"
Lifting up her top to reveal her stomach, the creative director of PLT added an audio clip of Kylie Jenner saying: "So, I'm 34 weeks today… only got a month left."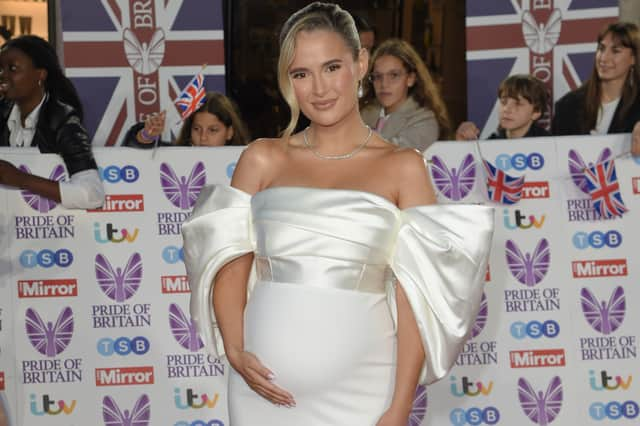 Many excited fans admitted they were excited for Molly-Mae to give birth and left sweet messages underneath the post.
One wrote: "You are GLOWING MAMA 🥰🥰 you guys are going to have the sweetest most loving little babe 😭"
Another said: "ahhh so excited x your gonna be an amazing mum molly xx"
"Wow you are looking fabulous," a third commented.
A fourth added: "omgggg! i can't wait, I'm so happy for you ❤️"
The post came a week after Molly-Mae hinted that she hopes to have another baby relatively soon and told fans that she would "love a two or three year age gap" between her children, like the one she has with her own sister.
She also recently took to Instagram with a post saying "goodbye long nails" as she opted for a short manicure in preparation for motherhood.
The influencer and boyfriend Tommy appeared in good spirits over the festive period as they wore matching red tartan PJs for a snap on Christmas Eve.
The couple stepped out for a stroll together on Tuesday after spending Christmas day with close family members instead of together at their six bedroom home.
Their relationship has gone from strength-to-strength since they met on ITV's Love Island in 2019, with Molly-Mae recently admitting that their romance is "perfect" and she would like a ring soon.