Tom Parker's widow Kelsey Parker has spoken out following claims that she has moved on "too quickly" following the untimely death of The Wanted star.
The Bolton-born singer sadly died on 30 March this year, aged 33, after being diagnosed with an incurable form of brain cancer in October 2020.
He left behind two young children; two-year-old Bodhi and three-year-old Aurelia, as well as his wife Kelsey, 32, who he married in 2018, after meeting ten years earlier.
Despite working hard to raise money for cancer research since the singer's death, rumours recently began circulating that Kelsey has met someone new.
According to MailOnline, the mother-of-two met 39-year-old Sean Broggans whilst on a girls trip in Lindos, Rhodes in September. He is an electrician, with two children of his own.
Kelsey spoke to Fearne Cotton on The Happy Place podcast about being "left" without Tom and the concept of moving on, just eight-months after her husband's death.
Kelsey said: "We're just so black and white in this country...people think I should be walking round - I am in a black velvet jacket - but that I should be in black, mourning, wearing my black veil over my face and not speaking to anyone but life's not like that.
"I've learned through this that you can be so many different emotions in one day but even in five minutes. I could feel sadness, anger, happy and be laughing all literally in the space of five minutes."
She added: "I have been left here. I've been left here without Tom and what do I do with my life now? I can't be sad, I've got two kids. Like how can I wake up every day and be sad?
"Yes I am sad, but my life has to continue and move on. What he's taught us is that life is so short. Like so short and literally, it can happen like that, it can be sudden. We're not guaranteed tomorrow so you have to enjoy every day that you're given here."
In October 2020, Tom publicly announced that he had been diagnosed with glioblastoma multiforme, an aggressive and incurable form of brain cancer.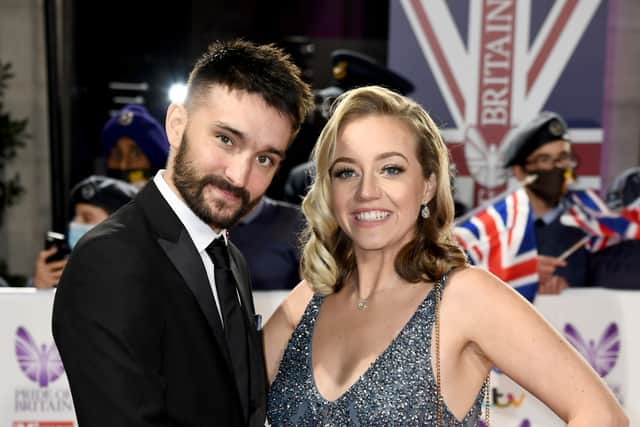 Despite being given just 12 months to live, he set out on a final The Wanted tour alongside his bandmates Max George, Siva Kaneswaran, Jay McGuinness and Nathan Sykes.
The father-of-two moved into St Christopher's Hospice in London for end-of-life care, and died 17 months after his diagnosis.
Kelsey is the star of a brand new ITVBe documentary. Kelsey Parker: Life After Tom aired on Thursday 1 December at 9pm and is available to stream now.