Maisie Smith and Max George have warmed the hearts of their fans after giving a glimpse into their festive celebrations with her family in East Sussex.
The couple, who have a 13 year age gap, have allegedly been dating since August having first met on BBC's Strictly Come Dancing back in 2020.
Maisie, 21, donned a casual tracksuit and warm padded jacket as she and Max took his dog for a walk on Wednesday.
She gushed about having had the "best Christmas of my life ❤" in a post on Instagram and Max agreed by commenting: "Best ever my love ❤️"
Maisie also shared a group photo of the couple alongside her parents Stephen and Julia, as well as her sister Scarlette.
Another snap captured the sweet moment that she fell asleep on the sofa alongside Max, 34, while their pet dog also dozed beside them.
Over 12,000 people liked the posts which showed the couple enjoying walks in the countryside and quality time with Maisie's family.
One person commented: "You and Max are well suited and look so loved up x 😍"
Another wrote: "Fab and what Christmas should be, you deserve the happiness xx"
A third added: "Gorgeous🔥 photos ❤️ hope you had a good time x"
The Wanted star shared a selection of festive snaps on his own Instagram account with the caption "The best 2 days.. 💙"
The couple's time in the Sussex countryside comes after a series of holidays abroad in recent months with Lapland, Dubai, Portugal and Crete among the lavish destinations that they have visited together.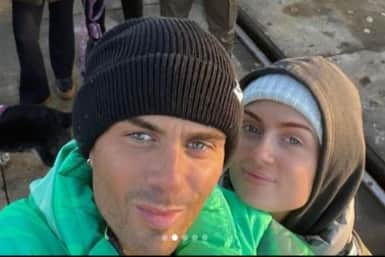 They recently mentioned their desire to explore the world in an interview with Hello! magazine.
Max said: "We live together now, but we're constantly travelling around the country, with Maisie touring. We want to get a place together and have a base in London – and maybe somewhere in Manchester too."
Maisie added: "With my job I've had for the last 20-ish years, I haven't travelled very much, so it will be lovely to get to travel the world with my bestie."