Manchester Top Team: inside Manchester's MMA talent factory
Mixed martial arts (MMA) is surging in Manchester, and in Ashton-under-Lyne, Manchester Top Team is hoping to shape the sport's future by training a generation of champions.
Watch more of our videos on Shots! 
and live on Freeview channel 276
Visit Shots! now
The sport of mixed martial arts (MMA) is enjoying a surge in popularity at the same time as a talented crop of Manchester fighters are making waves - and Manchester Top Team is playing its part in it.
Located on an industrial estate in Tameside, the gym is training a number of hot prospects in the cage as well as having more established fighters who compete in some of the sport's biggest promotions base themselves there. In around three and a half years the team has made a name for itself in the MMA scene while the gym also searches for future talent, provides somewhere for people to try out combat sport and is involved in education and community work.
ManchesterWorld headed to Ashton-under-Lyne to meet the team, discuss its approach to helping the city's MMA talent achieve its potential and speak about its efforts to make sure its home city knows exactly what it is doing and what the sport can do for residents.
How did Manchester Top Team get started?
Manchester Top Team was founded in October 2019 by Carl Prince and has always been based in Tameside, though its current premises in an Ashton-under-Lyne warehouse-type unit is its second.
At the front a large shutter proclaims that this is Manchester Top Team's home by having its emblem featuring a Union Jack and a bee painted on it, while a sign above the entrance refers to Tony Wilson's famous comment about a city where things are done differently. Inside, open mats take up much of the space, but there is also a weights area, exercise bikes and other similar equipment and a cage. Everything is decked out in the black and yellow colour scheme of the team (a reference to Manchester's famous bee symbol), while the walls are adorned with motivational quotes and pictures of fighters.
When Carl came up with the idea for Manchester Top Team he was training around half a dozen fighters in a small gym in Stockport but decided that what was needed was a more professional environment and approach, drawing on his experience of coaching football, something which took him to America.
He joined the franchise set-up based around American Top Team in Coconut Creek in Florida, taking ideas from the MMA super-gyms being established in the USA. And after partnering with former MMA fighter Brad Pickett, who at the time was in the process of starting Great Britain Top Team in London, Manchester Top Team was born.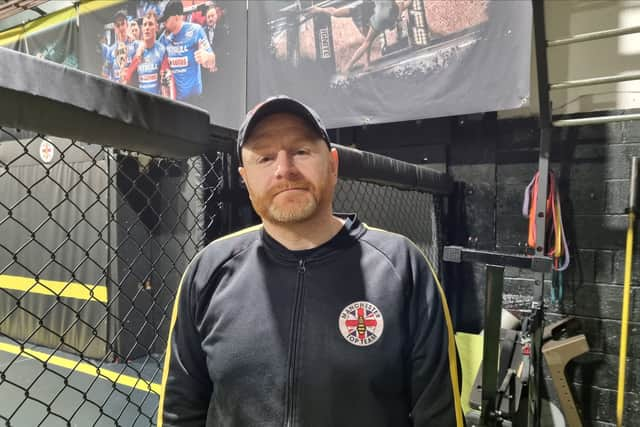 Carl said: "What was happening in Manchester was quite individual and it needed centralising to become more team-centric. There were a lot of individual gyms with maybe one pro and a few amateur fighters. I'm trying to foster a pathway within MMA and we're still learning and understanding what's needed and what isn't at the very highest level."
A defining moment for the gym came just a few months after it launched in the shape of an event that could have been disastrous for the fledgling organisation but turned out to be anything but. The Covid-19 pandemic saw nationwide lockdowns and leisure facilities shuttered, but because Manchester Top Team was training Lerone Murphy, an undefeated featherweight competing in MMA's biggest promotion, the Ultimate Fighting Championship (UFC), it was granted the status of an elite-level sport facility and allowed to stay open.
Carl said: "Other fighters from other gyms came down because we could stay open to train Lerone and they never left. We became an authority in the region for pro fighting and for fighters with big aspirations.
"I don't know if it's good luck or if you make your own fortune, but out of something negative positive things happened. We could have shut up shop and our business would have been finished, but instead we capitalised on a situation and took an opportunity."
How does Manchester Top Team train MMA fighters competing in the sport?
The team at the gym is made up of dozens of fighters, with professionals in major promotions such as the Professional Fighters League (PFL), those competing in amateur MMA and some youngsters who have been fast-tracked to work with the best athletes due to their exceptional talent and promise. These fighters train six days a week, Monday to Saturday.
They all train together in the morning and then there are further sessions in the evening, which Carl says is to replicate the intensity of a fight camp in the build-up to competing when fighters might do as many as 11 or 12 sessions per week. These are open commercially as well for those with enough experience and cover striking, grappling and boxing.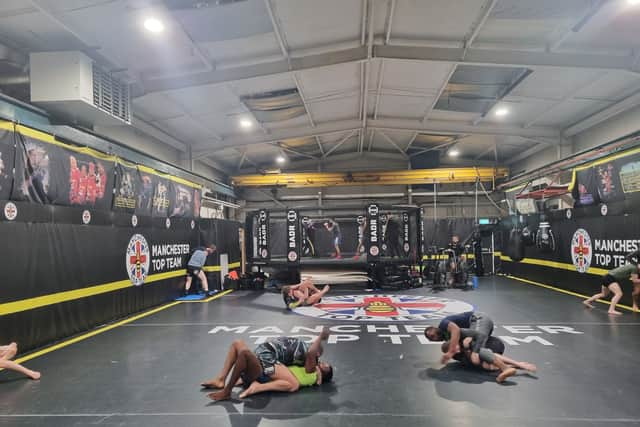 The session on this Wednesday morning starts with a long series of stretches, exercises and jogging for warm-up and injury prevention before the fighters focus on some of the key skills that make up the sport of mixed martial arts. Today it's grappling, with two hours of practising takedowns, clinch work and defence techniques before a period of free sparring. It's all led by the head grappling coach Ravil Dagylrov, who is half-Chechen and half-Dagestani, two areas known across the MMA scene for world-class wrestling.
Carl said: "Before guys even have their first amateur fight they have the approach of a professional athlete. So when they become a pro it will be normalised. This is a pro sports gym, not a martial arts gym.
"It's about instilling good habits. These guys are big personalities and left to it they will come in at their own time, organise their own training, get their own little factions and groups. I'm trying to eradicate that so everybody contributes and everybody collectively grows and trains together."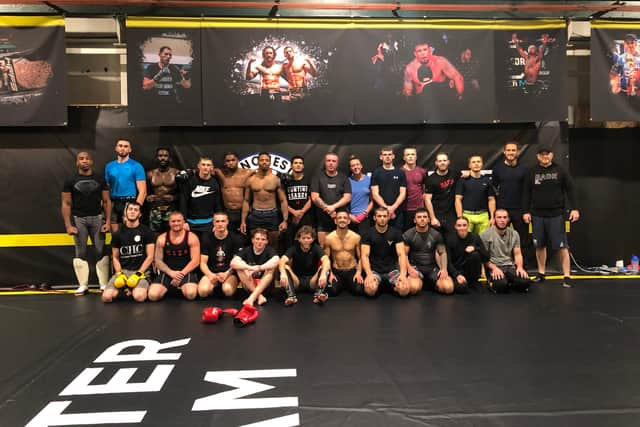 It's not just the fighting itself that Manchester Top Team works hard to get right. Carl also gives the team lots of media training to ensure interviews and opportunities for promotion of the sport, the gym and the individual fighters alike are done well.
He said: "I say to them that they have to tell their unique story, because it is exceptional even if they think it's boring. It's about getting your story out there and saying how you got to this juncture. I glow with pride when I see our fighters speaking with confidence and being themselves, because I know what they were like when they started. It's the biggest growth I've seen in them and on the world stage it's everything."
What successes has Manchester Top Team achieved to date?
The attention to detail and collective training at Manchester Top Team is paying off. At the recent PFL Europe debut show in Newcastle the gym was praised by the organisation's bosses as young fighters like Wythenshawe's Lewis McGrillen and Louis Lee Scott, who is from Leeds but now trains in Manchester, secured eye-catching first round knockout victories. Another prospect, heavyweight Abraham Bably, secured an impressive win in the PFL Challenger Series earlier this year.
On the walls of the gym are pictures of the likes of another PFL Europe stand-out, flyweight Dakota Ditcheva, and Kane Mousah who fights in Bellator. The gym also recently had two fighters at MMA's amateur world championships in Serbia, Izzy McGaughey and Kelly Staddon, with Izzy bringing home a silver medal.
Carl says the fighter "leading the charge" for Manchester Top Team at the moment, though, is Lerone as he is in the promotion at MMA's pinnacle, the UFC.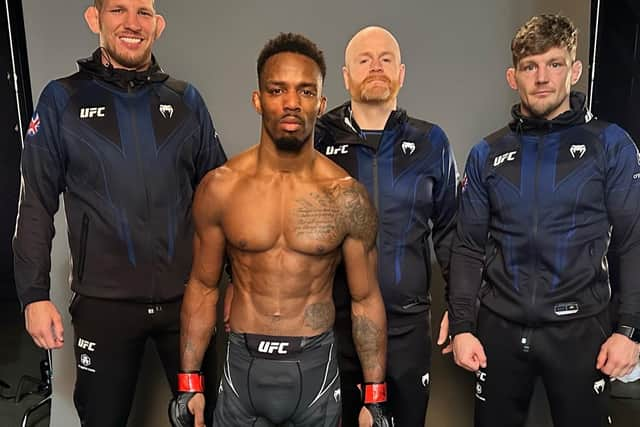 The gym has also established links with groups in Cameroon and Italy and there are even living quarters on site for fighters coming to Tameside to train. Manchester Top Team has also got involved in putting on fighting events, giving a platform to the talent on its roster under the banner of Vida Fighting Championships.
PFL Europe bosses spoke in Newcastle to the media about providing a more professional environment for young fighters early in their careers, and this very much chimes with what is happening at Manchester Top Team.
Carl has ambitious plans for the gym and where he thinks the roster of fighters could end up if they are nurtured correctly.
He said: "Fighting as a whole is in a transitional period. More people are getting into MMA and the rise of the PFL and other organisations are bringing more money into the region and the sport. It trickles down.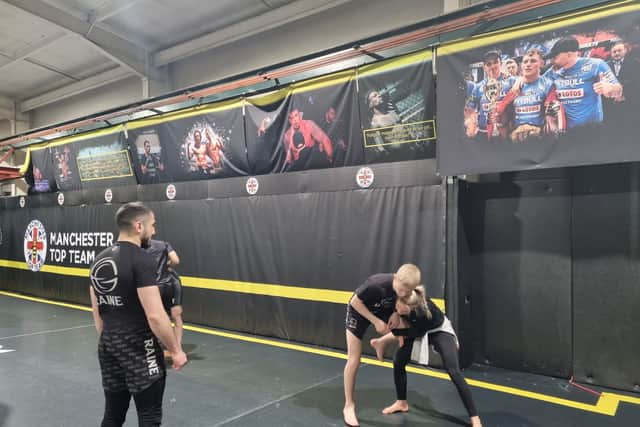 "When I started it was bouncers and guys who just wanted to have a fight, they were tough but not particularly technical or talented. Now it's a way of earning an income, making a career and following your dream.
"We're putting people on the right path. We've got undefeated fighters and I'm aware of these guys' level and trajectory and where they should be headed. We're just getting started on our journey.
"We want our fighters to become icons in the area and we want to show that there's something out there for you to achieve great things. The link with the PFL is a godsend, a big organisation that sees the talent we have here and wants to grow.
"I still want to get fighters to the UFC though. Everyone knows the UFC, even people who are not fight fans. It's remarkable after the fights how many people are talking about them. I've had people I haven't spoken to in 20 years say they've seen us doing well."
What do coaches and fighters at Manchester Top Team say about the gym?
Some of those doing the coaching at Manchester Top Team are ex-fighters who competed in the cage at a time when British MMA was in a different place to today. Andrew Lofthouse, from Oldham, competed in top domestic promotions such as Cage Warriors and BAMMA after switching from Thai boxing but says he has no feelings of jealousy at all about the opportunities young fighters have now and he is just happy to be involved as the sport continues to evolve.
He said: "I get the same thrill from them fighting as I did when I fought. They do say there's no unselfish deed but I get my buzz off them succeeding."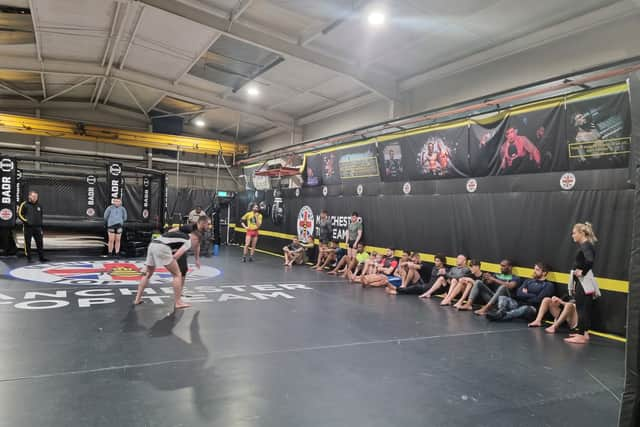 Andrew, who is known by his nickname Lofty in the gym, said the main messages he passes on to the fighters are "self-accountability, falling in love with the journey and trusting the process".
He added: "You're not owed anything in life but if you work hard the opportunities will arise. I'm a big believer that you are competing against yourself to be the best version of you. Everyone's goals are always going to be different. When I was fighting I was never obsessed with being a world champion, I just enjoyed fighting."
The gym's approach also gets the thumbs-up from the current roster. On the day ManchesterWorld visits George Smith, who has previously fought in Cage Warriors, is on the comeback trail after having heart surgery and is in the processs of preparing for his first fight since the operation.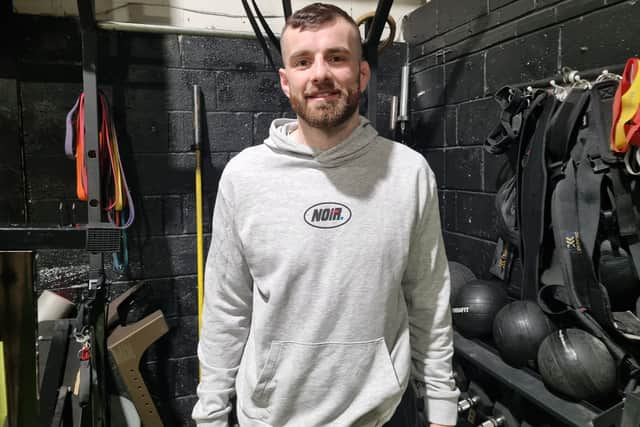 He said: "I've known Carl for years and I live just down the road so it's a no-brainer to come here. They've built a really strong team and some of the top fighters are here now. The rebuild of me as an athlete has happened here and I'm forever grateful for that.
"There are so many people from different backgrounds here and the team environment is better here than I've ever seen before, it's impressive. Manchester is a real hotspot for MMA in the UK now, the North West gyms are doing a lot."
Training the young stars of tomorrow
It's not just those building their records in professional MMA or the upper reaches of the amateur scene training at Manchester Top Team. The gym is also training top young prospects who Carl says are the first generation of kids growing up with the option of MMA as a professional career from the very start.
One of those is 10-year-old Bobby Burgess, who already has his own nickname, The Beast, and trains with the competition team.
His dad Lee, who is from Dukinfield, said: "These kids are the future, I think they're a bit overlooked. There are lots of prospects here, you will see big things coming out of this gym. It's putting Manchester on the map.
"Some kids sit at home with the Playstation or have their heads in their phones, but this is the best sort of learning you can do. On the mat is where the magic happens.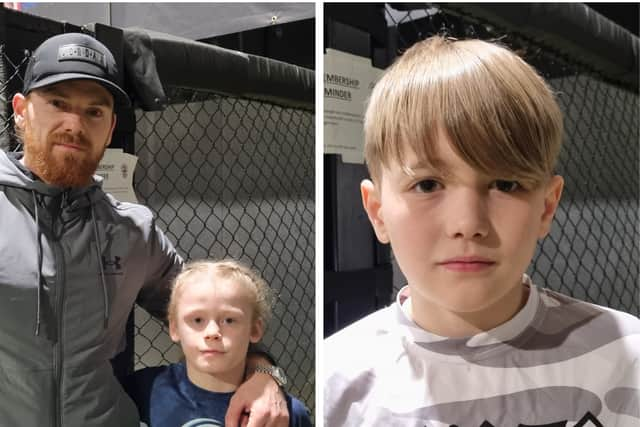 "Bobby's always had that bit of fire in his belly, so it was a case of getting him in an environment to channel that correctly. It's a superb programme here helping kids be at the top of their game and be at the highest level they can be."
Bobby's sparring partner on the mat on this Wednesday morning is 13-year-old Ceejay Cooke who is, in the words of his mum Zoe, "obsessed" with his chosen sport. He started out in Thai boxing and has recently begun MMA training.
Zoe, from Walkden, said: "I'm 100% behind him, I think he's got what it takes. He was also doing football at a couple of academies but when he was nine he won a title fight in Ireland and on the way back he told me he wanted to quit football because he had found his thing. His dad thought he could be a pro footballer so wasn't happy about him quitting, but he's always behind him."
Asked what it is like to see her son take part in combat sport, Zoe says: "I always explain it as the worst and best feeling rolled into one. I've never felt nerves like it but when they win there's no better feeling."
What is the education work that Manchester Top Team does?
Prospects like Ceejay and Bobby aren't the only young people who come to Manchester Top Team. On an upper level is a small classroom where the gym runs a pupil referral unit for those who can't be in mainstream education. Currently four young people not in education come in for four hours a day, half of which is school work under the supervision of a teacher and half of which allows them to try out grappling and the pads.
Carl says fighters can provide excellent examples of people who may not have succeeded in school but are now achieving things with hard work and dedication for the pupils.
He said: "We want to offer a holistic service. We're trying to offer an alternative source of education for these people that will keep up their level of enthusiasm and keep them more engaged with their schoolwork.
"Some of our guys weren't academic, some might have started walking down the wrong path in life but have been able to turn it round. If we can use those experiences to stop these kids following that route and divert them off that path it will be a job well done."
Manchester Top Team is also working with several schools in Tameside to offer sessions, and Carl says this work is an excellent opportunity to spread the word about the gym and what it is achieving. There are other opportunities for people to come to the gym, with sessions for the public catering to different ability levels as well as dedicated children's classes.
Carl said: "It's definitely mutually beneficial. The more people know what we are doing the more engagement we will get and the more we can spread the message.
"Our sport still has a barbaric stigma attached to it. We are really trying to display that we are life mentors. Where there is aggression in this world you have to channel and harness it. A lot of people who fight on the street are insecure, whereas if you train and know how to defend yourself it takes away these physical insecurities and makes people comfortable around each other. This is a positive thing for society.
"We want to tell people about what we are doing and inspire people. We are trying to change the game. I don't want to be average, good or even the best in the UK. That's not where our ambitions lie. We want to compete with and beat the best in the world."