PFL Europe: Dakota Ditcheva wins her flyweight season opener in Newcastle on a night Manchester MMA shines
Flyweight fighter Dakota Ditcheva is still unbeaten after her latest victory in PFL Europe in Newcastle - and it was a good night for Manchester MMA all round.
Watch more of our videos on Shots! 
and live on Freeview channel 276
Visit Shots! now
Manchester MMA star Dakota Ditcheva secured her latest high-profile victory at the first PFL Europe show in Newcastle on what was a very good night for Manchester MMA.
Flyweight fighter Dakota was the co-main event of the evening at the Vertu Motors Arena for her showdown with Sweden's Malin Hermansson and received a rapturous reception from the sold-out venue.
She ensured her fans went home happy with a first-round submission victory against Hermansson to move her record in the sport to 8-0 and secure her place in the PFL Europe playoffs.
It was a night when Manchester MMA shone brightly in the North East, with two other fighters who are either from the city or train here securing statement wins.
What was Dakota Ditcheva's latest fight in PFL Europe?
Unlike other mixed martial arts (MMA) organisations, the Professional Fighters League (PFL) runs a season format with fighters competing over a regular season before moving on to playoffs and then a grand final. PFL Europe is being run for the first time this season and brings together 32 fighters in four weight classes from across the continent.
Dakota is competing in the flyweight category and for her regular season fight was matched up against Hermansson from Sweden, who came into the contest with a 5-4 record while Dakota put her undefeated run of seven victories on the line.
In the Sale fighter's previous PFL outings she has put on some eye-catching displays of striking but this time around she showed another facet to her game by securing a submission win via rear-naked choke. Hermansson tapped out with just over a minute of the first round remaining to ensure Dakota moved to 8-0 and gave her a place in the PFL Europe playoffs fight night in Paris in September. The season ends in December in Dublin with the winner of each weight category taking home $100,000.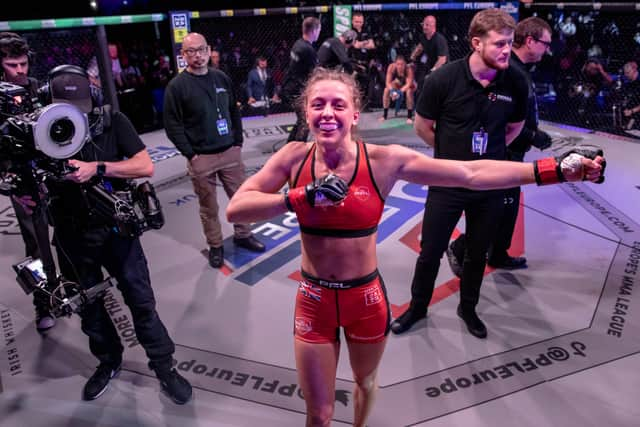 Afterwards she spoke about her most high-profile outing in the cage to date as the co-main event and about being seen to have more to her game than just kickboxing.
Dakota, 24, said: "I'm really proud of myself. This week has been a lot. This is the first time I've felt I've carried a show like this, I'm 24 and I've not been in MMA too long. It was a lot of pressure and a lot of new emotions but I've enjoyed every second. I've got the win and showed I'm not just a striker.
"It kind of was and kind of wasn't a game plan, it wasn't something I went looking for because that's when things go wrong. Knowing I have that in my locker gives me the confidence to go out and be comfortable in every situation. I looked very comfortable on the floor because I've worked on that."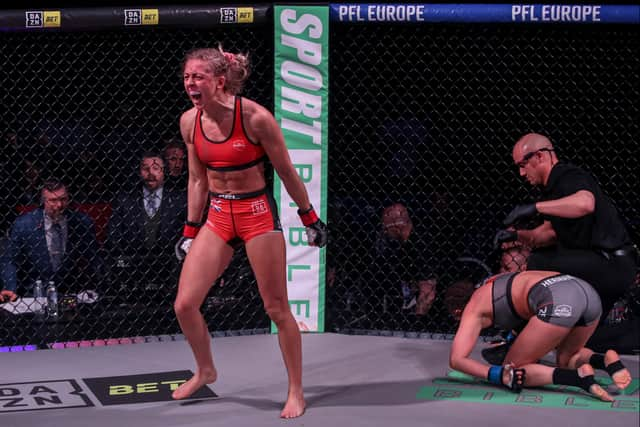 The flyweight division also saw wins for Sweden's Cornelia Holm and Valentina Scatizzi, an Italian who fights out of Dublin in Ireland, and both their victories were tight split decisions decided by the judges' scorecards. Having secured another impressive first-round finish, Dakota had a message for her rivals in the category as she continues her undefeated start to her MMA career.
She said: "The girls are coming in and giving it their all but you need to bring more than a split decision to knock me out of this competition. I will get ready for the next round and make sure I'm still on form. I don't know who I'm going to get but I'm not too bothered.
"I'm never going to let go of that 0 as long as I can. I don't look at the number too much but I just want to keep improving and make sure I'm winning."
What else did Dakota say about her PFL Europe victory?
Dakota was cheered enthusiastically by the fight fans in Newcastle and she said afterwards that a good number of supporters had made the journey up from Manchester to see her compete on British soil.
Her pride in her home city was also evident when she did her post-fight interviews with the media wearing a Manchester City T-shirt.
Dakota said: "It was so nice to walk out and see familiar faces which I haven't had in a while. To hear my name being chanted was brilliant. I had a coach full that came up and I was getting sent videos of them all on the coach chanting and singing my name. It does mean so much to have that support, I don't think anyone would truly understand until they are in that moment that the support, even though they are not with you all the time, really does help."
Dakota also spoke of the importance of having her family around her with her mum Lisa Howarth (a former world kickboxing champion) and her brother Cody Ditchev both coaching her. She also spoke about her focus and how she approches every fight she has in the cage.
She said: "Every fight for me is like I'm fighting for a world title. It doesn't matter if it's the first stage of a tournament or if I'm fighting for $100,000, I want to win and I don't want to let go of my 0.
"I'm not going to come in to something like this and because it's the first round just breeze through it. I never underestimate my opponent no matter who it is. Every fight means the same, it doesn't matter how big or small it is.
"I've got a good support system around me. My brother is in my corner every time and he's a big help. He's been with me all through fight week and to be honest it would be hard to do this without him.
"I feel I've got the right people around me, those who know me best, and that's really important."
Dakota also spoke about the pressure of being one of the biggest names on the card for the Newcastle show and revealed she had taken inspiration from the likes of American lightweight PFL star Kayla Harrison and the organisation's defending featherweight champion and her fellow Mancunian Brendan Loughnane who have had to handle walking out to the cage with $1m riding on the outcome.
A very good night for Manchester MMA
The PFL Europe debut show was an excellent night for Manchester MMA with two more highlight bouts featuring fighters who are from the city or train in it.
Highly-rated young prospects Louis Lee Scott and Lewis McGrillen both kept their undefeated records intact in two showcase bantamweight bouts.
Louis, who fights out of Leeds but trains at Manchester Top Team, took just 21 seconds to live up to his nickname of Lightning by knocking out Gateshead's Sam Robinson with a spectacular high kick. And Lewis, who now has a pro record of 7-0 and is another Manchester Top Team fighter, unleashed a barrage of powerful shots to knock out Londoner Salih Kulucan in a fight which was moved up the bill to a more prominent location due to the amount of interest generated in it. Lewis received massive support from the crowd in Newcastle with chants of: "Oh, Lewis McGrillen" ringing out across the arena.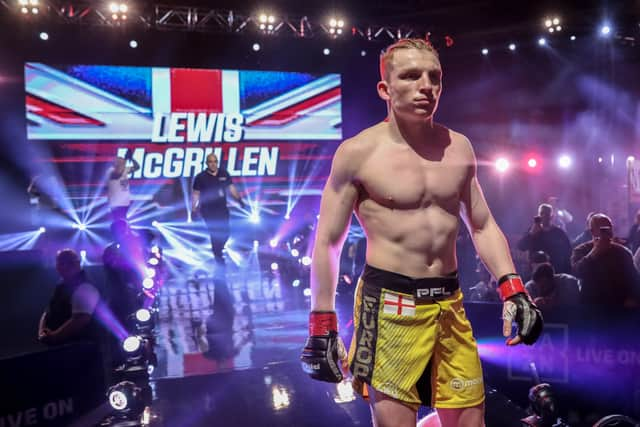 Speaking about his victory and his approach to fighting, 22-year-old Lewis said: "As coach says, stay calm and have fun. Anger is a gift, use it wisely and you can do great things, and that's what I did in there. I'm going all the way to the top, the sky's the limit for me."
Lewis also spoke of his pride at representing both Wythenshawe and Manchester with his exploits in the cage.
Lewis and Louis, who is a year older at 23, are both highly-tipped prospects and their performances in Newcastle impressed the PFL bosses. The organisation's senior vice president for international, James Frewin, said:"Those two are studs. There's a lot of talent coming out of Manchester. Manchester Top Team is on a hot streak, as is Manchester generally with Brendan winning last year. Those two are really exciting and they showed that. They've got a big future."
All the Manchester fighters on the card called for the PFL to bring a show to the city and with so much local talent to showcase fight fans may get a hometown card, with Mr Frewin saying Manchester is "top of the list".