An unbeaten Manchester MMA fighter is hoping to take another big step towards her goal of reaching the top when she competes in the first season of PFL Europe.
Flyweight Dakota Ditcheva, who is from Sale, is undefeated in the cage with a perfect 7-0 record and has been tipped as a top British prospect in the sport.
She is now in the inaugural season of PFL Europe and has been given a home fight against France's Clara Ricignuolo in Newcastle in March. Dakota has already recorded two victories at events organised by the Professional Fighters League (PFL), including her last outing on the undercard of the organisation's season finale at Madison Square Garden in New York.
The PFL has already helped to put Manchester on the MMA map as Brendan Loughnane took home $1m by becoming the promotion's featherweight champion, and Dakota has also set her sights on reaching the top.
When is Dakota fighting in PFL Europe, who is she against and what has she said about it?
Dakota, 24, is on the card for the first PFL Europe show of its inaugural season at the Vertu Motors Arena in Newcastle on 25 March. She will face one of the toughest tests in her career so far when she takes on French fighter Ricignuolo, who has a 3-3 record in the cage. Tickets for the show are on sale now at Ticketmaster.
Dakota already knows a bit about her opponent and is coming into the fight on a high after facing Katherine Corogenes at the PFL's grand finale last year and picking up an emphatic first round knockout win against a fighter who until then had not tasted defeat. As she trains with the famous American Top Team gym in Florida and spends the year travelling backwards and forwards between the UK and the USA she is also looking forward to fighting at home with a British crowd in Newcastle.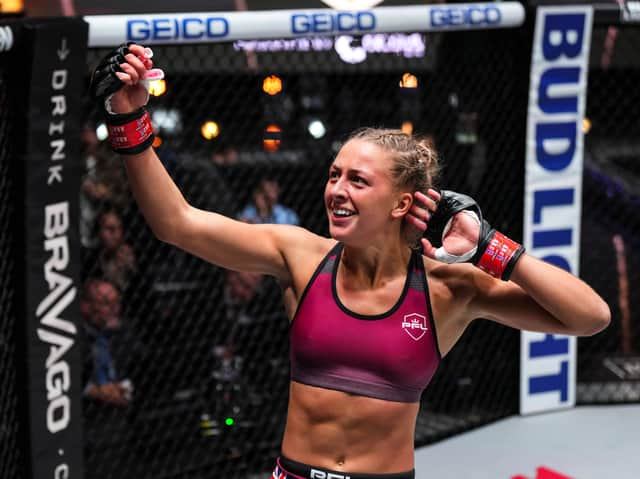 Dakota said: "PFL Europe is exciting. The PFL has grown a lot. This is the first fight card for PFL Europe which is going to be massive. I came home to fight in London on one of the PFL shows and that went really well. I really felt the energy of the crowd and I'm looking forward to coming home and fighting in the UK again.
"I stay in the gym all year round but we've started upping the pace now and I'm looking to go back to the States again. Camp is well under way. A fighter's life means giving up a lot to go to the best places and America is somewhere I've improved a lot. There's a massive difference in terms of the girls I get to train with over there.
"I know the opponent I'm fighting, I fought on the same card as her in Canada last year. She's a really tough girl, she fights a bit naturally heavier than me from what I can remember.
"I'm looking forward to a good fight and putting on a good display for the fans. It will be an exciting fight to watch."
How does PFL Europe work?
The PFL is unique among major MMA organisations in that it doesn't follow the standard combat sports approach of having a belt holder and rankings in which the other fighters work their way up to challenge for the title. Instead the PFL operates in a season format, with fighters competing in a regular season and earning points and the most successful competitors in each weight class going through to the playoffs before the final two face off for $1m in the PFL World Championships.
PFL Europe will feature 32 fighters from across the continent competing in four weight classes. There will be two regular season events (the one in Newcastle and one in Berlin in July) before the playoffs take place in Paris in September and the championship fights are in Dublin in December. The four champions will all take home $100,000 and the chance to earn a spot in the PFL's following $1m global season.
While Dakota is taking her career one step at a time, the PFL's format does also give her the chance to look a bit further ahead and plot out more of her route through the MMA ranks.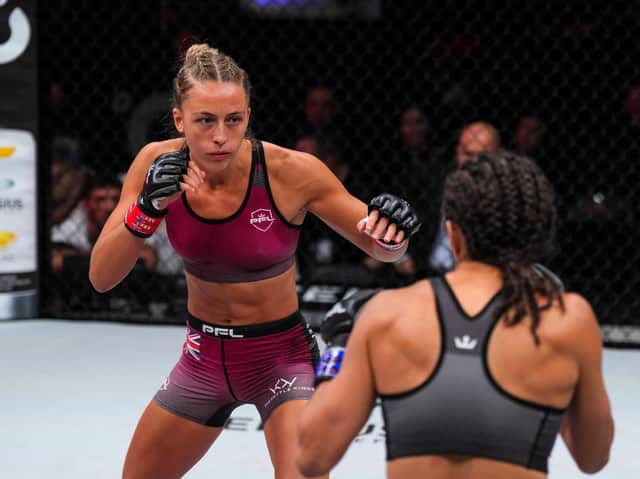 She said: "I'm concentrating on this next fight but at the back of my mind is the big prize and those two dates beyond this one. I've obviously got the next step in September and the final in December to keep thinking about.
"The format is exciting and it's what draws eyes to the PFL, but it's tough because our fights are quite close together.
"We will see what happens with PFL Europe for now but I want to be at the top, I'm not just here to plod along. My goals right now are to make it into the next season and to be at the top of the PFL and be the girl to beat."
Competing on the undercard at the PFL World Championship on a famous night for Manchester MMA
Dakota has already had a taste of the big time as her last fight was at Madison Square Garden in New York on the undercard of the PFL World Championships night. That card also included Brendan Loughnane winning the $1m cheque and featherweight belt, becoming the first fighter from Manchester to bring home a global MMA title.
She said: "It was a bit surreal and an amazing experience. I was super lucky to get on the under card and be around the athletes fighting for $1m. That's the direction I want to go in so from that whole week with the fighters I know what I am in for in the future.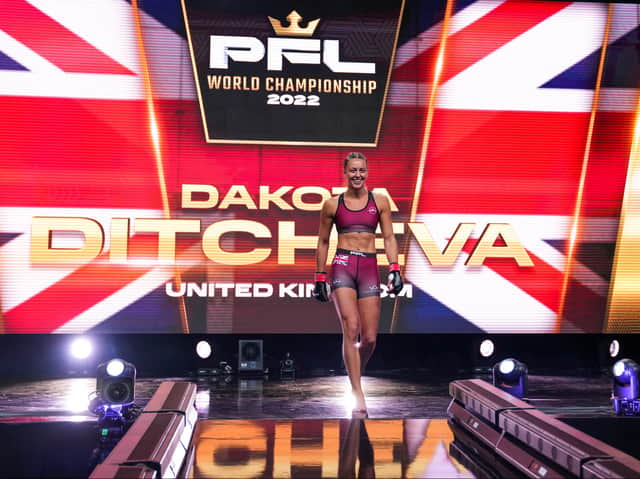 "I know Brendan and I've followed his career and his journey since the beginning. Watching him winning that $1m was really emotional, I was so happy watching him hit that milestone. It was massive for the whole of Manchester and we're extremely proud of him.
"We need to keep pushing that momentum he's built and being another fighter from Manchester I'm hoping to keep pushing that as well. When you're in the sport you know how much it takes and it gives you the confidence to know you can get the big one."
How did Dakota start out in MMA?
Dakota, whose mum is from England and dad is from Bulgaria, comes from a combat sports family. Her mum Lisa Howarth was a champion kickboxer (her brother Cody Ditchev is also a kickboxer) and Dakota took her first steps in Muay Thai at the tender age of about four.
She then stepped away from the sport for a while before returning and taking it more seriously when she was about 13. before making the transition into MMA around four years ago.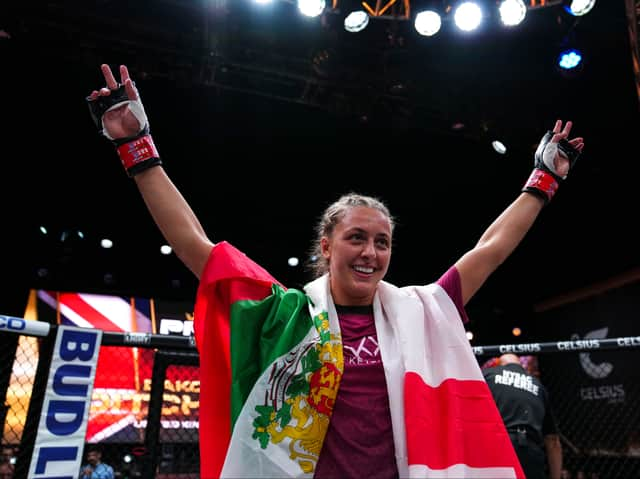 She said: "I saw more of a career in MMA, it pays a lot more than Thai boxing. I started fighting at a young age but I had a while off because I wasn't really interested as a kid. My mum never pushed me to do it and I did dance, gymnastics, all sorts. At about 13 I wanted to come back to it.
"MMA was something I had wanted to try for a while and the coaches I worked with said I would be good at it. I used to watch the big shows on the TV and I liked Ronda Rousey when I was younger.
"I was taken to a gym and just really took to it. I feel I've made the right decision."