A Manchester student has begun filming a documentary about the Iraq War and its impact.
Zain Ullah, who is from Crumpsall and in his final year of studying criminology at Manchester Metropolitan University (MMU), is making Life After War: Iraq to explore the tumultuous events of 2003 when a US-led coalition invaded the Middle Eastern country to depose its leader Saddam Hussein and led to years of military conflict.
Zain, 21, has had the idea for some time of putting on screen the debates about what happened and whether or not the invasion was justified and the ongoing effect it has had on the Iraqi people.
He has now managed to begin filming by interviewing an academic who studies the Middle East and its relationship with the USA in Manchester and hopes to travel to Iraq to film there.
What is Life After War: Iraq?
Zain got the idea for the documentary in his first year at university. He watched a number of videos online asking questions about the justifications for war in Iraq and got onto discussing the subject with some of his friends. One particular friend of his was a film-maker and Zain asked him if he thought they should do something on the topic.
Since conceiving the idea a couple of years ago, though, Zain has had a few setbacks, including the Covid-19 pandemic and some issues getting people with the relevant expertise around the conflict to agree to speak on camera.
Now, though, Zain has interviewed Dr Steven Hurst, an academic specialising in politics at MMU who researches the foreign policy of the United States since 1945 and who has written about the country's involvements in both Iraq and Iran.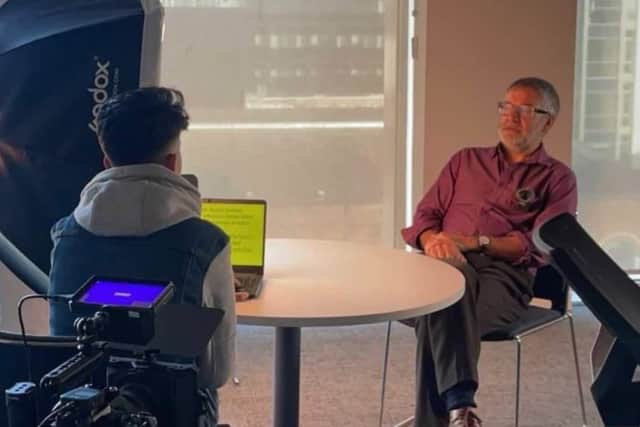 They discussed the role of the United Nations and its security council in the run-up to the war in Iraq and also went back to 1979 and the purge of the Ba'ath Party which occurred shortly after Saddam Hussein's rise to power.
Zain is hoping this will form the basis of the first of three episodes of his documentary and he is looking at getting them uploaded online to a major video-sharing site ike YouTube or Vimeo. He admits, though, that his ultimate aim is for his documentary to be shown on Amazon Prime.
Zain is hoping to interview other writers of books about the Middle East and the conflict as well as war veterans. Once his university studies are complete in a few months' time, he is hoping to head out to Iraq itself to do filming there for the final part of the documentary.
What has Zain said about his documentary?
Zain, who in addition to his film-making does acting on a part-time basis for short and feature films, said: "This has definitely been a learning curve for us. We experienced delays in filming, after-production has been slow and as people who are just starting out we have found it quite hard to get major people to speak on live camera.
"I'm just filming a bit in the UK, trying to get authors involved and talking to a few politicians to see if they wuld be interested in it. I've got a few months left in uni but as soon as that's done I will hopefully go to Iraq to get some filming done. I'd like to speak to people who live there and who were officials or in the army at the time.
"I hope to get people thinking about whether the war was justified or not and how bad the effect of war on the country has been."