A new short film on the cost of living crisis created by a leading environmental organisation and an economic think tank will be screened in Manchester.
The film, called The Cost of Living, has been produced by Greenpeace in partnership with the New Economics Foundation and looks at how a community in the north of England has come together to help residents support each other in tough times.
The film was launched in Greater Manchester with a screening in Glossop after which residents spoke about how they have been coping as the cost of living has risen dramatically.
Greenpeace and the New Economics Foundation are calling for investment in green and renewable energy and measures such as insulating homes, which they say would help to tackle both the cost of living and the climate and environmental crisis at the same time.
What is the short film The Cost of Living and when is it being screened in Manchester?
The Cost of Living is a new short documentary which has been made by Greenpeace working with the New Economics Foundation. The film tells the story of volunteers in food banks and community centres in the Rother Valley in Yorkshire and depicts how the communities there which have been hit hard by the cost-of-living crisis are pulling together to support each other at a difficult time.
It is being screened in Manchester on Saturday 26 November at the Friends Meeting House on Mount Street, starting at 1.30pm. Manchester Gorton MP Afzal Khan has been invited to attend the event, which is free.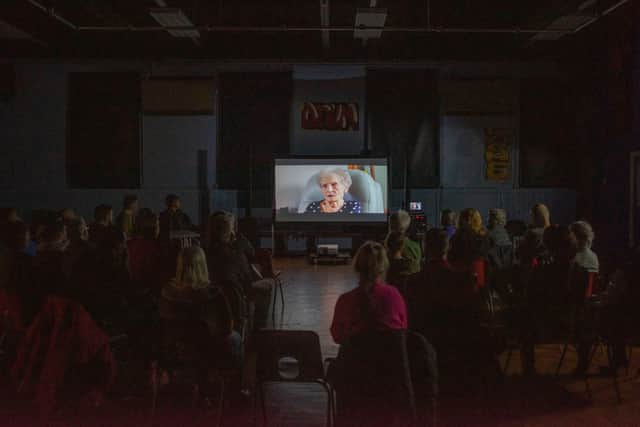 The trailer for the film was also beamed onto the wall of prime minister Rishi Sunak's home in Yorkshire on the eve of the autumn statement to encourage him to address the issues depicted on screen.
Greenpeace has also arranged a screening at a town hall event in Hazel Grove in March and is looking to put the film on in other areas of Greater Manchester in the new year.
What happened at the first Greater Manchester screening of the film?
The Cost of Living has already been shown in the city-region as an event at the Pure Vibes community centre in Whitfield in Glossop was arranged on Friday 18 November. It was hosted by Warm Homes Whitfield, a group that as part of the Great Homes Upgrade campaign is calling for the cost of living and climate crises to be solved by investing in renewable energy, properly insulating homes and providing people with the skills and training needed to deliver a green energy revolution.
After the film local people who attended spoke about how the cost of living crisis has hit them in the wallet. One woman said she grew up in a house where her parents made sure nobody was ever cold but her children were going to bed coughing in cold, damp bedding while her energy bills had shot up to £300 a month.
A healthcare worker told the meeting of having to: "Keep warm in my little space with my little resources", while local builder John Walmsley described what it felt like when his children asked: "Dad, can we have the heating on?" Mr Walmsley said "change is not a spectator sport" and called for local politicians to do more.
What has Greenpeace said about the film and the issues it raises?
Greenpeace also says that the climate and cost of living crises can be tackled at the same time as renewable energy is now cheaper than fossil fuels. The organisation is calling for at least £6bn to be spent on implementing a national insulation and energy efficiency programme during this parliament.
It says that people living in poorly-insulated homes will have to pay almost £1,000 more than others on their energy bills this winter, and that data from the End Fuel Poverty Coalition shows that almost a quarter (24.5%) of UK households are currently experiencing fuel poverty.
Martin Porter from the Manchester Greenpeace Group said: "We can no longer afford fossil fuels. We can't afford the environmental price, and many people can't afford the actual price. The fossil fuel giants are making billions of pounds in profits whilst ordinary people struggle to afford to keep warm.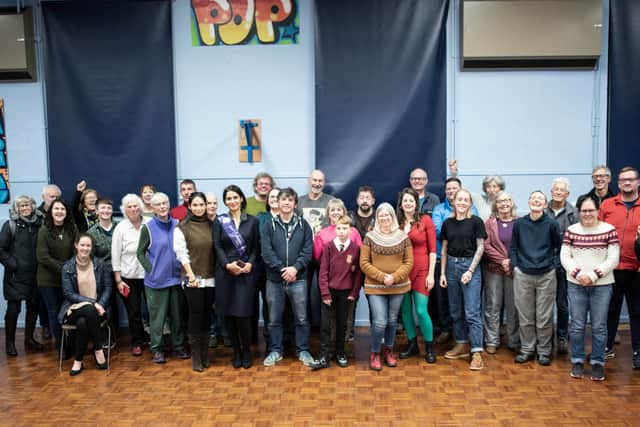 "What we can afford is home insulation, which saves people money and reduces their carbon footprint. We can't wait any longer. The government needs to act now.
"We want as many people as possible to see this film. Manchester under Andy Burnham is a city moving in the right direction faster than the rest of the country, but there's still much more we need to do."
Greenpeace said it had recently commissioned polling which showed that 69.4% of people in the north of England have had to make cuts to other spending due to rising energy bills, and 61.1% feel that their standard of living has got worse since the last general election. A Government programme to install home insulation in local areas was backed by 77.2% of people from the north who were quizzed.
The environmental charity also recently asked Cambridge Econometrics to prepare a report which suggested a scheme rolling out home insulation and heat pumps could bring £6.8bn into the economy each year while creating almost 140,000 new jobs by 2030.
What has the government said about the cost of energy?
The government said in November that the first month of the Energy Bills Support Scheme (EBSS) helped around 27 million households by providing £1.8bn in payments and that a second installment would bring down the bills for last month. It also said households would receive further discounts on energy bills throughout the winter months.
Other support that has been introduced includes the Energy Price Guarantee (EPG) which the government says will save a typical household around £700 this winter.
The Manchester Greenpeace Group said ministers had started moving in the right direction with measures such as a windfall tax on fossil fuel producers, but what has been announced so far does not go far enough and is not even bringing the UK back to where it was a decade ago.