Manchester food bank praises Muslim community for rallying with halal supplies after desperate plea for help
Referrals to Perry's Pantry for Muslim families doubled in the space of a week, leading to an urgent appeal for help to restock shelves which were already depleted due to donations falling during the cost of living crisis.
Watch more of our videos on Shots!
and live on Freeview channel 276
Visit Shots! now
A Manchester food bank has praised the city's Muslim community after a huge surge in donations of halal products following a desperate plea.
Perry's Pantry, which provides food to struggling families across south Manchester, was forced to issue an appeal for halal supplies when referrals for Muslim families doubled in the space of a week.
The food bank and pantry service, which conducts a delivery service to save users travel costs, has been struggling for food in general following a 'drastic drop' in donations amid the cost of living crisis.
'A lot of people are struggling with the cost of food'
Jen Savaris, director at Perry's Pantry, is concerned for the future of the service if inflation continues to increase and wages do not keep up.
"It's been so busy, we've had to stay open late," she said. "A lot of people are struggling with it costing so much for food.
"We completely ran out of food this week. We stocked up on Monday and spent £400 on food but we ran out on Wednesday. We have just had so many referrals.
"It has cost £800 for deliveries this week alone. We had £11,000 at the start of the year and I thought that would be enough but now we are going down to the last thousand."
What services does Perry's Pantry offer?
Jen and her team of volunteers run a pantry service which, after two free food deliveries, offers users membership for £3.50 a parcel per week or £5.50 for a family of two or more.
"Most food banks couldn't afford to give continuous free food," she said. "Around 98 per cent of the help that we get is from the public and that is just drastically dropping.
"We used to get around £1000 to £2000 a week, on a good week but that has dropped to £100 to £200. It's been very stressful.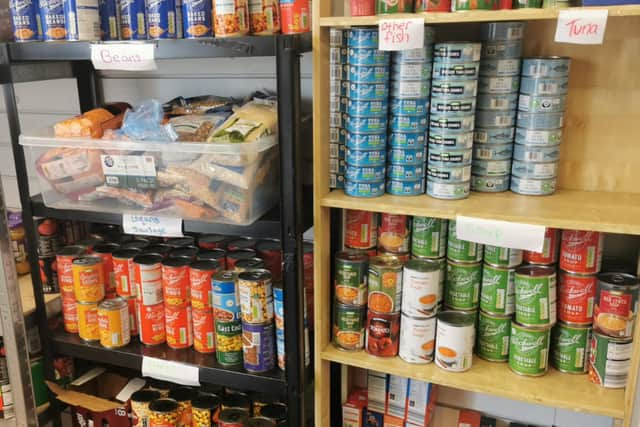 "A lot of food banks are really struggling, especially the independents as they don't get the regular support as much.
"And it's only going to get worse with the prices going up for energy again in October. I dread to think about this Christmas.
"I think I am going to have to start appealing early this year to cope."
A sudden surge in referrals from Manchester's Muslim community
One of the main issues facing food banks is the increasing number of referrals as people struggle to make ends meet.
This week alone, Jen and her team gave out 52 parcels which can be food for hundreds of people depending on the size of the families. Nine of these were to new referrals from the Muslim community. This is also on top of eight new referrals made the week previously.
"I'm not sure why or what's going on," she said. "The Muslim community have been absolutely fantastic though. They have banded together and are sharing it everywhere. We have had ample donations dropped off since our appeal.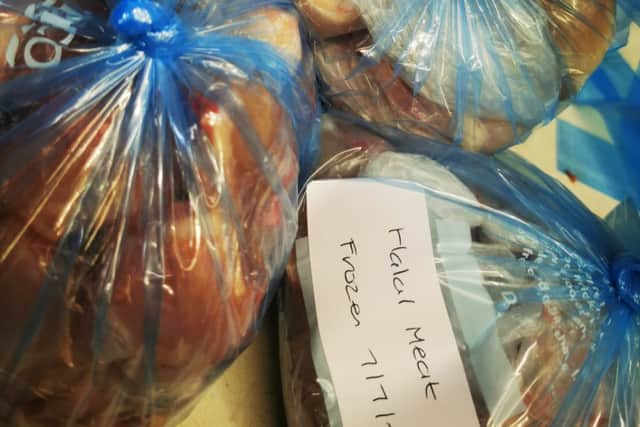 "We have got loads of halal meat, lentils, chickpeas. We have a good two month's supply now."
Jen highlighted that many organisations don't think about specialist diets when appealing for food and many donors do not take it into account as a result.
"We have people with all sorts of dietary requirements who also need help," she said. "Gluten free products are helpful for those who are coeliac and there is an increased demand for vegan food, those with allergies."
What is the story behind Perry's Pantry and how can people help it keep going?
The pantry, which was launched in 2020 in response to the Covid lockdowns, initially started as a service to help people who were shielding and needed help.
However as the country's cases rose and the lockdowns were extended, people starred to call Jen and her team for help with food.
"We started getting some calls asking for food," she said. "Then I put a post on Facebook and ended up with a living room full of donations from that one post."
Jen continued with the appeals and the pantry became fully charity registered in June 2021.
She added: "It's been a tough one this year but we are getting there. We are doing our best."
The food bank is open for donations from Monday to Friday and is looking for volunteers to help pack and deliver parcels.
For more information visit the Perry's Pantry website here or call 0161 3751630.