The theme for the massive city centre parade at this year's Manchester Pride has been announced as a celebration of a major milestone for the LGBTQ+ community.
Thousands of people will take to the streets of the city for the popular annual event which always sees the route lined by tens of thousands of cheering spectators. The theme for the 2023 parade will be Queerly Beloved and it has been chosen to mark a decade since the act allowing same-sex marriage in the UK became law. Here's what Manchester Pride has said about the parade and why it has picked this year's theme.
What is the theme for the 2023 Manchester Pride parade?
Manchester Pride has chosen Queerly Beloved as its theme for the parade which is always one of the highlights of the four-day festival which takes place over the August bank holiday weekend. This year, the parade takes place on Saturday 26 August.
The theme celebrates the 10th anniversary of the Marriage (Same Sex Couples) Act being passed in July 2013. The act enabled civil partners to convert their partnership to a marriage, if they wished, while also allowing individuals to change their legal gender without having to end their marriage. Participants can dress up however they interpret the theme, but the charity has given a few suggestions including a "Mother of the Pride" outfit, walking down an aisle with flowers or turning up as newlyweds or a "mate of honour".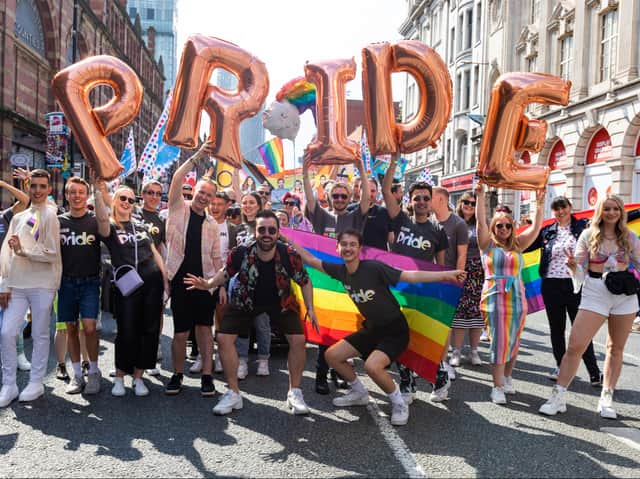 Manchester Pride says it aims to show the power of love and celebrate love within the LGBTQ+ community while also placing those more marginalised in society at the front. However, it also aims to promote reflection on how far there still is to go, with only 32 countries around the world currently recognising same-sex marriage in law and worrying statistics showing there was a significant rise in hate crimes in Greater Manchester last year.
The parade starts on Liverpool Road in Manchester city centre, passing by the Town Hall and the Gay Village before finishing on Whitworth Street.
Manchester Pride is this year encouraging as many participants as possible to walk the parade route in an attempt to cut down the event's carbon emissions and make it more environmentally-friendly.
What has been said about this year's parade theme at Manchester Pride?
Mark Fletcher, CEO of Manchester Pride, said: "We're very excited to announce this year's theme for the Parade. Queerly Beloved celebrates the wins for the LGBTQ+ community but also poses the question: how far have we really come? We will be marching for love, and our message is clear: our love is powerful, our love is resistance, and love should be celebrated for all."