Manchester Pride Festival is returning for 2023 and tickets go on sale tomorrow (8 March). The festival takes place every year over the August bank holiday and includes a packed programme of events to celebrate the city's LGBTQ+ community.
The line-up includes seven different events that will run between Friday 25 and Monday 28 August. Alongside the festivities, Pride is also an opportunity to raise awareness of the ongoing issues the community faces and commemorate those lost to HIV and LGBTQ+ persecution.
The Gay Village Party, which takes place across all four days of the festival, is the only event that requires tickets. The four-day street party will see a range of LGBTQ+ artists take to the stage on Canal Street, the home of Manchester's community.
How to get tickets for the Gay Village Party
Tickets for the Gay Village party will be available to purchase online via Ticketmaster from 12pm on Wednesday 8 March. There are several different ticket options, depending on whether you wish to attend for one day or all four days. £2.50 of each ticket will be donated to the Manchester Pride Community Fund.
The Pride ticket prices are:
Full weekend ticket: £37
Friday ticket: £21.00
Saturday ticket: £31.00
Sunday ticket: £31.00
Monday ticket: Free plus £2.50 donation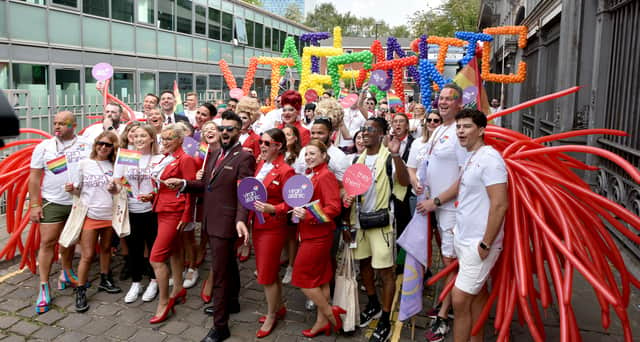 Anyone wanting to enjoy the whole weekend party with some added luxuries can also opt for the Diamond VIP package at £182.50, or the Gold VIP package for £122.50. Some of the perks include access to VIP areas, gift bags and drinks tokens. The full breakdown of what is included can be found on the Ticketmaster website.
This year, Manchester Pride have added more low income ticket options in response to the cost of living crisis. These tickets will be distributed on a first-come-first-serve basis and are restricted to Greater Manchester residents only. They are not available to purchase via Ticketmaster, instead you must apply online here and supply evidence that you receive either Universal Credit, Working Tax Credit, Job Seekers Allowance, Personal Independence Payment or Disability Living Allowance. All the details on eligibility criteria and the application process can be found in this document.
The low income ticket prices are:
Full weekend: £20.00
Friday ticket: £11.75
Saturday ticket: £16.75
Sunday ticket: £16.75
Family tickets for up to four people are also available at £57 for the Saturday and £53 for Sunday. Tickets for personal assistant fees.
All tickets are also subject to a 10% booking fee, which is applied to the ticket price alone and not the £2.50 donation.
What are the other events?
The Gay Village Party is just one of the events that make up Manchester Pride Festival. On Saturday 26 August, the Manchester Pride Parade will be making its way through the city centre. This is an opportunity for the LGBTQ+ community and allies to come together and make a stand for equality in front of thousands of spectators.
Pride also promotes safe spaces for people of all ages, including children. Family Pride MCR will be putting together a separate program for families and children, and there will also be Youth Pride MCR, which will be a space for young people aged 14-18 and will involve fashion, music, art, performance and creativity. This is the only youth Pride event of its kind in the UK.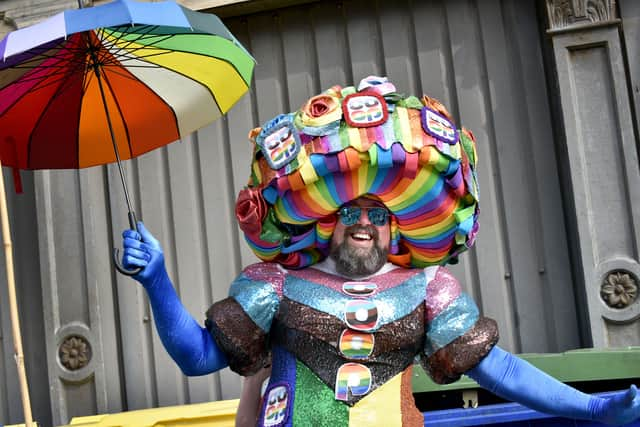 Superbia, Manchester Pride's year-round arts and culture programme, will also be putting on events, performances and premieres during the festival in an alcohol-free, safe space for all.
The Human Rights Forum will be taking place on Friday 25 August, bringing together activists and thought leaders to discuss the issues that continue to face the LGBTQ+ community and what people can do to help bring about change.
The culmination of the Manchester Pride Festival is the Candlelit Vigil on Monday 28 August at Sackville Gardens. People are invited to the gardens – which are home to the Alan Turing memorial, The National Transgender Memorial and the Beacon of Hope – to light a candle and remember those lost to HIV and victims of LGBTQ+ persecution.
For photos from last year's Pride Parade, see here.