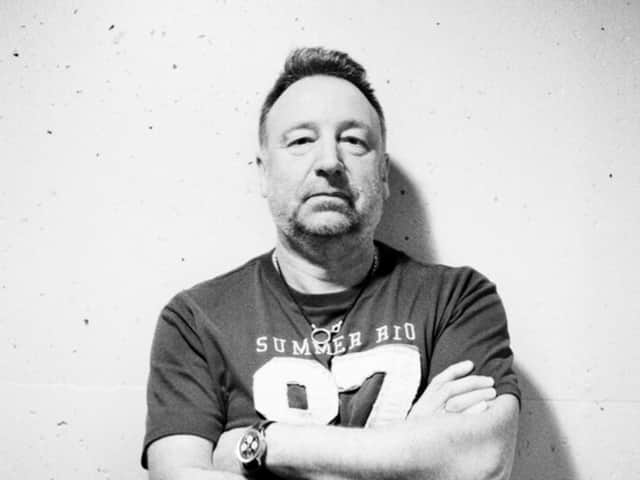 Musician and writer Peter Hook will be the Manchester Marathon starter. Photo: Julien Lachausse
The Joy Division and New Order bassist will get the mass participation event under way and send the thousands of runners off to take on the 26.2-mile course.
He is also a keen runner himself and has raised thousands of pounds for charities, including Manchester cancer hospital The Christie.
What is the latest Therme Manchester Marathon announcement?
Peter, a key musician on the famous Madchester scene, has been chosen as the official race starter for the 2022 Therme Manchester Marathon and will get the gruelling event under way on Sunday 3 April.
The event is always one that celebrates the city and the North West as a whole with thousands of runners taking part and the streets lined with cheering spectators.
Thousands of runners will be taking part in the Therme Manchester Marathon. Photo: SWpix.com
Peter also enjoys getting his trainers on and putting in a few miles and completed his first race in 2006.
He now runs a 10k three times a week and has raised a considerable amount of money for charities including The Christie, where several of his friends and family have been treated over the years.
What has been said about Peter Hook starting the Therme Manchester Marathon?
Peter said: "This is such an honour. I know all too well the strength and dedication needed to do 10k, never mind a marathon. My mind boggles at the thought.
"I enjoy running immensely and can definitely say that it has helped me cope with some very traumatic events these past years.
"No matter how bad I feel going to run, afterwards I could take on the world! Congratulations to all the competitors and you never know...I could be tempted!"
Nick Rusling, CEO of Human Race which organises the marathon, said: "It is fantastic to have a local legend starting the Therme Manchester Marathon in 2022.
"It's so important to us that the event reflects this incredible city's identity – and as we all know, music is key to that.
"We're also thrilled to be continuing to support The Christie Charity. What an amazing way for us to kick off the Therme Manchester Marathon."
What else do I need to know about the Therme Manchester Marathon?
Famous for its fast, flat route and friendly atmosphere, the Therme Manchester Marathon 2022 will welcome a strong elite field as it hosts both the England Commonwealth Games qualifiers and European Athletics Championship Trials 2022.
Behind some of the greatest runners on the continent there will be many people who thought completing a marathon would never be possible.
Many regular runners pick Manchester as the ideal event to get a personal best time due to the forgiving nature of the course, while the race has also become renowned for the lively Mancunian support around the 26.2 miles.