A firefighter who ran the Manchester Marathon in his hefty full uniform has seen his fundraising efforts go viral, after his seven-hour slog was shared in a social media clip.
Andy Ball completed the gruelling 26.2 mile race while lugging 15kg of breathing apparatus, to raise funds for Dementia UK.
He was filmed by a passer-by, struggling through the last few miles in the near dark on Sunday - and when a clip of him was posted on Twitter, it amassed more than 17,000 likes in 24 hours and half a million views.
Andy, who ran the marathon with his fire service colleague Ryan Jones, said today he had no idea his efforts would attract so much attention - but says the hard yards were all worth it when he made it over the finish line to be greeted by wife Faye and sons Stanley and Charlie.
And he has since smashed his joint £1,000 fundraising target with Ryan, for Dementia UK, a cause close to their hearts as Alzheimer's has affected family members.
Andy, 36, who works for Greater Manchester Fire and Rescue in Stretford, said this was his third marathon. He said: "In 2019, I did it in full uniform but this was the first time I did it in 15kg breathing apparatus.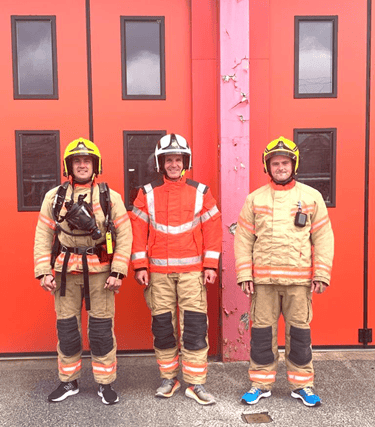 "My finish time was over seven hours; I did it with my colleague (Ryan) but he did it in a faster time than me. It was getting a bit dark and I was worried I might not find my way back as the course was being dismantled!"
Andy, who lives in St Helens, says he had no idea he was getting so much attention on Twitter at the time but guessed people appreciated his pluck in making it round the course.
He said: "I think people love to see endeavour. We were singing Oasis with the speakers on to get through."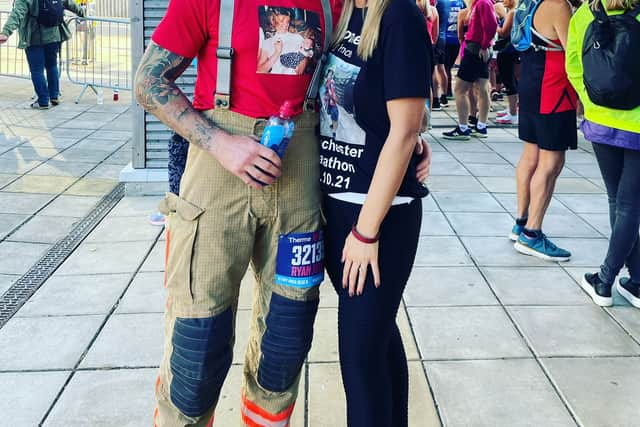 Andy said he was also inspired by his boxing hero Tyson Fury and his efforts around mental health, and was wearing a Tyson vest below his kit. But he saved his final thanks for his beloved black Labrador Minnie, who did much of his training for him in the countdown to the marathon.
And he insisted, aside from tired legs, he was no worse for his marathon ordeal the following day.
Colleague Ryan said: "It was tough. The support we got was amazing from the public, runners and everybody there, it was a really good atmosphere.
"Both myself and Andy have personally been affected by dementia and Alzheimer's and we wanted to do something to raise as much as possible to support research into the disease."
You can sponsor Andy and Ryan via either of these two links: