Manchester Marathon 2022 to host top athletes for Commonwealth Games qualifiers
The race will see some of the country's top athletes take on the city route to compete for a place at Birmingham 2022.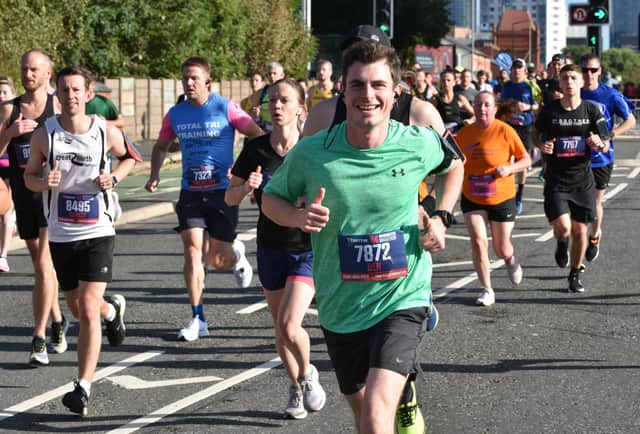 Manchester Marathon 2021 Photo: David Hurst
The 2022 Therme Manchester Marathon is set to host the England Commonwealth Games qualifiers when it takes place next spring.
The Manchester route will welcome the country's top endurance runners as they compete for a place in the England team for the Birmingham 2022 games.
With more than 60 athletes vying for a spot, England Athletics have set a tight qualification standard, with qualifying times of 2:14 for male athletes and 2:34 for female athletes.
Manchester Marathon 2021 Photo: David Hurst
Manchester Marathon will also host the trials for British athletes eligible to compete in the qualifiers for the 2022 European Athletics Championships.
More than 40,000 runners took part in the 2021 marathon through the city in October. The 2022 race will take place on Sunday 3 April, followed by the half marathon in the autumn.
'An exciting year for athletics'
Nick Rusling, CEO of event organisers Human Race, said: "2022 is shaping up to be a fantastic summer of sport, with the Commonwealth Games taking place right here in the UK in Birmingham.
"For us at Therme Manchester Marathon, to be asked to host the England marathon trial, alongside the British Athletics European Athletics Championships qualifiers, is a testament to how big our marathon event has become. We have always welcomed a strong field of elite athletes, but 2022 will see us welcome the best in British athletics to our course.
Manchester Marathon 2021 Photo: David Hurst
"2022 is an incredibly exciting year for home nations athletes with three major championships taking place. We are absolutely delighted to be working with the team at Therme Manchester Marathon to support athletes to have the best possible experience at the England Commonwealth Games and British Athletics European Championship trials."