More than one in 10 Manchester parents could be driven to use foodbanks within the next three months as the cost of living continues to rise.
Research commissioned by food delivery giant Deliveroo suggested that 12% of parents in the city could be very likely to require emergency food parcels in the next few months.
The research also shows that most families in Manchester have been seeing the cost of their food shops rise, with measures being taken as a result ranging from cutting back on heating to adults having to skip meals.
The concerning data is released as Deliveroo teams up with The Trussell Trust to provide support for foodbanks, including ones run by the charity in Manchester, and help to tackle food insecurity.
What does the research show for Manchester?
Deliveroo's research suggests that 12% of Manchester's parents could be very likely to need to use a foodbank within three months.
As the cost of living crisis continues to bite, the research found that 88% of parents in Manchester say that their monthly food shop has increased in price over the past three months.
Of those seeing rising household bills, 62% have cut back on heating as a result.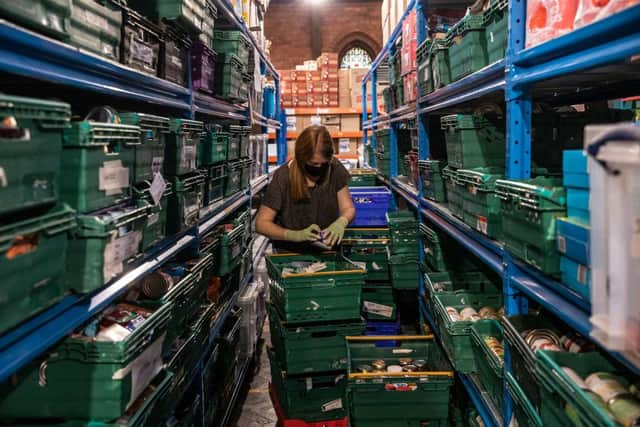 In addtion, over 40% of the Manchester parents quizzed said they have been skipping meals over the past three months to keep up with essential costs.
Across the UK as a whole, one in three of those questioned said they had gone without food in that time period, while 20% had been unable to cook hot food because they could not afford to turn on the oven.
How was the research carried out?
Deliveroo asked Stack Data Strategy to do the research. The company came up with a representative sample of 3,200 parents across the country with children aged 16 or under and spoke to them during March 2022.
In total, 197 parents in Manchester took part in the survey.
What is Deliveroo's involvement with foodbanks?
Deliveroo has announced a new partnership with The Trussell Trust which will involve it providing up to two million meals and vital support for people facing hunger all across the country.
Customers will be able to add a round-up donation to their orders in the food app and the proceeds will go to The Trussell Trust, which runs a network of 1,300 foodbanks.
The company is also hoping to play its part in working towards a future where emergency food parcels are no longer required by families and individuals living on the breadline.
Deliveroo employees across the country will also volunteer for the charity and support by sharing their time and expertise with food banks in The Trussell Trust's network.
Deliveroo will also be working with some of its biggest grocery partners and major supermarket brands to help organise donations of food, as well as committing to giving food from its Hop rapid grocery delivery sites to local Trussell Trust food banks.
What has been said about the research and the use of food banks?
Will Shu, CEO and founder of Deliveroo, said: "Supporting people facing hardship has never been more important. I am pleased we are partnering with the Trussell Trust to support local food banks across the country.
"We're committed to using our platform to play a positive role in the communities in which we operate. Together with our consumers, our amazing restaurant and grocery partners and our network of riders, we want to play our part in helping to tackle food insecurity in the UK."
Emma Revie, chief executive at The Trussell Trust, said: "Everyone should be able to afford their own food, but as families face the biggest income squeeze in a generation, people are telling us they're having to make impossible decisions between heating and eating and being forced to turn to food banks to feed themselves.
"Our new partnership with Deliveroo will help us support food banks to provide emergency food and in-food bank support to thousands of people in immediate crisis, while we work towards our long-term vision of a future where nobody needs to turn to charity to get by.
"We're incredibly grateful to Deliveroo and their customers for their support."