A leading charity is handing out tens of thousands of emergency food parcels at its foodbanks across Greater Manchester, data has shown.
The Trussell Trust shared its figures showing the scale of its operations helping families and individuals on the breadline across the city-region.
While demand for foodbanks is up since 2019-20 in some areas fewer parcels were given out in 2021-22 than the previous year when Covid-19 was at its peak.
The charity says it is witnessing an "accelerating crisis" and is calling on the Government to do more as the cost of living rises throughout 2022.
The Government says it recognises the difficulties people are having making ends meet and is doing what it can.
What does the data show for Greater Manchester?
The Trussell Trust's figures have been analysed by our sister title NationalWorld which worked out where in Greater Manchester the charity had its busiest operation.
It concluded that in 2020-21 that was Oldham, where it gave out 6,171 parcels per 100,000 residents.
Oldham also saw a 71% jump in demand for emergency food at the charity's foodbanks between 2019-20 and 2021-22.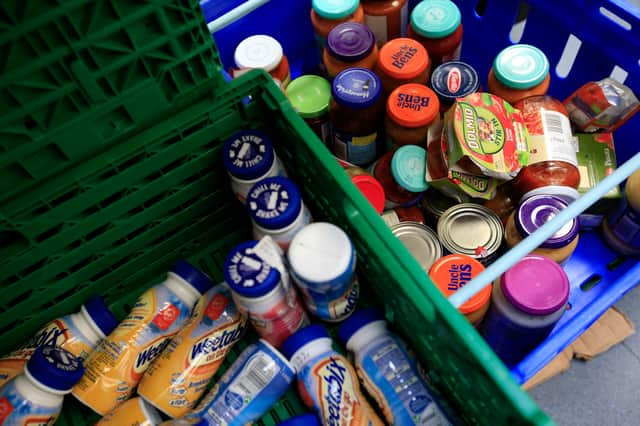 In Stockport the Trussell Trust gave out 5,820 parcels per 100,000 residents and has experienced a 19% rise in demand from pre-pandemic to the latest year.
In 2021-22 the charity handed out more than 2,000 food parcels in every one of Greater Manchester's 10 boroughs.
In Oldham the latest figures for its two distribution centres were 8,961 parcels given to adults and 5,702 to children.
What are the overall trends for the charity in Greater Manchester?
The trends in the numbers of food parcels handed out between 2019-20 and 2021-22 varies considerably across the 10 boroughs of the city-region.
In Oldham, Stockport and Manchester, demand has risen compared to pre-pandemic levels but the highest number of parcels given out were during the peak of the novel coronavirus pandemic in 2020-21.
Rochdale and Trafford saw a steady decline in demand throughout the period, whereas Wigan saw numbers decline between 2019-20 and 2020-21 before a very slight rise in the number of parcels handed out in the latest year.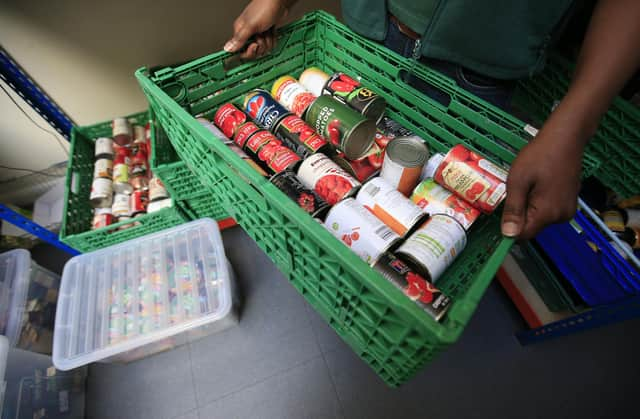 Salford saw numbers go down slightly from 2019-20 to 2020-21 before demand surged to its highest point of the period in 2021-22 while Tameside and Bolton saw an initial rise in demand before the number of parcels given out declined below the 2019-20 level in the latest year.
It should be pointed out that these figures only refer to The Trussell Trust's network of distribution points.
It is therefore not possible to conclude that this represents overall trends in foodbank use because there are also many similar resources operated independently or by other concerns whose data is not included in this analysis.
What has The Trussell Trust said?
The Trussell Trust said that across the country it handed out some 2.1m food parcels in 2021-22, a 14% increase on the pre-pandemic figure for 2019-20.
The charity is particularly alarmed by the 830,000 parcels it gave to children in 2021-22.
Foodbank managers are also now warning of an accelerating crisis across the UK following the cut to Universal Credit, as the cost of living continues to soar. 
Need for food banks in the network has accelerated throughout the past six months, and as inflation continues to increase and rising bills put pressure on families across the country the Trussell Trust says its network expects demand for emergency food to rise further still.
One food bank manager said: "The people who come in are telling me they're scared. People are beside themselves about what the next six months will bring."
The Trussell Trust says politicians must take urgent action to strengthen the social security system so it keeps up with the true cost of living and sugested a benefits payment increase of at least 7% as a first step.
In the longer term the charity also wants the Government tointroduce a commitment in the benefits system to ensure that everyone has enough money in their pockets to be prevented from falling into destitution, which means not being able to afford the essentials of eating and staying warm and clean.
Emma Revie, chief executive of the Trussell Trust, said: "People are telling us they're skipping meals so they can feed their children. That they are turning off essential appliances so they can afford internet access for their kids to do their homework.
"How can this be right in a society like ours? And yet food banks in our network tell us this is only set to get worse as their communities are pushed deeper into financial hardship. No one's income should fall so dangerously low that they cannot afford to stay fed, warm and dry.
"By failing to make benefits payments realistic for the times we face, the government now risks turning the cost of living crisis into a national emergency."
What has the Government said?
A Government spokesperson said: "We recognise the pressures on the cost of living and we are doing what we can to help, including spending £22 billion across the next financial year to support people with energy bills and cut fuel duty.
"For the hardest hit, we're putting an average of £1,000 more per year into the pockets of working families on Universal Credit, have also boosted the minimum wage by more than £1,000 a year for full-time workers and our Household Support Fund is there to help with the cost of everyday essentials."
What has Oldham Council said?
An Oldham Council spokesperson said: "Sadly, we live in a time where some residents have to rely on foodbanks in order to survive.
"This is unacceptable, especially when we are going through one of the worst cost of living crises in recent years as this will only worsen the situation for our most vulnerable.
"That's why we're committed as a council to providing residents with the very best opportunities and ensuring everyone has a fair chance to access opportunities to improve their own lives.
"We are also championing inclusive growth and making sure people have the right access to skills, helping to increase living standards, wages and skills for everyone.
"In the meantime, we would urge any resident who may be struggling to get in touch with the council as we have a variety of services available that can help you as part of our We Can Help campaign."
For more information, visit the We Can Help section of Oldham Council's website here.