With that in mind the international travel hub has issued eight pieces of advice for anyone who will be flying from Manchester over the festive season to try to help things go as smoothly as possible. The airport is predicting its highest festive flyer numbers for three years (i.e. since before the Covid-19 pandemic), with more than 1.7m people expected to jet off all over the world from Manchester to spend time with family and friends.
With the prospect of delays and queues at the airport, passengers are being encouraged to follow a number of tips to make their journey through the airport as straightforward as possible.
What is the travel advice that has been given to passengers?
Manchester Airport has issued eight pieces of advice specifically for people flying at Christmas and New Year. Together they form something of a step-by-step guide to making sure getting to the aeroplane is as close to plain sailing as possible. The advice is:
Check which terminal you're flying from before arriving at the airport. Last year Terminal Three was closed but this year the airport is back to being fully operational, which means that people who only fly once a year to see family or friends overseas could well find their plane departs from a different terminal this year to the one it left from in 2021. People are being encouraged to double check their bookings to avoid going to the wrong place and having to do a last-minute dash across the airport.
If you or someone in your party has reduced mobility, book any assistance you require in advance. The assistance services at Manchester are run by a separate provider and can be booked through the airline. Demand is always high at this time of year so anyone needing this service is encouraged to book it in advance as soon as possible.
Leave plenty of time for your journey (particularly in bad weather). Wintry weather can easily lead to lengthy disruptions on both the roads and public transport so people should head for the airport with extra time to spare. There is also going to be strike action on the railways in a number of industrial disputes over pay, working conditions and threats to jobs so anyone planning to arrive by train needs to check that their trip will not be affected. There is also some engineering work taking place at Manchester Piccadilly station during the festive period.
Remember the liquids, gels and pastes rule for hand luggage. Products in hand luggage containing liquids, gels or pastes must be in a clear, resealable bag and must not be bigger than 100ml each. This includes items being taken away for a taste of home or as gifts, such as perfume, aftershave, make-up, condiments including jams, butter and Marmite, beverages and snow globes. If any of these are bigger than 100ml, they need to be packed into the hold luggage.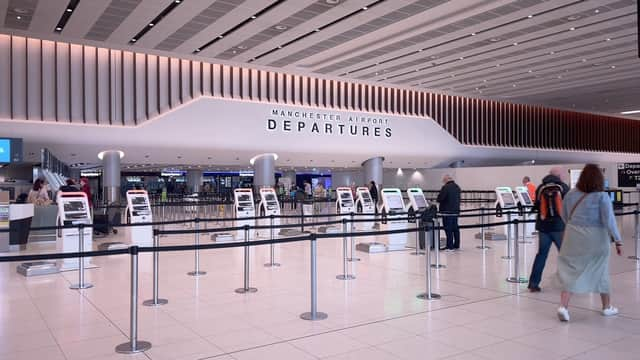 Remember that certain foods contain liquids. Solid food in sealed packs is allowed through security, but if a food item contains a liquid, gel or paste, then the regular hand luggage rules may apply. Mince pies and yule logs are fine, but Christmas puddings are very dense and can sometimes be flagged by the security scanners. This would mean the bag would require a manual search. They are technically permitted in your hand luggage, but the airport advises they are packed in the hold luggage, for this reason.
If you want to take Christmas crackers, check with your airline. There is no hard-and-fast rule on taking Christmas crackers on board an aircraft. Some airlines will let you take one or two sealed boxes, whereas others ban them altogether. In many cases this is dependent on the rules in the country you're travelling to. So if you're planning to take Christmas crackers with you, check with your airline in advance as to whether they will be permitted.
Do not bring wrapped presents. If your bag is selected for secondary screening during the security process, wrapped presents may need to be opened by a security officer for inspection, whether in hand luggage or hold luggage. The airport says passengers should wrap presents Christmas presents once they have reached their destination wherever possible.
Take off coats, jackets and other winter wear before reaching security. The airport is asking passengers to help keep waiting times at security down by removing their outer layers of clothing before they reach the front of the security queue and have them ready to put straight into a tray. So long as items are not covering each other, multiple winter wear items can go into the same tray. Passengers going through security will, on average, use more trays at this time of year than in summer, because of their additional outer wear, and the conveyor belts in each security lane have a limited capacity so using more trays than necessary can slow the whole process down for everyone.
And for the latest on how Border Force strikes dates and how they may affect airport travel, see here.
What has Manchester airport said about its festive season travel advice?
Chris Woodroofe, managing director at Manchester Airport, said: "We are very much looking forward to welcoming the 1.7 million passengers who will travel through our airport over the festive period. This is a special time of the year for many, and we're determined to make sure our guests get their Christmas off to the best possible start with a smooth and enjoyable journey through the airport.
"Being prepared is vitally important though, and we realise that, for some, this will be their first trip since before the pandemic. I'd encourage everyone flying out of Manchester over the Christmas period to check for road and rail disruption in advance of their journey to the airport, and to familiarise themselves with the current security rules."