Travel experts have estimated the peak days for travelling on roads and airports this week at the great Christmas getaway begins.
With schools in Greater Manchester having broken up, and millions set to begin their Christmas holidays soon too, many of us will be on the move over the Christmas and New Year period, whether to visit friends and loved ones, or to get a break from the freezing weather back at home. Experts from travel organisations fro Abta to the RAC have pulled together a guide to the best and worst times and days to travel over the coming days, to help you plan your journey more smoothly. Here's what they had to say.
Roads and motorways in Greater Manchester
Motoring organisation the RAC estimates 20 million road trips will be made over the next fortnight. The RAC reckons holiday traffic will build steadily from Monday (19 December) before peaking on Friday 23 and Saturday 24 December - with 7.9m road trips in those two days. And they expect a rail strike by the RMT to add to traffic volumes on the roads over the Christmas period.
The worst congestion on 23 and 24 December is expected to be between 10am and 7pm on Friday, and between noon and 1pm on Saturday - with motorists being advised to travel early in the morning, or later in the evening if possible and weather conditions allow. The M60 in Greater Manchester has been flagged as a congestion hotspot, along with the M6 through Wigan, Lancashire and Cumbria, the M25 and the M40 in Oxfordshire.
Rod Dennis of the RAC said: "Our research suggests getaway traffic will build steadily all week, culminating in two frantic days of travelling just before Christmas itself.
"By Friday, we fear it will be a case of jams today and jams tomorrow on the roads as millions of people jump behind the wheel to see family and friends – with last-minute Christmas shoppers as well as the impact of another rail strike also leading to an increase in traffic.
"If possible, drivers should try to make their trips on a quieter day earlier this week if they possibly can."
Drivers have been advised to check their tyres, lights, oil levels and windscreen washer fluid as basic precautions before travelling, as well as planning their route in advance.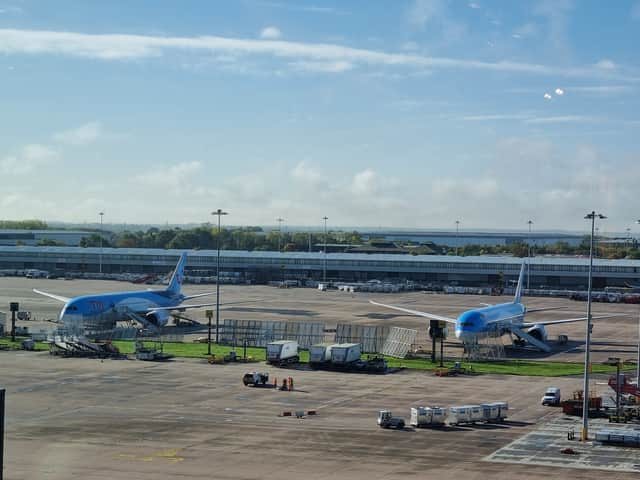 Manchester Airport Christmas travel
Around five million UK holidaymakers are expected to take a foreign trip over the Christmas and New Year period, according to travel body Abta.
Abta's research suggests Friday 23 December will be the busiest day for departures, while Christmas Day will be the quietest. Manchester Airport says it expects more than 1.7m passengers in the month of December, peaking in the few days before Christmas.
Manchester Airport bosses have advised passengers to leave plenty of time for their journey, make sure any liquids in hand luggage are 100ml or less and in a clear plastic bag, and to check which terminal your airline uses in advance. There are also planned Border Force strikes over the Christmas period which could lead to some long delays: see the latest here.
Chris Woodroofe, managing director at Manchester Airport, said: "Being prepared is vitally important though, and we realise that, for some, this will be their first trip since before the pandemic. I'd encourage everyone flying out of Manchester over the Christmas period to check for road and rail disruption in advance of their journey to the airport, and to familiarise themselves with the current security rules."
Manchester rail strikes at Christmas
RMT railway workers are due to stage another strike from 6pm on Christmas Eve until 6am on 27 December. That will be followed by further RMT strikes on Tuesday 3 January and Wednesday 4 January. Passengers are advised to check their journeys in advance at National Rail and avoid travelling on strike days - with some services likely to be impacted the day after a strike today.