As Border Force staff walk out on strike, Manchester Airport has warned passengers to expect longer queues when travelling into the country. Around 1,000 PCS Union members are taking industrial action over pay from December 23 to December 31, affecting the entire Christmas break.
While the strikes won't affect all airports in the UK, major airports including Birmingham, Cardiff, Gatwick, Glasgow, Manchester and terminals 2, 3, 4 and 5 at Heathrow will all be affected.
A Manchester Airport spokesperson said: "It is hugely regrettable that the PCS Union has chosen to disrupt one of the most important times of the year for international travel by calling a strike by Border Force officers at several UK ports, including Manchester Airport, for 23-26 December and 28-31 December. We urge union and Government representatives to work together to find a solution.
"Following the announcement of industrial action by UK Border Force (UKBF) staff at several UK airports - including Manchester - we have been working closely with the Home Office and others to understand the impact this will have, minimise disruption to our operation and support the safety and wellbeing of colleagues and passengers.
"The industrial action will take place on 23, 24, 25, 26 and 28, 29, 30 and 31 December, during which time we will continue to operate our full flight schedule. We do not anticipate the need for cancellations and passengers do not need to change their travel plans, unless advised otherwise by their airline.
"There is a likelihood that waiting times at the border will be – at times – longer than usual on these days, and we will provide whatever support we can to ensure passengers' arrival back into Manchester is as smooth as possible."
Key messages to passengers travelling to Manchester Airport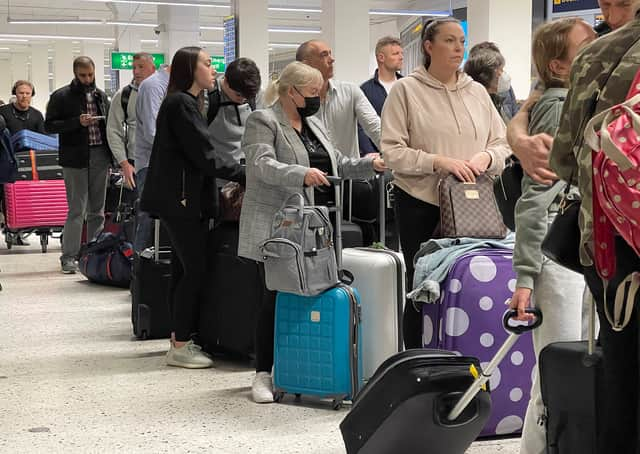 Staff from Border Force will be on strike for up to eight days – on 23, 24, 25 and 26 December - and 28, 29, 30 and 31 December.
Manchester Airport says it currently does not expect cancellations but this is decided by airlines.
The border will remain open as the Government will have other staff taking over during industrial action.
Passport checks will take longer for arriving passengers and queues will form.
Passengers are advised to use e-gates where possible - see the Government website for further information.
Ongoing train strikes will affect access to and from Manchester Airport.
Passengers are advised to check the latest travel advice before travelling.
Passengers with reduced mobility are urged to book assistance with their airline at least several days in advance of travel.
Passengers using e-gates are advised to remove hats, headphones and face masks before using them to reduce delays.
For our updated daily guide to security waiting times and travel advice at Manchester Airport, see here.