A Manchester refugee charity and a Stockport dental clinic have teamed up to help refugees take care of their teeth.
Stockport-based Precision Dental Clinic answered the call and has now provided hours of vital treatment.
As well as carrying out urgent operations the dentists have been teaching young refugee children about the importance of good dental health.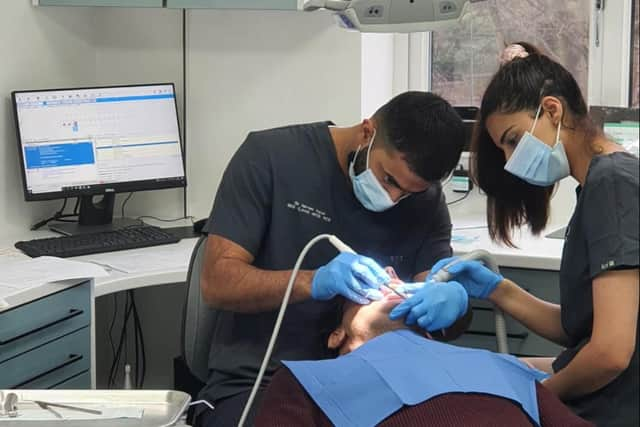 What dental treatment has been done for refugees and why was the charity seeking help?
Manchester Refugee Support Network says it has recently had a large number of service users arrive due to global events.
Many of them required urgent dental work and told the charity they were in agonising pain and their mental health was being affected.
MRSN put a call out to dental surgeries to see if anyone could help and finally Precision Dental Clinic in Stockport came forward.
More than 100 hours of treatment for refugees has now been donated to MRSN by the clinic.
Dentists carried out fillings and provided bridges for people with missing teeth, including some elderly refugees who the charity said had given up hope of ever being able to get treatment.
They also taught some of the refugees, including children as young as three years old, how to use a toothbrush and spoke about the importance of good oral hygiene.
Precision Dental Clinic also gave out toothbrush instructions, oral health care packs, mouthwash and toothpaste to everyone who came to see them.
The clinic has also pledged to donate more time to MRSN to do further cosmetic work to help refugees build confidence as they look forward to beginning a new life in Manchester.
The Stockport dentists have also promised to support any Ukrainian refugees who arrive in Manchester after fleeing the brutal Russian invasion of their country.
What has been said about the work?
A spokesperson from Manchester Refugee Support Network said: "We cannot thank Precision Dental Clinic enough for the work they have done, the compassion they have shown to refugees and asylum seekers who in many cases had lost all hope of receiving any form of dental work.
"It has been such a relief to finally have a solution for our desperate clients and the sacrifice and care that the team have demonstrated is beyond what we at MRSN could've ever imagined."