A new campaign group is aiming to make sure everyone in Greater Manchester is able to see an NHS dentist for free.
Toothless in Manchester has been launched from the success of a similar drive to protect universal dentistry available at no cost in Suffolk.
The campaigners say accessing an NHS dentist is becoming increasingly difficult across the city-region and they have even heard of people pulling their own teeth out.
Statistics bear out their view, with an investigation published at the start of this year by ManchesterWorld and the BBC Shared Data Unit showing NHS dentists leaving the service all across Greater Manchester.
Organisations representing dentists are supporting the campaign while health authorities in the city-region say they are doing what they can with the funding that is set nationally.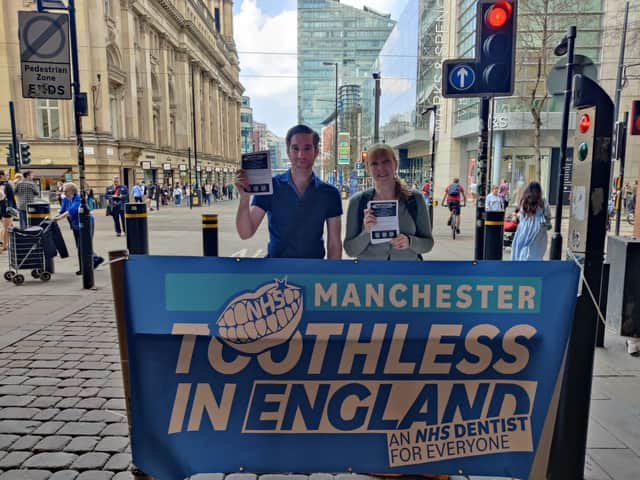 What is Toothless in Manchester and why has it been set up?
Toothless in Manchester has been formed off the back of the success of Toothless in Suffolk, which was set up by patients fed up of having to travel large distances to see an NHS dentist.
Seeing similar issues in Greater Manchester they formed a group for the city-region and have been raising awareness with a stall on Market Street in the city centre on Saturday mornings.
They have also been collecting signatures for a petition.
The group says it has one simple aim: to make sure NHS dentistry is free and available for everyone.
Toothless in Manchester says it has amassed horror stories about the lack of dentistry available across the city-region, including people having to do treatment on themselves, residents shelling out large amounts for dental work and those having to travel up to 20 miles to get an appointment.
Richard Mackey, one of the group's founders, said: "The situation is nigh-on impossible if you have just moved here or just need to see a dentist and aren't registered.
"The website which says which dentists in your area are taking on new patients often isn't up-to-date.
"You can often be fitted in privately but that's an issue as many people can't afford it."
The Manchester group is also part of the national campaign Toothless in England, and work has begun to lobby MPs and councillors asking them to support it.
What is the campaign's aim?
Toothless in Manchester says reform is urgently needed to the way dentists are funded as this is at the root of the problem and the reason dentists are leaving NHS work.
Dentists can decide whether to take on NHS work, private work or a mixture of the two.
Practices receive funding from the NHS to take on health service work under the NHS Dental Contract.
Work is measured using Units of Dental Activity (UDAs), with practices having targets to meet. Those that fail to do so could have to pay money which is known as a 'claw back' cost.
Toothless in Manchester says more NHS funding needs to be made available for dentistry so dentists do not have to do as much private work.
Ultimately, the campaigners want universal dental care re-established in the health service so people do not have to pay.
Mr Mackey said: "We want to change the funding so everybody can get to see an NHS dentists and if you need an appointment, you can get one reasonably close by and which you don't have to pay for."
How bad is the crisis in NHS dentistry?
NHS Bolton CCG was the second-worst affected health organisation in the country, losing a staggering quarter of its health service dentists in the space of 12 months between 2020 and 2021.
Other Greater Manchester boroughs were severely affected too, with an 18% drop in Oldham.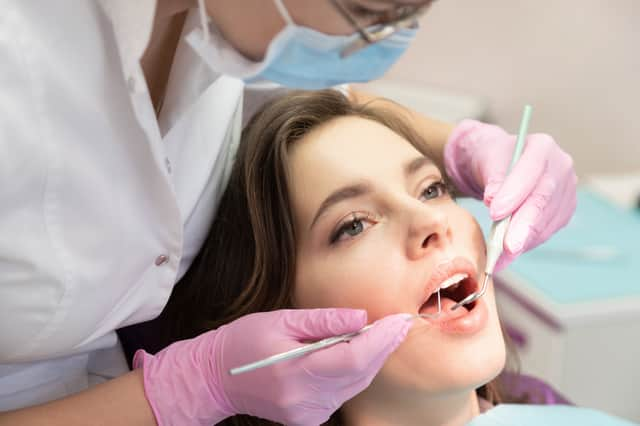 And overall every one of the CCGs in the city-region had experiencing a drop in the number of NHS dentists.
The British Dental Association (BDA), which supports the Toothless in Manchester campaign and is also calling for sweeping reforms in the sector, estimates that since the first lockdown began 2.5 million NHS dental appointments have been lost in Greater Manchester.
What has been said about Toothless in Manchester?
British Dental Association chairman Eddie Crouch said: "Toothless in Manchester shouldn't have to exist. In a wealthy 21st century nation patients shouldn't need to pick up placards to secure access to basic healthcare.
"Sadly, even before Covid struck NHS dentistry across Greater Manchester was in crisis.
"The pandemic has pushed the service to the brink, and we'll only see progress if ministers turn the page on a decade of failed contracts and underfunding.
"The voices of patients across Manchester need to be heard."
"We are committed to ensuring everyone can access high quality dental care, and are looking at ways to increase access to existing services.
"Anyone who is in dental pain or in need of support, help or advice, can telephone their own dental practice in the usual way. If they don't have a usual dentist and have an urgent need they can contact the dental helpline on 0333 332 3800."
When the investigation into NHS dentists leaving was published health bosses in the city-region said that despite changing staffing levels over the past few years the service for patients had broadly remained the same.
At the same time an NHS spokesperson said: "The NHS has taken unprecedented action to support NHS dentists throughout the pandemic by providing additional funding for practices unable to deliver their usual levels of activity, alongside rapidly setting up 600 urgent dental centres across England so patient services could be maintained during the pandemic.
"People should continue to come forward for the dental care they need, and the care and treatment of people who need it most should be prioritised."