When Darren Wright heard that Jamie Doyle, a close friend who used to serve in the Army with him, had died, he knew he had to do something to help other former military personnel who were struggling to adjust to civilian life.
The result was Veterans into Logistics, a Rochdale-based not-for-profit organisation which helps former soldiers to retrain as HGV drivers. In just two years the organisation has worked with hundreds of people who have previously served their country on the front line and has also attracted considerable acclaim from military bosses and political and civic leaders as well as partnering with a number of prominent businesses.
Veterans into Logistics founder Darren Wright spoke to ManchesterWorld about the organisation's success and why becoming a trucker is a good choice for helping ex-soldiers get on the road to recovery.
How and why was Veterans into Logistics founded?
Darren grew up in Middleton and joined the Army after leaving school with no qualifications. He served in Afghanistan but fell on difficult times once he left the military after just over five years.
When Jamie, who he had served with, was found dead just 12 months after leaving the service himself, Darren knew he had to help those coming out of military life, especially those who like him had grown up on council estates or similar disadvantaged backgrounds.
He said: "I just thought more needs to be done for veterans, especially those who are homeless and living on the streets. One in 10 of the prison population is ex-military. They find it hard to get employment, especially if they're leaving without a trade or skills.
"Employment is key to the transition out of the military. People who join the Army to become infantry are not academic and when they leave the military they've nothing to help them into sustainable employment. They tend to struggle the most.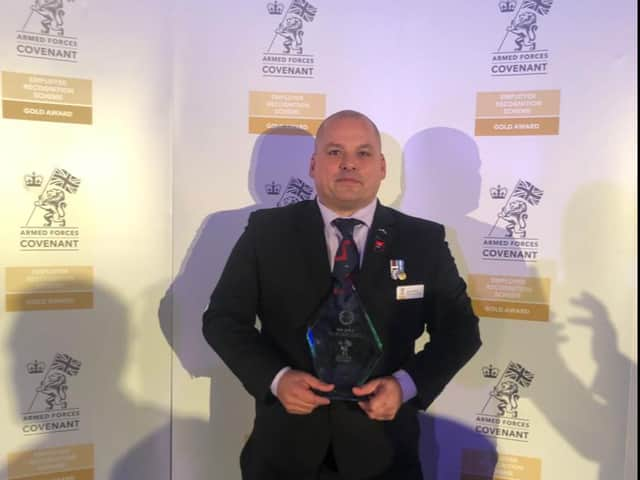 "When you see a homeless veteran you don't expect them to have been to Sandhurst. They will have been on the front line, they had no support before joining and have none when they leave."
Darren said his own experience of becoming an HGV driver after leaving the military was key to why it would be the route Veterans into Logistics would take. He said it pays well and people can be trained quickly to get them out of adverse situations without having to do months or years of training or qualifications first.
He said: "I was a fuel tanker driver earning £1,000 a week. I've trained someone in 25 days and I've seen a starting job on £36,000 a year. Getting them into sustainable employment and able to provide for themselves and their families empowers them. It gives them a purpose.
"I worked with one veteran who was on the streets for six years, he had no job prospects. I trained him up and now he sleeps in his truck. I spoke to him recently and he loves his job."
A rapidly-growing success story
In just a couple of years Veterans into Logistics has grown significantly and it has enjoyed several boosts this year. The organisation received the prestigious Gold Award from the Ministry of Defence's employment recognition scheme in November and Darren was presented with the award by Major General Marc Overton, The Assistant Chief of the Defence Staff.
Veterans into Logistics got a high-profile visit from the Cabinet Office and received a donation of £100,000 from the Office for Veterans' Affairs. And the BBC cameras visited Rochdale to follow two of the veterans it trained up for a documentary on its work.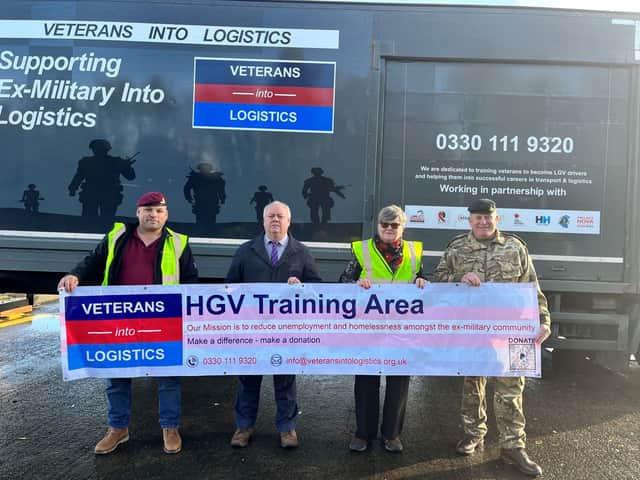 Rochdale Council has also been supporting the organisation and has provided Veterans into Logistics with its own DVSA-approved reversing test site on Bowlee, which will help to speed up the process of the veterans obtaining their HGV licence. It's an appropriate location as it is a site of military interest, a former RAF barrage balloon squadron headquarters which was struck by a German Luftwaffe plane in March 1941.
The organisation has also secured high-profile backing from national companies, with the likes of Asda, Muller and XPO Logistics among the big names partnering with it to provide opportunities for the veterans to get jobs in the industry after completing their training.
Darren said: "These companies want to be involved, they want to help these guys who have served and put their life on the line for our country."
What's next for Veterans into Logistics?
More than 300 veterans have now been through Veterans into Logistics' programme, and Darren is also pleased with the team he has managed to amass around him to continue pushing its work forward.
He says there are no grand plans for the future as the organisation is primarily motivated by how much former military personnel might be struggling if it was not there to help.
Darren said: "The plan for the future is to just keep going the way we are going. We don't have expectations, we just keep going.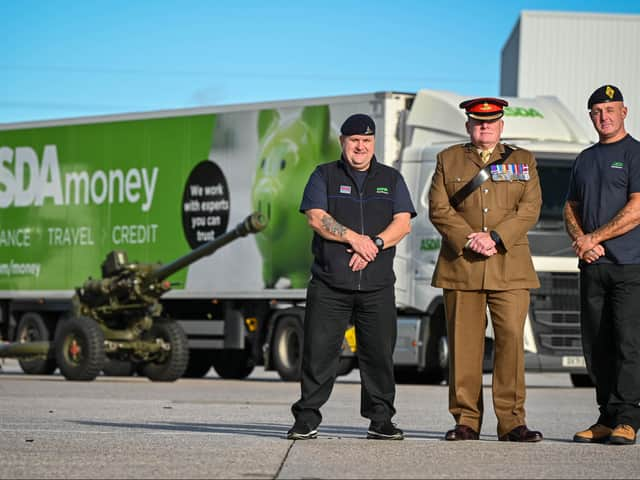 "I'm pleased with how it's going because we are saving lives and there is no better reward than that. When you speak to veterans and they are depressed and feeling low because they haven't got the skills or a decent-paying job, and then you speak to them again later on after they've trained with us, you can hear the difference in their voice.
"I'm one of these people myself, I understand it. We're going from strength to strength and we want to change people's lives."