Veterans in Greater Manchester are being supported to make the often-difficult transition from military to civilian life with the help of boxing.
BoxWise is using the noble art to help those who have previously served their country on the front line with a 10-week programme.
The sessions are strictly non-contact, concentrating on the fitness and technical skills of the sweet science, and participants also get to take part in follow-up courses to help them gain skills they will need for life outside of the armed forces.
BoxWise also runs programmes helping women and disabled people and has attracted a high-profile Greater Manchester supporter in the form of former pro boxer Anthony Crolla, who hosted the recent veterans' programme at his gym.
What is the BoxWise veterans' boxing programme?
BoxWise was launched in January 2020 by founders Rick Ogden and Nick Maughan in London and the programme quickly spread to Manchester.
The organisation now runs a number of different boxing programmes, including the veterans' 10-week one which has just been run at Fox ABC, the gym in Oldham where Manchester-born champion Anthony Crolla who held the WBA lightweight title from 2015 to 2016 initially cut his teeth.
The sessions are free, equipment including water bottles and T-shirts are provided and all the tuition is done by accredited England Boxing coaches.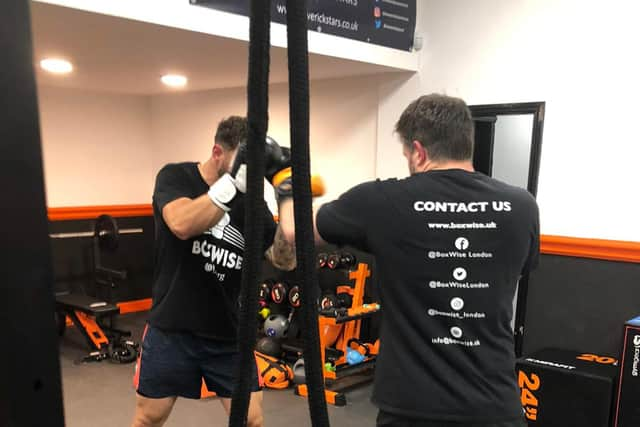 There is also absolutely no sparring (actually fighting other people) involved, with the sessions involving people working individually on their skills on the punchbag while enjoying the camaraderie of being together in the gym environment.
In addition BoxWise provides one-to-one mentoring support and progression routes to help veterans enter employment or further education, with people who have gone through the programme moving into fully-funded vocational courses in areas such as catering, boxing coaching and personal training.
Rick explained why BoxWise felt the armed forces veterans would be a good fit for its boxing programmes.
He said: "Veterans have a significant risk of homelessness and mental health issues on their immediate transition into civilian life.
"BoxWise can give them a sense of purpose through training, which they are used to, while providing that networking opportunity around employment.
"The Army recruits heavily from the north of England and areas of high deprivation and it provides that stable family environment that isn't necessarily always there.
"People can struggle with that when leaving the military, that sense of identity. That is a big part of what we are trying to create, a sense of belonging, meeting like-minded people.
"We've just graduated our first veterans programme in Manchester and it has been a runaway success. We hope to develop this relationship and run other ones to create a regular programme. It would be good to run this three or four times throughout the year."
What else has been said about BoxWise?
Not only does BoxWise run in Chadderton at the gym where Anthony Crolla trained but it has also gained something of a fan in the professional fighter who stepped into the ring 45 times, recording 35 wins, seven losses and three draws.
Crolla said: "BoxWise is important for a number of reasons. Certainly, with the younger adults, it gets them working in a team and puts them in an environment where they can enter further education or jobs.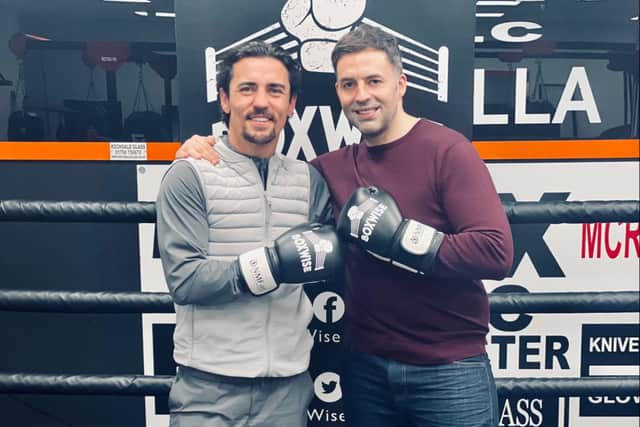 "But more broadly, what this course does is offer more than boxing training. It gives you vital skills that can be put into practice in everyday life, whether that be emotional control or working in a team."
It's not just veterans who are benefitting from BoxWise either. The scheme, the flagship initiative of the Nick Maughan Foundation which works to empower disadvantaged young people through sport, also runs sessions for young adults aged 18 to 25, young people with behavioural issues, women who have been through domestic violence or health issues and disabled people, as well as putting on a shorter course aimed at younger people to reduce anti-social behaviour in the school holidays.
What does BoxWise think of working in Manchester?
Rick says Manchester is a huge part of BoxWise's plans for further expansion of the services and programmes that it offers.
He said: "The big thing is the diversity of Manchester, the diversity of talent in the city and the depth and breadth of people's journeys and stories, their lived experiences.
"There's a real 'can-do' attitude and solid work ethos in Manchester and the young people have a real positivity about the future and their opportunities.
"That stands out for me on the back of Covid-19 and how challenging that has been for young people, affecting their mental health and putting them at risk of isolation and depression."
What do the veterans themselves make of the programme?
The veterans who have taken part in the 10-week programme in Oldham said how the boxing sessions took place in an atmosphere they felt extremely comfortable with which can be more difficult to find on Civvy Street.
Keith Melvin, from Oldham, was in the Royal Artillery for six years. He said: "Initially for me it was about the fitness but as the course progressed it became more about technique, ability and getting a bit more confidence.
"It was also about being with the lad and having a bit of a laugh and the camaraderie of it. What the lads miss about the Army is the craic, there's a lot of banter. I get that when I play football and also because I work on building sites.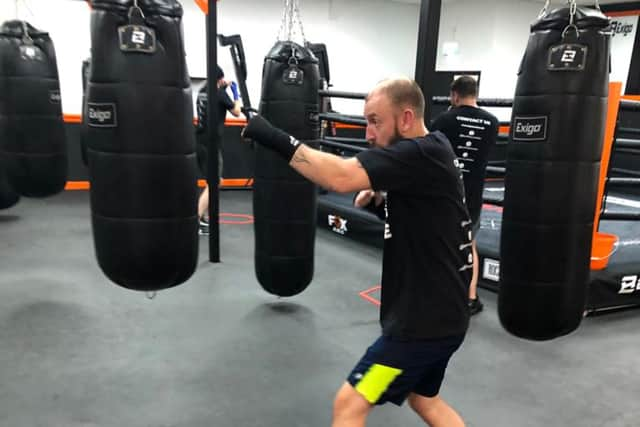 "It gives you some structure. When you're in the Army everything's set out for you but when you come out you have to register with a doctor and a dentist, you have to learn about voting so you can do that.
"One of the nice things about BoxWise was they gave you a T-shirt. It's like representing something again. Some of the lads are looking to do coaching and they will help with that. Some of the lads are looking at doing a few fights too.
"The team at the gym have also been absolutely superb with us."
James Gilbert left the Army over 20 years ago and has built a career in business for himself as well as working with Oldham Athletic's programme for veterans, and that was what led to the initial contact with BoxWise to bring it to Greater Manchester.
He said: "Some lads aren't really into football so we were looking for different avenues. Boxing is very physical and well promoted in the Army so we spoke to ABC Gym in Failsworth and they work with BoxWise.
"The lads loved the course. We had 16 lads at a time coming to get away from it all and be around like-minded people.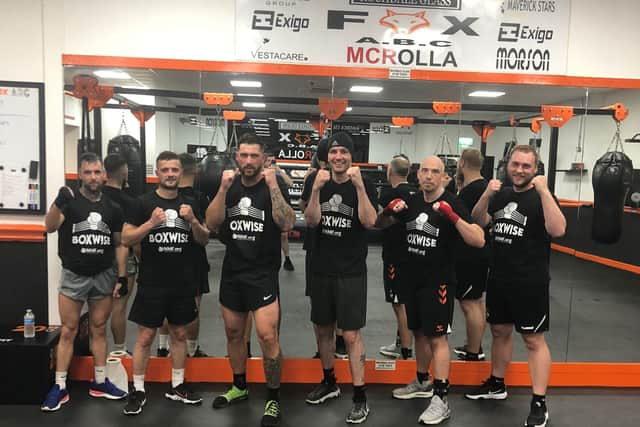 "Punching a bag lets out some tension after a week of different life stresses, it's a really good release.
"I'm quite fortunate because I left the armed forces a while ago and am quite settled, but some of the lads aren't.
"In the Army everything is done to the maximum and with the boxing you couldn't help but be fatigued at the end, It brought the lads back to that place where they felt comfortable.
"Military people have a very quirky and dark senseof humour and we were able to use that in a safe setting without people being offended, because it was just for veterans. There's also a lot of code and acronyms and specific language in the Army.
"Veterans come from an environment where you are told when to eat, sleep and everything else, and some lads really struggle with the adjustment back into what we call Civvy Street. Boxing is quite regimented with the steps and the movement, you've got to be in the right place at the right time, and again it returns them back to what they are used to and reminds them of things they are comfortable with."