'I had no protection from a nuclear bomb': Rochdale test veteran's fight for justice 65 years on
John Morris and fellow nuclear test veterans - who have spoken about being exposed to radiation on Christmas Island in the 1950s - are hoping for progress after decades of battling for recognition, following a historic meeting with Prime Minister Boris Johnson.
Watch more of our videos on Shots! 
and live on Freeview channel 276
Visit Shots! now
A Greater Manchester nuclear test veteran has spoken of his experiences of being exposed to radiation in the Pacific Islands in the 1950s - and his decades-long battle to get the Government to acknowledge what it put him through.
John Morris, who grew up in Bolton but now lives in Rochdale, is one of many people who are survivors of being on Christmas Island while nuclear weapons were being tested nearby.
They are demanding recognition and action from the Government after what has been described as one of the longest-running scandals in modern British history.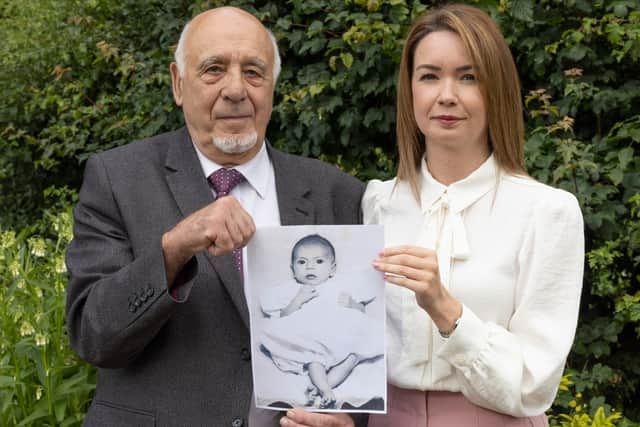 Veterans have spoken of how they believe their exposure to radiation as young men has been responsible for a shocking litany of health problems experienced by them and their descendants in the years since.
History was recently made when Boris Johnson became the first prime minister ever to sit down with the veterans and their families and hear their accounts.
It is now hoped that this will lead to something of a breakthrough after they have been denied financial support, recognition or help working out how their families will continue to be affected by what they went through.
The campaign for justice is being ramped up this year because in the year of the Queen's Platinum Jubilee a second anniversary is being marked of 70 years since Britain became a nuclear power - a milestone that has been dubbed the 'Plutonium Jubilee'.
What happened to Mr Morris on Christmas Island?
Mr Morris was 18 when he began doing his compulsory National Service in 1956 and soon after his two-year stint in the forces began he was trained and then sent to Christmas Island in the Pacific Ocean.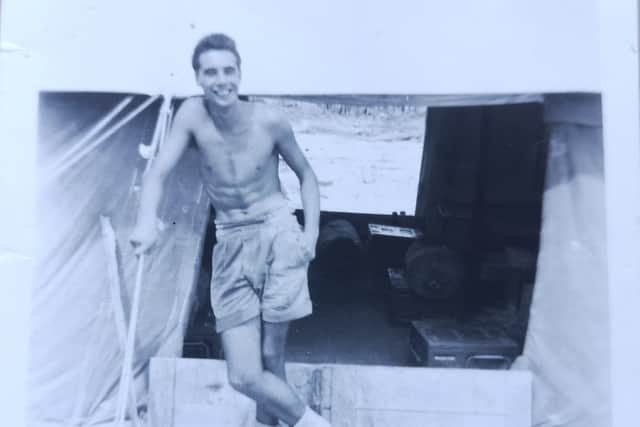 The young men helped to build infrastructure on the island, but nuclear bombs were being tested nearby and the veterans believe they were sent there to secretly work out what the effect of the weapons on human beings would be.
Mr Morris, who is now 84, said four bombs were tested during his 16 months on Christmas Island, with the most shocking experience coming during the final test in November 1957.
He said: "I was ordered, along with about 1,000 other men, to sit with our backs to the plane. I had a shirt, trousers and sunglasses on. That was my protective material.
"The heat from that bomb was so severe I felt that my body was boiling. We had our hands over our eyes and I saw right through my hands. I saw every bone in my hand. Then the blast came and it blew people off their feet.
"Grown men were crying, running, they didn't know what the hell to do.
"It was the most terrifying thing I have experienced in my life, and I hope nobody comes across that situation at all. If it does you have seen the end of the world. It was devastating.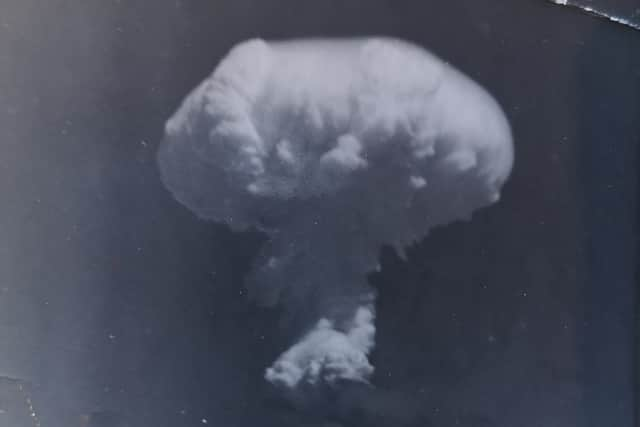 "It is said that blast was 100 times greater than Hiroshima. I was sat 20 miles from the core of the sun, it was that hot."
Mr Morris and his granddaughter Laura, who is supporting the campaign, said being based in the laundry on Christmas Island also meant he and other people doing national service had to wash clothing and protective equipment worn by scientists in the radioactive area and sometimes distilled water from the sea which could have been contaminated from the weapons tests.
Veterans also believe the sand of the island had been exposed to radiation and it was essentially in the atmosphere, meaning the young men were effectively living with radiation and breathing it during their entire time in that environment, which in Mr Morris' case was 16 months.
They also said that the fact the thousands of people on Christmas Island were extremely young with very limited life experience meant they did not discuss what happened at the time.
Mr Morris said: "I knew rock all about Christmas Island. I had never really been out of Little Lever where I lived. The furthest I had been would have been Blackpool.
"We didn't know anything, we weren't told anything. We were very naive. Even after the final bomb test we were more interested in getting in the naafi (Navy, Army and Air Force Institute) and getting some beers.
"We talked about our experiences but we didn't understand the ramifications. We were nearly all young, fit and not married, and the reason for that, I believe, is that we were used as guinea pigs."
What happened to Mr Morris and other people who were at Christmas Island afterwards?
Mr Morris has suffered a variety of health complications throughout his life. He has had to have regular injections since he was in his mid-20s as his blood is considered weak, he has a bone marrow deficiency and has also battled cancer.
He also suffered tragedy aged 24 when his son Steven died in his cot aged just four months. It would be many years before Mr Morris would learn the truth of what happened: that his son's lung had not developed properly, with his death originally being wrongly attributed to bronchopneumonia.
In his mid-20s Mr Morris began to make enquiries about had happened to him at Christmas Island and eventually veterans who had been there started to come together.
They discovered that many of them had suffered rare genetic problems, had cancer and their partners had suffered miscarriages.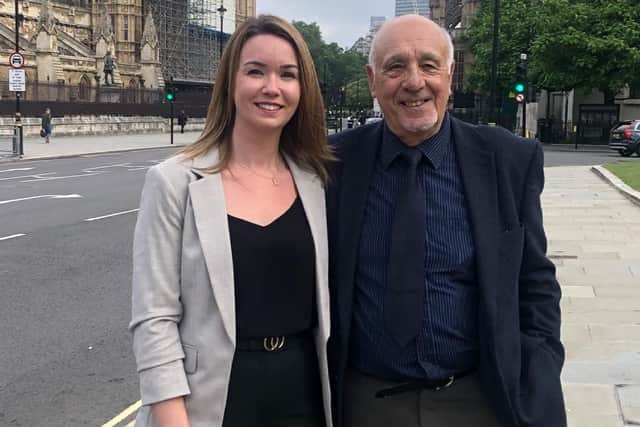 Mr Morris and Laura said that earlier this year a conference was held in Manchester and nine men were on the stage. All had lost children, all had battled cancer and all had blood disorders.
Many Christmas Island veterans signed the Official Secrets Act, including Mr Morris, but in recent years they have begun to get together, see the health issues they have in common and campaign to force the Government to recognise them after decades of silence.
Campaigners said a Government study published earlier this year showed the veterans were more likely to have certain types of cancer or leukaemia or to have taken their own lives.
ManchesterWorld has seen a document which circulated among veterans after it ended up in the public domain which is marked top secret, dated 20 May 1953 and which is titled Atomic Weapons Trials. It contains the words: "The Army must discover the detailed effects of various types of explosion on equipment, stores and men with and without various types of protection."
The veterans claim that this effectively describes what they were sent to Christmas Island to do.
What does the campaign want the Government to do?
Mr Morris and Laura said there are five main things they want from the Ministry of Defence (MoD) and the Government for nuclear test veterans.
They want all those who went to Christmas Island to receive a medal, as Britain is the only major country involved in the nuclear weapons arms race of the time which has not done so.
They want formal national recognition of the nuclear test veterans, with a high-profile ceremony dedicated to them and what they did.
They are also looking for war pensions reform, saying that the MoD has managed to restrict the sharing of documents and evidence about the tests which effectively means the veterans get no money as they cannot prove exactly how they were exposed to radiation and link that to the illnesses they suffered.
They also want research into how descendants of the veterans could be affected or face genetic problems from the nuclear tests, saying so far nothing has been done on this.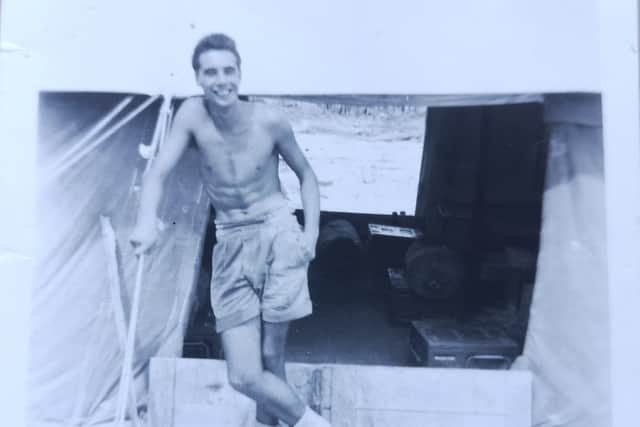 Finally, they want this period of history to be much better known, put on the national curriculum and taught in schools, so future generations learn about what happened during the Cold War.
They also want action to happen this year in the so-called Plutonium Jubilee, both because the anniversary of Britain becoming a nuclear power would be a fitting time to recognise those who were inadvertently involved and because the survivors of Christmas Island are in their 80s and campaigners are determined they will be recognised while they are still alive.
Laura said: "This is the longest-standing injustice in the country. They have tried to wipe it from the history books and shush these men up. That is quite telling in itself.
"Now is the right time to do it. It's not about replaying these 70 years, it's about saying what is the right thing to do today. That is to put the right processes, support and actions in place to help the veterans and their families deal with the ongoing impact of us creating a nuclear deterrent for this country."
What else have the campaigners said?
Mr Morris and Laura are heavily critical of the way the MoD has dealt with the nuclear test veterans, with a massive legal attempt being made in 2009 to get hold of documents on behalf of more than 1,000 people which ultimately ended with the Court of Appeal finding in the ministry's favour.
They say that throughout the many years of trying to get hold of papers to prove what happened and get acknowledgement of the events on Christmas Island the veterans have repeatedly been met with official obstruction and unhelpfulness.
Laura said: "The MoD has spent millions of pounds fighting in the courts. There seems to be this idea that they will just deny until all the veterans die. There is an ever-smaller number of them who are left but the families and descendants aren't going to give up the fight just because they are not here."
Mr Morris said: "We've been denied justice for a long, long time. They will have to do so eventually. In all these years I've never even had a letter from the MoD, I've had no-one from the military contact me. There has been absolutely nothing.
"It's almost as if they're ashamed of what they have done. I can't prove it, but that's what I think."
What happened when nuclear test veterans met Boris Johnson?
Recently a meeting took place between nuclear test veterans and their families, including Mr Morris, and Prime Minister Boris Johnson.
It is the first time a prime minister has heard accounts of what happened at Christmas Island and marks something of a milestone for the campaign Labrats International, which is leading the charge for justice on behalf of those who were there.
Mr Johnson heard their stories of decades of ill health and missing or incomplete medical service records.
Labrats has attracted cross-party support from MPs battling on behalf of constituents, including Salford and Eccles MP Rebecca Long-Bailey who was approached by Laura to get involved on behalf of her and her grandfather.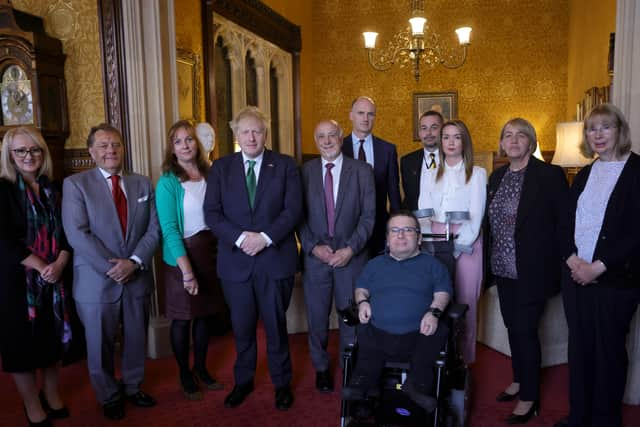 At the meeting Mr Johnson told those who had attended: "I think that you're right, there are things you are not being told and should be told. If it's in a vault like in the Raiders of the Lost Ark, or stuff is being stashed in a vault or wherever, by the British government, that needs to be sorted out."
Ms Long-Bailey said: "When Laura came to see me, my office colleague and I were struck emotionally by what we heard, and it made me so angry.
"This year, what we're calling the Plutonium Jubilee, is such an opportune moment to press the prime minister and to say it's about time these men did get the recognition, compensation and support they deserve.
"This is a national scandal. Boris Johnson now has a moral duty to do this."
What has the Government said?
Despite what campaigners said about the most recent study of veterans published in February, the MoD still does not accept participants in the tests were exposed to ionising radiation that adversely affected their health.
In fact, it says studies looking at the whole period 1952 to 2007 suggests overall mortality, and cancer mortality of the test veterans and military controls remain lower than the general population of men of the same age in England and Wales.
The MoD also said nuclear test veterans who believe they have suffered ill health due to service have the right to apply for no-fault compensation under the War Pensions Scheme and said the benefit of reasonable doubt is given to the claimant. Decisions are medically certified and there is the full right of appeal to an independent tribunal.
The authorities have also concluded that nuclear test veterans' experience did not meet the level of risk and rigour required for them to receive medals.
A government spokesperson said: "We continue to be grateful to all the service men who participated in the British nuclear testing programme and contributed to keeping our nation secure.
"The Prime Minister met with several nuclear test veterans recently and we remain committed to considering any new evidence. The decision to retrospectively award medals is taken by an independent committee."