Greater Manchester authorities will ask the Government to partially pause the roll-out of the city-region's controversial Clean Air Zone over concerns about the level of financial support available and whether or not there are enough compliant vehicles.
A statement from the Greater Manchester Combined Authority (GMCA) on Wednesday evening (12 January) said it is expected that a request will be sent next week to minister asking for the roll-out of phase two funds to be put on hold, which affects taxis and light goods vans.
Greater Manchester will also ask for a joint policy review with the Government to look at issues around the supply of vehicles and the amount of money available for businesses to comply with the scheme.
A leading business organisation said the measures announced by the authorities do not go far enough and the entire scheme needs pausing for a rethink, not just the second phase.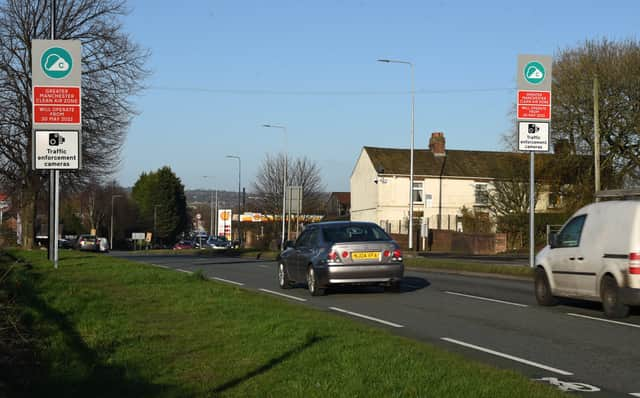 What has the Greater Manchester Combined Authority said about the Clean Air Zone roll-out?
The GMCA statement on Wednesday night concerned phase two of the Clean Air Zone's implementation.
This includes light goods vehicles (LGVs) such as vans, minibuses, coaches and Greater Manchester registered taxis and private hire vehicles.
These are all due to become eligible for the daily charges if their vehicles do not comply with emissions standards from 1 June 2023.
The statement acknowledged that businesses have major concerns about being able to get their hands on enough compliant vehicles in time and believe that inadequate levels of funding have been provided.
It is therefore expected that after the city-region's air quality administration committee meets next Thursday (20 January) there will be a request sent to the Government for a pause in the opening of the funding scheme while these problems are worked out.
Eamonn Boylan, chief executive of the GMCA, said: "Since the current plan was agreed in July 2021, emerging evidence from businesses and trade has highlighted significant challenges related to supply chain issues and inflation.
"Based on this evidence, there is a fundamental concern that these global and national factors may impact on the ability of local businesses and individuals to upgrade their vehicles and whether the current financial support package agreed with government – including nearly £100m of funds due to open at the end of January for light goods vehicles, minibuses, coaches and taxis and private hire vehicles – is sufficient.
"The Greater Manchester Air Quality Administration Committee will meet on 20 January to consider the outcome of this work and what its implications means for the Greater Manchester Clean Air Plan and that the terms of the legal direction that Greater Manchester authorities are subject to states that authorities: 'must not vary, revoke or suspend their implementation of the local plan for NO2 compliance … without the prior written consent of the Secretary of State.'
"The committee will therefore be recommended to seek approval from the Secretary of State requesting to pause opening of phase two Clean Air Funds at the end of January 2022, to enable an urgent and fundamental joint policy review with government to identify how a revised policy can be agreed to deal with the supply issues and local businesses' ability to comply with the Greater Manchester Clean Air Plan."
Does this mean the Clean Air Zone might be scrapped entirely?
The statement made it clear that this is a pause and not the end of the Clean Air Zone.
Mr Boylan said the committee next week will be asked to confirm that phase one of the scheme - covering buses, HGVs and non-Greater Manchester taxi and private hire vehicles - will go ahead with charges being placed on non-compliant vehicles from 30 May 2022.
He also discussed the health and environmental cost of air pollution.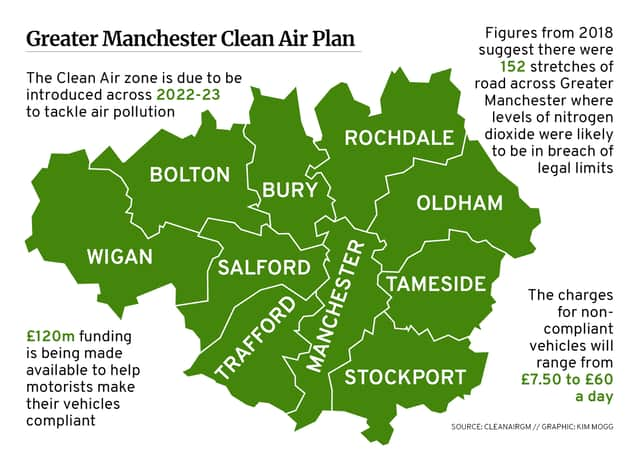 Mr Boylan said: "Greater Manchester is experiencing dangerous and illegal air quality due to NO2 exhaust emissions and other vehicle pollution, leading to serious health problems and 1,200 premature deaths every year.
"Modelling has shown that there are 152 locations across the 10 Greater Manchester local authority areas where NO2 emissions will remain beyond legal levels without action.
"In March 2020, the government issued a legal direction requiring the ten Greater Manchester local authorities to address the problem by introducing a Category C charging clean air zone - which principally addresses commercial vehicles including HGVs, buses, coaches, minibuses, vans, taxis and private hire vehicles that do not meet prescribed national standards for NO2 emissions.
"The current Greater Manchester Clean Air Plan was prepared with government to meet the terms of this direction to achieve legal NO2 Limit Values in the shortest possible time and by 2024 at the latest.
"Throughout development of the plan, the 10 Greater Manchester local authorities have worked to understand and address the economic consequences of the national plan for businesses that operate locally.
"It is clear the path to compliance with the legal direction and to cleaner air is dependent on the ability of those owning the most polluting non-compliant vehicles to upgrade to cleaner vehicles.
"The plan includes £120m of government funding to support those with non-compliant vehicles to upgrade their vehicle, with a mechanism to review funding arrangements if demand is predicted to outstrip our current budget."
What has been happening in opposition to the plan?
The Clean Air Zone has attracted a considerable public backlash, with more than 50,000 people joining Facebook group Rethink GM as members and a Change.org petition against the scheme generating significant backing.
Eight Conservative MPs in Greater Manchester recently wrote to the secretary of state urging him to pause the scheme due to the way the Covid-19 pandemic had changed the landscape for the city-region's businesses.
Those affected have also been making their feelings known. Jade Hutchinson, who is starting her own livestock and trading business, attracted a lot of attention after taking one of her sheep on a bus to highlight how using public transport is simply not a viable option for her work.
And taxi drivers in Bolton staged a town centre protest against the Clean Air Zone.
How have businesses responded?
The Federation of Small Businesses (FSB) said that while it was positive news that the concerns of companies were being listened to the measures announced were insufficient and the entire Clean Air Zone needs to be put on hold for a comprehensive rethink.
It accused the authorities of "cherry-picking" which sectors would be helped and said the problems facing businesses in phase two were also being encountered by those who will start being charged if they do not comply in a few months' time.
The FSB's development manager for Greater Manchester Robert Downes said: "We are pleased to see business sentiment is at last being listened to be decision makers within the GMCA, but what they have proposed amounts to precious little and doesn't go nearly far enough.
"In one breath the GMCA acknowledges there are global supply chain issues preventing business updating their vehicles, and inadequate state funding for businesses to mitigate the costs. But in the next, they commit to ploughing ahead with charging for HGVs, buses and coaches starting, as was always planned, on 30 May.
"If they understand there are supply chain issues with vehicles – and that's all vehicles – and that the funding currently on offer they agreed to in July is inadequate, then this has to be reflected in a general pause of the wider scheme for all affected businesses.
"You can't cherry pick when the stakes are so high for so many businesses. It's totally unfair and underlines what a muddle the CAZ is at heart.
"Affected businesses – and there are many thousands – want to see the whole scheme looked at again from the ground up, starting with new, up-to-date pollution data that's reflective of where we are now in GM, not data from years ago, and pre-pandemic. FSB 100% agrees with that as a starting point from where this should go next.
"We urge both government ministers and the GMCA to shrug off the politics, start talking seriously about realistic alternatives to the CAZ, and ultimately do what's right for Greater Manchester and the businesses based here."