Greater Manchester Mayor Andy Burnham welcomed the introduction of the new bus fare price cap scheme today, but warned that the move is not permanent and the only way to ensure its continuation is if people ditch their cars and "get on board."
As of 4 September, single adult tickets have been capped at £2 and £1 for children, while day tickets are now capped at £5 – which is what Mr Burnham used to ride into Shudehill Interchange on to talk to the press on Monday morning (5 September).
The mayor stressed that this is just the first step in the city's plan to create a London-style public transport system, dubbed the Bee Network.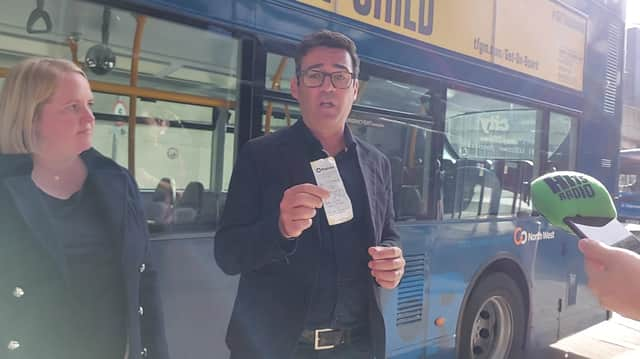 The new price scheme will be in place for a year, at which point it will be reviewed to see if it should be made permanent.
Mr Burnham also spoke out on Monday morning about the potential of Avanti West Coast getting to continue running its intercity train operations after weeks of intense criticism about timetable cuts.
What was said at the launch of the new fares?
Mr Burnham said: "We're saying to people today is: Take advantage of it.
"The more that you do, the more you will be helping us build the Bee Network and contributing to the way in which public transport can be built in our city region."
This sentiment was stressed by Manchester's Transport Commissioner Vernon Everitt, who said: "The more people that come and use our network, the more we can reinvest that money to better services and into keeping the fares lower on a more permanent basis."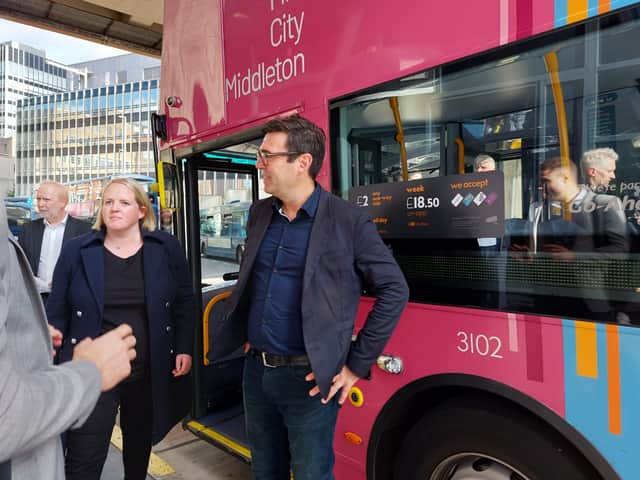 Coun Amanda Chadderton, Oldham Council leader and cost-of-living response lead for Greater Manchester, said that this change will "make a significant difference to household incomes."
"This is a hugely exciting day, both for the wider ambitions for an integrated transport system over the coming 12 and 18 months, but also for our residents who are overly reliant on the bus," she added.
What was said about some people losing out from the new pricing structure?
These changes will not affect bus users who travel on weekly tickets, which Mr Burnham said currently makes up 30% of bus journeys in Manchester, and some people may even see an increase in fare prices.
Addressing those concerns, Mr Burnham said: "We don't control the full system at this point in time, so there is a limit to what we can do.
"We know there's more to do. We're looking at weeklies and other ways in which we can bring the same principles to the whole system.
"So it's not the end of the journey, by any means."
What is happening with the Government and funding for public transport?
The government announced on Friday 2 September that it would be providing £60million over a three-month period to cap single adult bus fares across the country at £2.
Mr Everitt confirmed that Greater Manchester would not see any of this money in addition to the funding the government has already put into the scheme under the Bus Service Improvement Plan.
Looking toward the future, Mr Burnham said that improvements will also be made to bus frequency and reliability, which includes improving bus lanes and corridors, as well as the Metrolink tram system, which is now at 65% of its pre-pandemic ridership, according to the Transport Commissioner.
Mr Everitt said: "It's not without challenge, no one's pretending that this is straight forward, but you've got to act and today's move is acting on one of the most essential elements which is the fares."
Manchester will move ahead with bus franchising next September, starting in Wigan and Bolton. It will then be introduced in the rest of Greater Manchester by 2024.
What did Mr Burnham say about Avanti West Coast?
Mr Burnham also took the opportunity to express concerns over Avanti West Coast's planned renewal of their west coast mainline contract.
The mayor said that this was "not good enough" and that he would be writing to the new Prime Minister, urging the government to reconsider.
He said: "We can't accept the confusion and the chaos that passengers have had to put up with.
"We absolutely cannot accept the situation where there's no prospect of a return to the full timetable."
Avanti West Coast has acknowledged that its service has not been good enough and apologised to passengers for the recent disruption. It said it needed to draw up "a robust plan" which means it is not reliant on drivers voluntarily working overtime to keep the full timetable running.