A bereaved dad pushed himself through the pain barrier to complete an extraordinary 180-mile non-stop walk from London to Manchester to raise thousands of pounds for a stillbirth research centre.
He set off on Saturday morning (16 July) and completed the herculean effort 55 hours later in Manchester at around 5pm on Monday (18 July).
What made Ben's efforts all the more impressive was that he was pushing himself to the limits of his physical endurance during the UK's record-breaking heatwave - though fortunately not on Tuesday (19 July) when the country's hottest-ever temperature of over 40C was provisionally recorded.
Ben's amazing efforts to support Tommy's came about after the Manchester centre helped him and his partner Gaynor Thompson bring their son Apollon into the world, after previous attempts to begin a family had ended in tragedy with the stillbirth of their daughter Kallipateira.
How did Ben tackle the marathon walk from London to Manchester?
Ben, a resident of Halifax in West Yorkshire, set off on Saturday morning from London and arrived in Manchester some 55 hours later on Monday afternoon.
The 39-year-old did not sleep for more than 50 hours, and he was supported en route by his dedicated support team made up of his partner Gaynor and drivers Adam Todd and Matthew Townsend.
Ben also had to complete much of the walk in sweltering temperatures of more than 30C as the UK experienced a severe heatwave during the challenge.
Professor Alexander Heazell, the director of the Tommy's centre in Manchester, joined Ben to walk the final 21 miles to the city where a warm welcome from supporters at the hospital and stillbirth centre was waiting to greet him.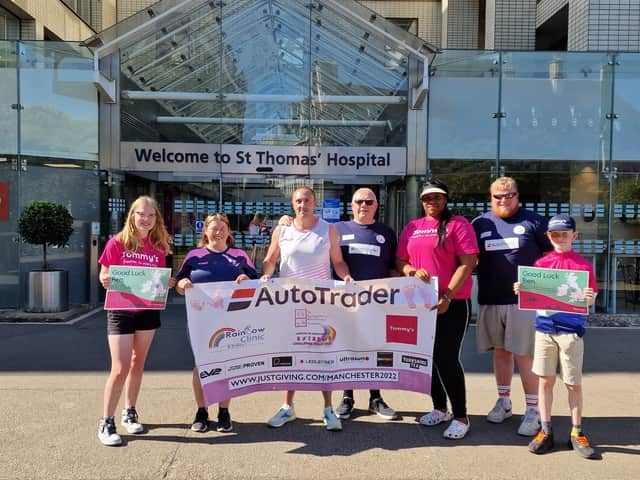 Ben said before the challenge that he was used to walking in hot temperatures after a previous fund-raiser trekking around the Greek island of Rhodes, but admitted afterwards that the distance and climbing mercury had been extremely tough.
He said: "People have done this walk before over a week or more with hotel stops along the way. I knew this was going to be a huge test to do this in one go but when the record-breaking heatwave was announced I knew this was now going beyond extreme.
"I have walked in hot and humid weather previously before in Rhodes on my full island extreme challenge walk last summer where I was the first person to do this. I laughed at the predicted reports but during the extreme challenge the heat was incredible.
"Many of the roads were melting from underneath my feet – the tread from my trainers melted with the surface temperature.
"While the country was told to stay safe from the weather nothing would stop me in doing my daughter proud and raising the vital funds for research to help save babies' lives.
"With no sleep for over 50 hours and with the heat this was the biggest mental challenge I have faced yet."
Why does Ben take on these challenges and how much money has he raised for Tommy's?
Ben pushes himself to his limits to support Tommy's as the Manchester centre played a huge role in the safe arrival of his and Gaynor's son Apollon.
In October 2018 Ben and Gaynor's daughter Kallipateira was stillborn at 38 weeks of pregnancy in Calderdale and the couple then experienced a miscarriage in May 2019 at nine weeks of pregnancy.
Following these devastating experiences they knew they would need expert help to ensure the story of them starting a family had a happier ending. They turned to Professor Heazall and the team at Tommy's in Manchester and with the help and support of the organisation Apollon arrived in the world on May 23, 2020. Ben and Gaynor had kept the pregnancy a secret from family and friends.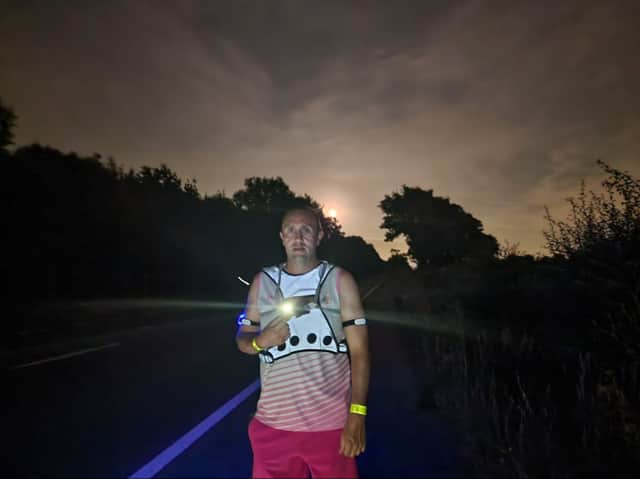 Ben and Gaynor now have their own charity to help save babies lives through research and support other parents who have experienced the death of a baby, called the Kallipateira Moorhouse Foundation. Professor Heazall and the team at Tommy's are the main beneficiaries of its fund-raising efforts.
Ben hoped his London to Manchester walk would bring in around £10,000, but so far the fund-raising total stands at just over £4,200. However, you can donate to the cause by visiting the JustGiving page here.
What did Tommy's say about Ben's fund-raising?
Tommy's has expressed its gratitude to Ben for the ways he goes the extra mile on their behalf and admiration for the feats he takes on and completes.
Prof Heazall said: "The team at the Tommy's Stillbirth Research Centre are so grateful to Ben and Gaynor for their donations to support our work to reduce the number of babies dying and to improve care for parents.
"We are in awe of what Ben puts himself through to raise money, in memory of Kallipateira, so that other babies are born healthy and well."