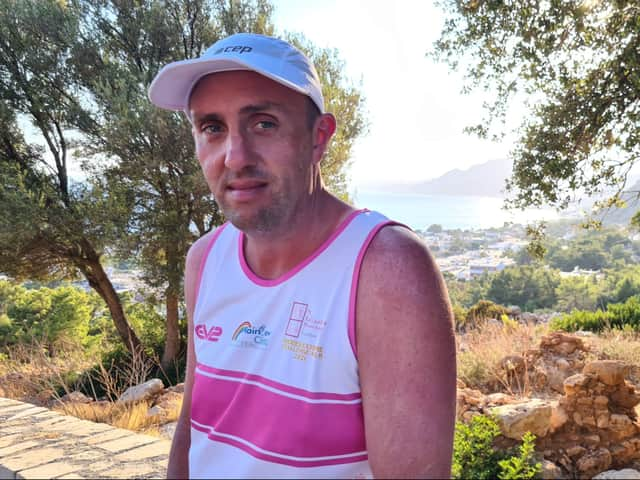 Ben Moorhouse
A bereaved dad is taking on his biggest physical challenge yet as he pushes himself to go the extra mile to support a Manchester research clinic.
Ben and his partner Gaynor Thompson lost their daughter Kallipateira when she was stillborn at 38 weeks of pregnancy in October 2018 and then suffered a miscarriage the following year.
They sought out the help of the team at Tommy's in Manchester and credit the research facility with the safe arrival into the world of their son Apollon in May 2020.
Since then he has taken on an extraordinary walk around a Greek island and is now preparing for an even more arduous physical challenge to support the centre - made all the tougher by the fact he is expecting to be doing some of it in a heatwave.
What is the London to Manchester walk that Ben Moorhouse is doing?
Ben is taking on his most extreme fund-raising challenge to date and sets off from London on Saturday (16 July) at 10am to walk, non-stop, the 180 miles to Manchester.
His journey will take him from Tommy's Research Centre in London at St Thomas's Hospital to the Manchester clinic and centre where he and Gaynor received such vital help when expecting Apollon.
Ben will go without sleep throughout this arduous challenge and is hoping to complete the entire route in an astonishing 60 hours.
If everything goes according to plan he is hoping to arrive in Manchester some time in the afternoon on Monday (18 July).
He has set himself a fund-raising target of £10,000 and all proceeds from the gruelling walk will go towards supporting the team led by research centre director Professor Alexander Heazell and their work researching life-saving assistance for children.
He has set up a JustGiving page and donations can be made here.
Ben and Gaynor's story
Ben and Gaynor experienced a double tragedy when their daughter Kallipateira was stillborn at 38 weeks in October 2018 and then suffered a miscarriage at nine weeks in May 2019.
The couple then knew they would need expert help if they wanted the best chance of having a better outcome and the safe arrival of a child and turned to Tommy's and Prof Heazell.
Ben Moorhouse and his partner Gaynor Thompson with their son Apollon
Their baby son Apollon was born in Manchester in May 2020 during lockdown after a pregnancy that had been kept secret from family and friends.
Ben and Gaynor say that Apollon survived his arrival into the world thanks to the specialist care and support of the team at Tommy's.
A Greek odyssey to raise funds
Ben's London to Manchester walk is his second effort at pushing his body to the limits of its endurance to raise money to help save the lives of more babies and prevent stillbirths.
In 2021 Ben, who is from Halifax, walked around the coastline of the Greek island of Rhodes with Gaynor and Jason Croft acting as his support team.
He walked 150 miles without a break in the blazing Mediterranean sun and enduring high temperatures and humidity as the trek took place in mid-August.
It took him 42 hours and had to battle double vision for the final 30 miles before making it to the finishing line and raising £7,000.
However, that draining experience could well come in handy for his latest fund-raiser as the Met Office has warned that during his London to Manchester walk the temperature could get as high as 35 degrees Celsius as the UK experiences a heatwave.
What has Ben said about his fund-raising challenges?
Ben spoke movingly about his loss and how his heartbreak over what happened to Kallipateira drives him to take on such extraordinary challenges to help prevent other couples and families having to go through similar ordeals.
The 39-year-old said: "Dads are sadly forgotten about by most of society when it comes to the death of a baby. Not a day goes by where I don't cry for my daughter.
"Everyone grieves differently and I channel my grief and pain by taking on my extreme challenge walks. If I didn't do what I do for my daughter and to help others in the process it would have been so easy to go down a different path.
Ben Moorhouse spoke out his running challenges for Tommy's research centre and clinic
"Every step I make is through the love of my daughter Kallipateira. Many stillbirths in the UK are preventable and by supporting research we can help save babies' lives.
"People have done this walk before over a week or more with hotel stops along the way, but I will do this in one go with no sleep along with my support team who it will also be a challenge for.
"I'm as ready as I can be. It has been a long seven months and I'm ready to crack on with it now. I could be walking in 35 degree heat for the first part of it from London but I've got experience of this from what I've done in Rhodes.
"For me personally, doing what I do, the more challenges and the more I need to put myself through to get to where I want to go with raising awareness the better. It's going to be quite a journey but I shall do my best.
"We have all seen in recent months the upsetting news on baby deaths which many could have been prevented and more recently the sad news of well-known celebrities experiencing the death of a baby.
"I would like to ask the public to support me in my quest to raise as much as possible to help save babies' lives nationally."
What else has been said about Ben's challenge?
Prof Heazell said: "The team at the Tommy's Stillbirth Research Centre are so grateful to Ben and Gaynor for their donations to support our work to reduce the number of babies dying and to improve care for parents.
"We are in awe of what Ben puts himself through to raise money, in memory of Kallipateira, so that other babies are born healthy and well.
"We'll be looking forward to supporting Ben in July and to welcoming him when he arrives at the research centre."
A spokesperson for the firm said: "Auto Trader are really proud to be working with Ben and his team at the Kallipateira Moorhouse Foundation.
"At Auto Trader, our Family Network are committed to supporting colleagues who experience fertility problems, miscarriage and baby loss and so the work that the Kallipateira Moorhouse Foundation do to raise awareness of stillbirth really resonates and truly aligns with our wider family and wellbeing strategy.
"We are absolutely thrilled to be supporting Ben on his next challenge and are looking forward to playing our part in helping him to smash that target."