Manchester is basking in some of the hottest weather the UK has ever faced, with temperatures today creeping towards 38C.
The Met Office upgraded the initial amber alert for extreme heat in Manchester to red, the first time one has ever been issued in the UK and also the most severe an area can receive.
The weather has been so hot, that Network Rail has issued a 'do not travel' warning for various parts of the country.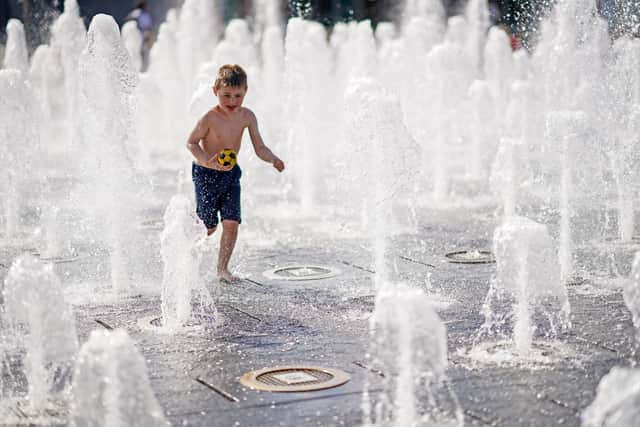 What can we expect from a red warning for extreme heat?
A red weather warning, According to the Met Office means 'An exceptional hot spell on Monday and Tuesday leading to widespread impacts on people and infrastructure. '
Here's what you can expect:
Population-wide adverse health effects experienced, not limited to those most vulnerable to extreme heat, leading to serious illness or danger to life. Government advice is that 999 services should be used in emergencies only; seek advice from 111 if you need non-emergency health advice.
Substantial changes in working practices and daily routines will be required
High risk of failure of heat-sensitive systems and equipment, potentially leading to localised loss of power and other essential services, such as water or mobile phone services
Significantly more people visiting coastal areas, lakes and rivers, leading to an increased risk of water safety incidents
Delays on roads and road closures, along with delays and cancellations to rail and air travel, with significant welfare issues for those who experience even moderate delays
What is a heatwave?
The UK heatwave threshold is described on the Met Office website as: "when a location records a period of at least three consecutive days with daily maximum temperatures meeting or exceeding the heatwave temperature threshold."
What is the hottest ever recorded temperature in Manchester?
You will not have to go back too far to find the hottest temperature ever recorded in Manchester, as the record has been broken today.
In fact, it has been broken on consecutive days, as Monday (18 July) a record of 34,3C, was recorded in Rochdale, and today, Greater Manchester can expect a high of 38C, comfortably breaking the record for the highest recorded temperature in the history of the city.
The previous Greater Manchester temperature record of 33.9C was also set in Rochdale back on July 25, 2019.
Elsewhere, even more records across the country have been set in regard to weather. London today experienced a record of 40.2C, which was recorded at Heathrow, the UK's busiest airport.
It is the first time the UK has seen the temperature reach 40C or above.
Will it get even hotter?
With the fact that the weather warning is to run out, it is not expected to get more warm than it currently is, which will be music to the ears of most people.
Tomorrow, Manchester should see a significant decrease in the temperature with the highest temperature tomorrow set to be around 18C lower than the highest today.
Residents in the Greater Manchester area can also look forward to those temperatures for the remainder of the week, before a slight increase in temperature on the weekend.