Manchester charities have been speaking out about how the city's rough sleepers and homeless people have been coping with the heatwave and soaring temperatures.
Heat warnings are in place for the city-region as temperatures are expected to reach almost 40 degrees Celsius on Tuesday (19 July).
That has created "terrible" conditions for those without a roof over their heads, with charities rolling out urgent operations to ensure people on the streets remained cool and hydrated as much as possible.
One charity in the city says that with high temperatures expected to happen more frequently in the future due to climate change councils need to start thinking about provision to get people off the streets in heatwaves in the same way they do in winter when there are cold snaps.
The council says that it is working with the city's homelessness partnership to provide a joined-up approach and trying to get people into day centres out of the fierce sun.
How have rough sleepers coped with the heatwave?
The heatwave which hit Greater Manchester on Monday (18 July) and Tuesday (19 July) meant charities working with homeless people moved quickly to get the things rough sleepers need to cope with the heatwave out to them.
Nevertheless, they said conditions were extremely difficult for those without permanent accommodation.
Risha Lancaster, co-founder and general manager of Coffee4Craig, said: "They've not coped with this at all well. They've got no shelter, they've got nowhere to go.
"We gave out 48 bottles of water in one night, we treated two people who attended with severe sunburn, we had a 750ml bottle of aftersun and that went in 30 minutes. We've got medics on standby here every night.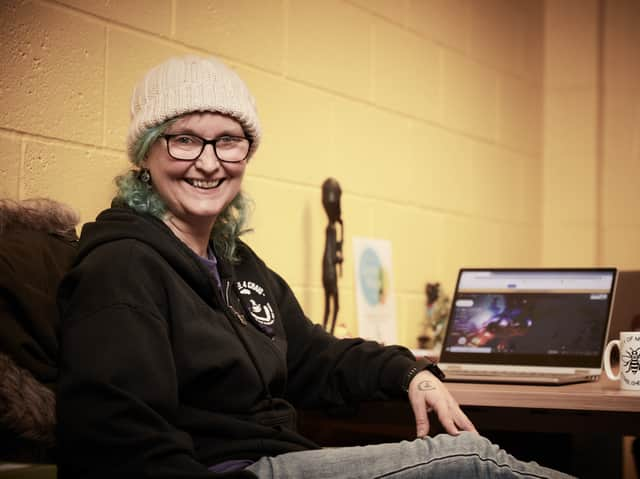 "We've got ice ready, we're able to put water in ice buckets, we've been putting appeals out for bottles of water, and we need more aftersun. We had to double the amount of water available for them to take away or drink while they're here with us and we've got suncream for them.
"There are no public fountains in Manchester so they are reliant on other people giving them water or a shop letting them refill a bottle.
"Public toilets are also few and far between so they can't even shelter in them. They are lucky if they can find shade. It's really difficult,there are a lot of difficulties they face."
Dave Evans who runs Two Brews said: "It's terrible at the moment. We've been out trying to encourage them not to drink alcohol, which is difficult, and trying to keep them hydrated.
"We're also trying to encourage them to get out of the sun and in the shade."
Mustard Tree, which is based in Ancoats, said access to water is the biggest problem rough sleepers are facing. It said the council had offered it money to buy extra bottled water to put out in its reception and it had also received donations of sun cream and baseball caps to help provide respite from the sun.
The charity's street engagement hub said that people were having to think about finding shady places to keep cool and that they had seen tents underneath the Mancunian Way bridge.
Charities spoke about the difficult balancing act of having volunteers or employees heading out to help in the hottest parts of the day while also keeping them safe and hydrated.
Should emergency hot weather shelter become part of the response to rough sleeping?
Both Risha and Dave said that these kinds of high temperatures are every bit as dangerous to rough sleepers as freezing spells in winter.
However, currently there are far more comprehensive plans in place to deal with the temperatures plunging than soaring, something Dave in particular said he would like to see change.
He said: "In winter you get a cold weather provision to take them inside when it drops below freezing, but there's nothing if you get these temperatures.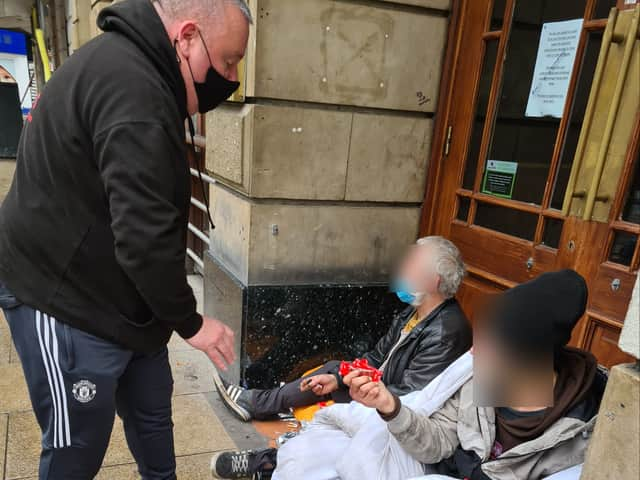 "It would be good to start thinking about this now. They open up hotels and hostels in winter and that can be done for five months, from October through to March. They should be doing that in summer as well if we are getting extreme heat like this. I can't see why this can't be done."
Risha said: "People should be given shelter anyway, there shouldn't be anyone on the streets in this day and age, but it's particularly the case when there are red weather warnings.
"There at least needs to be some provision so people can get shade, but unfortunately it's not always that cool in buildings because they aren't built for this.
"We are very concerned about people being out in this and getting sunstroke or heat exhaustion."
What has the council said?
A spokesperson for Manchester City Council said:"In line with government guidance during the red weather warning, we are encouraging people to stay indoors, especially during peak hours.
"We will support those rough sleeping on the streets during the heatwave and ask them to come into day centres, where they can seek respite from the sun and they will have access to water, hats and suncream to keep them safe during the day and access to further support.
"We are ensuring this is a co-ordinated approach across the Manchester Homelessness Partnership."
Anyone concerned about someone rough sleeping in Manchester has been asked to report it on the Streetlink website.