Campaigners marched through the city centre to demand the Government takes urgent action on the climate crisis at an event which also put justice for the people who will be worst affected centre stage.
More than 1,000 people took part in the Manchester protest on Saturday (6 November).
Environmental organisations, trade unions, groups working with asylum seekers and refugees and organisations and individuals concerned about the state of the planet came together to demand ministers and world leaders "stop failing" on green issues.
Protests were held in cities across the UK and throughout the world on a Global Day of Action to coincide with the middle of the COP26 climate summit taking place in Glasgow,
What happened at the Manchester protest?
Marchers gathered in St Peter's Square before a demonstration followed a route through the city centre along Deansgate and Cross Street.
Placards and banners demanded action and an end to failure on climate changes.
The speeches back in St Peter's Square then highlighted everything from issues such as the disproportionate effect climate change will have on people in the Global South to Manchester problems like battles to protect local green spaces.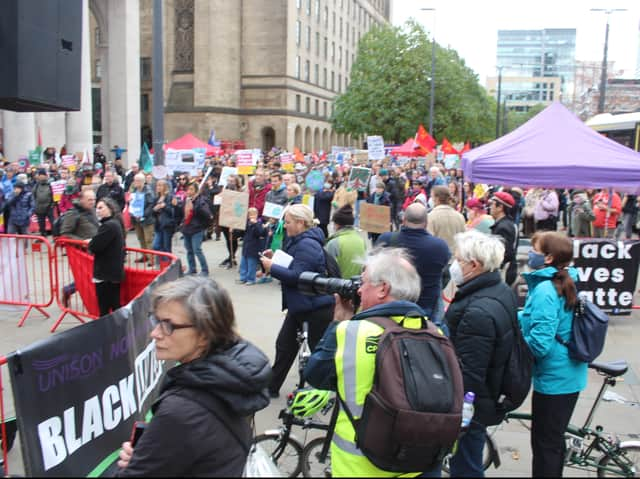 Speakers included Nahella Ashraf from Stand Up To Racism, Ameen Hadii from North West Unions Black Members and Tandrima from Manchester City of Sanctuary.
Manchester Gorton MP Afzal Khan also sent a message which was read out as he had to isolate due to Covid-19.
In the week leading up to the march posters calling on world leaders to 'Stop Failing Us' on climate change also appeared in Manchester city centre.
They featured images, stories and messages from 14 Indigenous peoples and climate activists across the world to showcase the voices of those who are most affected by, but have done the least to cause, the climate crisis.
They included Charles Baldaia, a climate justice activist and international economics analyst from Parque São João Favelas in Brazil, and environmental and race activist Mya-Rose Craig.
What was said at the event and afterwards?
Martin Porter, a volunteer with Greenpeace Manchester, said: "The UN Climate Conference in Glasgow is a test for the world as we have only a narrow window of time to stop the worst climate chaos.
"On 6 November, campaigners, trade unionists, people of faith and everyone who wanted to leave a better world for their children attended rallies in Manchester, Glasgow, London and around the country to tell the world's politicians that they must act now, they must act decisively, and they must act with justice as the cost of failure will be paid by those who can least afford it, and who have contributed least to the crisis.
"One of the main messages was that refugees are welcome here. It was about those who have been and will be most affected by climate change.
"It was a good day and it was interesting to compare it with 2015, when the big march happened at the end of the summit.
"What has happened at COP26 so far is disappointing, because a lot of the announcements on things like ending deforestation and the commitment to cut out coal have massive loopholes and caveats, but there is still the potential to get there."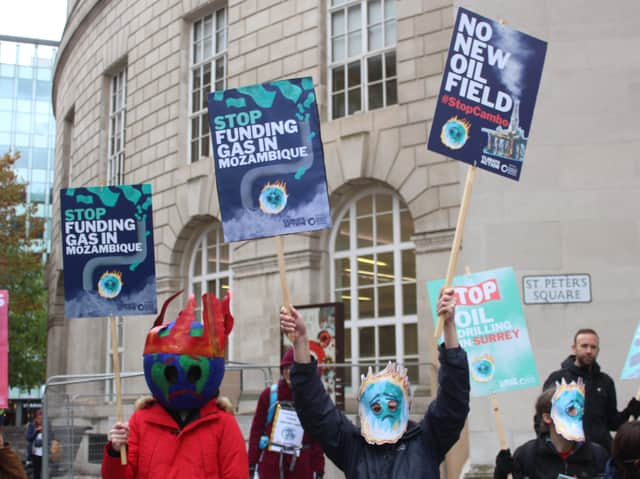 Meg Long, who attended a march for the first time and comes from South Manchester, said: "This was my first time at a climate demonstration, but the climate crisis is too important to ignore and I wanted to stand with what I believe is right and important.
"Standing with other people from Manchester who also want climate justice felt really powerful and I hope that the demonstrations across the country send a really clear message to world leaders - no more empty pledges, it's time to stop failing us on climate change."
Mr Khan's message to the event included the words: "I applaud everyone for coming together on this Global Day of Action for Climate Change…it is now clear that we are in a state of crisis…there is no time for delay and no more room for excuses…I hope [world leaders] will hear you collective call for action today."
Mr Porter highlighted the support of trade unions in Manchester for environmental causes and said Saturday's protest would not have been as big or successful as it was without their backing.
What else happened on the Global Day of Action?
Saturday marked the mid-way point of the COP26 global climate talks in Glasgow and provided a focal point for public demonstrations demanding action on the climate crisis.
It also directly followed protests by young activists from around the world on Friday.
Marches happened in more than 20 cities across the UK.
There was a massive demonstration in Glasgow, with around 100,000 protestors involved, while some 20,000 people took to the streets of London to demand climate action.