A Manchester-born green activist has spoken about taking part in protests at the COP26 climate summit.
Michelle Woodall, who is originally from Middleton, took part in an event based on the Netflix hit show Squid Game which involved campaigners dressed as world leaders and oil company bosses playing dice with the future and engaging in a tug-of-war.
Michelle will be returning to the Scottish city on Saturday (6 November) to take part in the massive public demonstration which will call for action on climate change.
She talked about what it is like to be part of the events at a global climate summit and to be around so many other people caring passionately about the environment.
Which demonstrations has Michelle taken part in?
Michelle, who now lives in Edinburgh, took part in a protest based on the Korean smash hit TV programme Squid Game, in which people in desperate financial situations play a series of lethal games for a huge cash prize.
Wearing costumes from the pop culture phenomenon and masks of world leaders, the campaigners staged their own version in view of the summit where many of the globe's most powerful politicians were meeting.
The protestors played tug of war and climate hopscotch and also rolled dice bearing messages about the importance of keeping to 1.5C of warming and ensuring the planet remains liveable for future generations.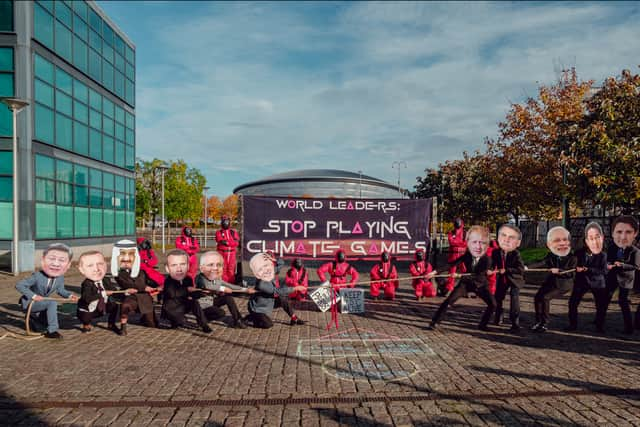 Michelle said: "I was one of the guards so I had the mask on and a circle on my head.
"It was about showing that world leaders are playing dice with our future.
"The guards were spurring on and holding in place the world leaders and oil companies while they were playing their games.
"It felt important to get the message out that we really want a strong framework. The outcome of this summit could mean life or death for struggling countries like small island nations.
"We wanted to show how world leaders are playing with our lives."
Michelle's COP26-related activism began long before proceedings kicked off in Glasgow as she spent a fortnight walking to the city with other activists as part of a two-week pilgrimage across Scotland.
She will be returning to Glasgow on Saturday for the biggest public demonstration taking place during the summit on what is a Global Day of Action.
She said: "It's really important to have our voices heard as people who care about the planet.
"There are protests taking place across the country so I would say go there and show your support if you can. Things like beeping your car horn or waving to protestors to show support are very moving."
Why did Michelle decide to protest at COP26?
This is the first COP Michelle has attended in person but she has gradually become more and more interested in the environment and concerned about it.
She said a turning point for her was when Extinction Rebellion (XR) first started staging its protests to get people to take the issue more seriously and commit to radical change.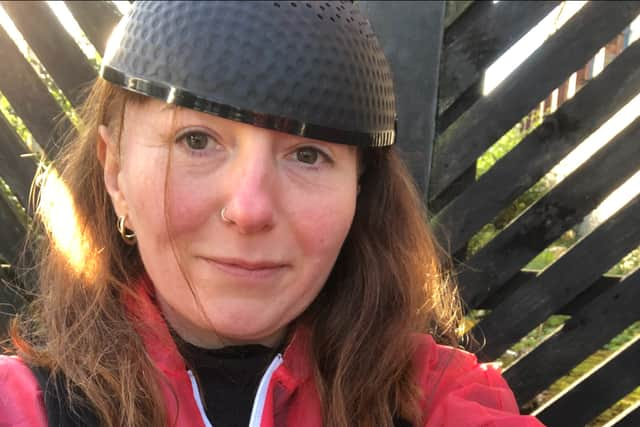 She has also been involved with causes including the campaign against the HS2 high-speed rail line.
Michelle said: "I think I had a growing fear for people not yet born and people who live in countries already affected, including the most marginalised and vulnerable in the world.
"I had a growing awareness of how terrible climate change will be if left unchecked."
What is it like taking part in the COP26 protests?
Michelle spoke of being inspired by many of the other protestors and campaigners she has met being involved in actions surrounding the global climate talks.
She said: "It is really hopeful and inspiring. People are stepping up to ask leaders to pay their fair share for the loss and damage already happening in the Global South.
"It's great to meet so many other people who care and who are drawn to action.
"At all the actions there seem to be people caring for one another, trying to do things a little differently and being driven less by capitalism and a bit more by human kindness.
"One day we were walking on the pilgrimage and I was feeling pretty tired when we bumped into someone who was walking from the Netherlands. They had been walking for 102 days."