Cladding: 'Gove's measures are welcome - but still leave outstanding issues' say Manchester Cladiators
Michael Gove addressed the House of Commons today (Monday) about the nightmare situation thousands of residents in the city-region face.
Watch more of our videos on Shots!
and live on Freeview channel 276
Visit Shots! now
A Manchester campaign group has given a mixed response to the package of measures to deal with the cladding scandal the Government has outlined.
The Manchester Cladiators said that while some of the moves announced by Secretary of State for levelling up, housing and communities Michael Gove on Monday 10 January were welcome there remain a number of outstanding issues and areas which were not touched on.
At a national level the Local Government Association (LGA), which represents councils, is also urging the Government to do more to ensure construction companies fix problems.
What did Mr Gove announce?
The Government announced that people living in buildings between 11 and 18 metres (36-59ft approx) in height will no longer have to take out loans to get dangerous cladding removed from the outside of blocks.
Instead Mr Gove promised to pursue developers for the cost of this work.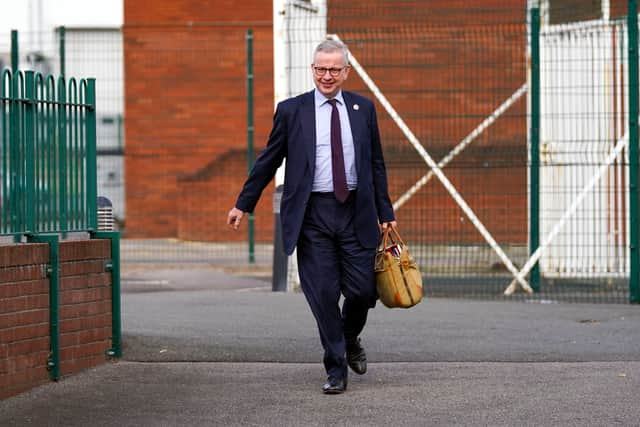 Mr Gove announced that developers which do not voluntarily offer money for remediation could be hit with legal compulsions to pay up.
He said the Building Safety Bill would be changed to give leaseholders more rights to challenge those responsible for defects in their buildings going back as long as three decades and pledged £27m for fire alarms so "waking watches" would no longer be necessary.
He said innocent leaseholders should not be shouldering the burden of getting buildings remediated and said there would be protection for anyone facing forefeiture
How have the Manchester Cladiators responded?
The campaign group says the removal of the previous system of people in medium-rise buildings having to take out loans to get cladding taken off the blocks was welcome.
The basis of the Cladiators' lobbying efforts is that leaseholders should not be out of pocket at all for problems which it says are the result of decades of poor oversight by Government allowing low standards in the construction industry.
However, it says that there are a number of severe problems facing residents which Mr Gove's announcement will not cover.
Some high and medium-rise buildings do not have any issues with cladding but instead have other major safety flaws.
The group also pointed out that ministers have promised to tackle these scandals before and yet the problems remain and suggested that the Government should reflect on the part politicians have played in allowing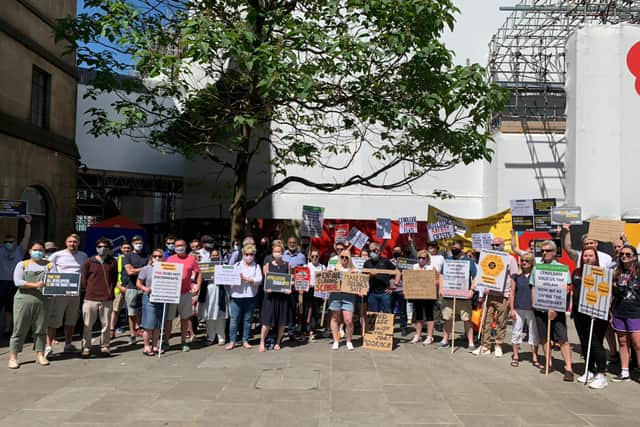 Giles Grover from the Manchester Cladiators and End Our Cladding Scandal said: "We welcome the news that Michael Gove is scrapping Robert Jenrick's unfair loan scheme and replacing it with £4billion to remove dangerous cladding in buildings between 11m and 18m.
"The Housing Secretary clearly recognises the desperate unfairness of forcing victims of the building safety scandal to pay for the collective state and industry failure that has blighted hundreds of thousands of lives since the tragic events at Grenfell.
"This government may be starting to talk tough, but these promises – finally – need to be backed by tough action, too .
" There may be more funding for cladding only, but the burden of paying for repairs for other serious safety defects – lack of compartmentation, missing fire breaks, shoddy building work – has still not been lifted from leaseholder shoulders, whatever their building's height.
"Nor too have the daily costs hitting leaseholders hard – payments for soaring insurance premiums or sky-high waking watch bills – disappeared overnight.
"Many campaigners have endured a torrid time over the past few years, fighting freeholders and housing associations, begging for even basic details of their buildings, watching their savings bled dry and seeing their mental health worsening. None of that time or money can ever be got back.
"There are other issues still to be addressed. We need solutions for leaseholders in buildings under 11m and clarity on what today's announcement means for the thousands in buildings under 18m who have already paid or are being asked to pay for cladding remediation.
"Mr Gove says he is willing to go after the developers and manufacturing firms who have caused such widespread human misery. But there must be a recognition too of the part that successive governments have played in this wider scandal.
"Homeowners may have been failed by the construction sector and by cladding manufacturers – but they have also been failed by the ministers and officials meant to regulate those industries. The next phase of the Grenfell Inquiry is likely to expose just how far those failings went.
"Today Mr Gove promised that amendments to the Building Safety Bill, due to come before the chambers shortly, will include statutory protections for leaseholders. As always, we will be looking to the Housing Secretary to ensure his encouraging words are matched with decisive action on the ground."
What has the national reaction been?
Ahead of Mr Gove's announcement the Local Government Association (LGA), which represents 350 councils across England and Wales, also said that there were some welcome moves in the new measures but more could be done.
LGA housing spokesperson Coun David Renard said: "No leaseholder should have to pay the costs of making their homes safe and the Secretary of State's threat to use the legal system to ensure developers meet their responsibilities to leaseholders is a positive step in the right direction.
"However, leaseholders are not the only innocent victims of the construction industry's failure to build safe homes.
"The construction industry must also be made to fix the fire safety defects it has built into blocks owned by councils and housing associations.
"Unless the Government forces the industry to act – or provides funding – we are concerned that the costs of fixing social housing blocks will fall on council housing revenue accounts and housing associations.
"This will reduce the funding available to meet the Government's ambitions for improvements to social housing, net zero and the provision of new social housing, leaving tenants and those on the waiting list to suffer the consequences of decades of industry failure and poor regulation.
"Like leaseholders, council tenants and those on the waiting list are innocent victims and the Government needs to help them too."