Cladding: why Manchester residents feel 'trapped' in flats they can't fix or sell
Campaigners are adamant leaseholders should not be left out of pocket having to pay for safety improvements.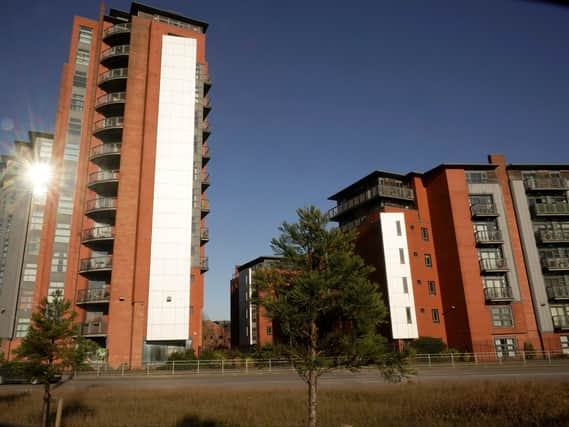 The Manchester Cladiators group has been running since early 2019 representing thousands of residents in high or medium-rise buildings with safety issues across the city.
This includes problems with dangerous cladding on the outside of buildings, which has been in the headlines since the tragedy at Grenfell Tower in London in June 2017.
It also includes problems with a lack of safety features inside many Manchester buildings.
The group claims residents are paying the price for decades of lax regulation and insufficient oversight of building and development work.
And it is fighting tooth and nail to ensure that it is not those living in tower blocks that end up with a huge bill for putting things right.
Shortly after the devastating Grenfell blaze that claimed 72 lives in London, around 350 residents in Manchester's Green Quarter discovered their homes were covered in potentially unsafe Aluminium Composite Material (ACM) cladding.
Their freeholder then successfully argued the residents themselves were liable for the £7m or so of work that was required to make the apartments safe - around £20,000 per home.
Months of campaigning then followed before previous developer Lendlease agreed to take on the cost of the remediation.
Residents in other buildings began asking for help and it became clear that other people were not going to be offered the same deal as the Green Quarter leaseholders.
The campaign End Our Cladding Scandal was formed to ask the Government to fund the costs of making buildings safe.
At the same time as the campaign launched, residents in the city were brought together under the banner of the Manchester Cladiators.
What safety issues can affect buildings?
The cladding scandal began when the problems with ACM, which was the main reason for the way the Grenfell fire accelerated so lethally, became clear.
However, there are other issues with flats too, such as problems with fire doors, inadequate smoke ventilation, external walls not having cavity barriers and a lack of the interior compartments which should be there to stop flames spreading.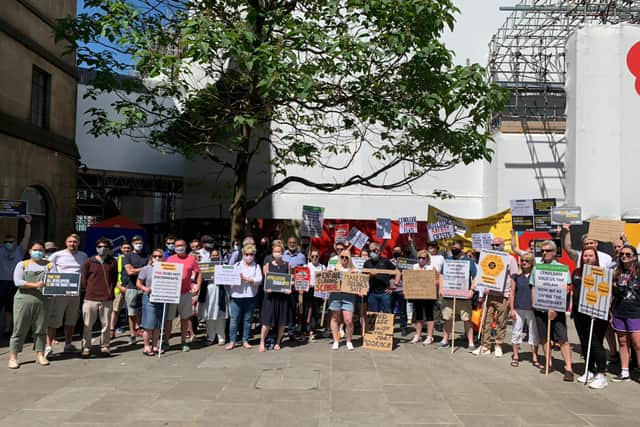 It has also been recognised that ACM is not the only dangerous cladding and there are fire issues with other types as well.
The issues affect both high-rise buildings, which are more than 18 metres tall, and medium-rise ones between 11 and 18 metres in height.
How many people in Manchester are affected?
The Manchester Cladiators say one of the problems with the building safety scandal is that there are gaps in the data which makes it difficult to know exactly how many people are involved.
It is known that there are about 12,000 buildings across the country which are over 18 metres tall, and a further 88,000 between 11 and 18 metres.
It is thought there are about 190 buildings over 18 metres in Greater Manchester but there are also a lot of medium-rise structures.
Manchester Cladiators co-leader Giles Grover said: "You can see when you walk around town the number of five or six-storey buildings that are just under 18 metres in height."
The Cladiators' Facebook group has more than 2,000 members.
What do the campaigners say about the problem?
The group's main argument is that a review of building regulations carried out by Dame Judith Hackitt revealed that for a long time regulations governing the planning and building of high-rise flats was completely insufficient, leading to the safety issues residents now face.
That, they say, means it is a combination of the government which were supposed to be in charge of oversight and regulation and the construction companies which did the building which should be clearing up problems.
Mr Grover said: "We just believe leaseholders shouldn't have to pay anything to fix issues caused by collective state and industry failure.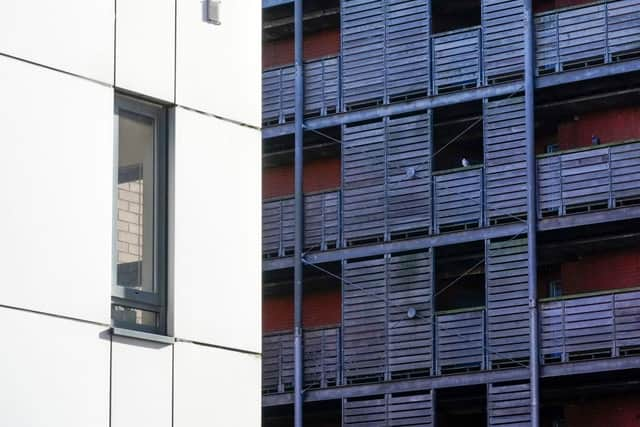 "Our main focus is to ensure there is funding and actual, proper help for people.
"The review basically found that regulations were not fit for purpose for decades. That enabled a race to the bottom, with corners being cut in the name of profit over safety.
"British standards are not as strict as European standards and there was no oversight.
"The whole building regulations, planning and construction processes were a mess."
Is the Government doing anything about it?
The Government has been rolling out a programme of remediation work for buildings taller than 18 metres for around four years now.
Some £5.1 billion in public funding has been ploughed into supporting the replacement of unsafe cladding on high-rise blocks requiring works.
The Fire Safety Act requires external walls to be considered as part of a building system in routine fire risk assessments.
And the Building Safety Bill, published in July, is introducing measures including a Building Safety Regulator for high-rise blocks, a construction products regulator to prevent unsafe materials being used, and new processes to put safety at the heart of planning and design.
The Government has also said it believes the risks in medium-rise buildings are much lower and said residents are having to shell out for work it thinks is excessive.
What do the campaigners say?
The Manchester Cladiators say there are still numerous problems with the Government's actions.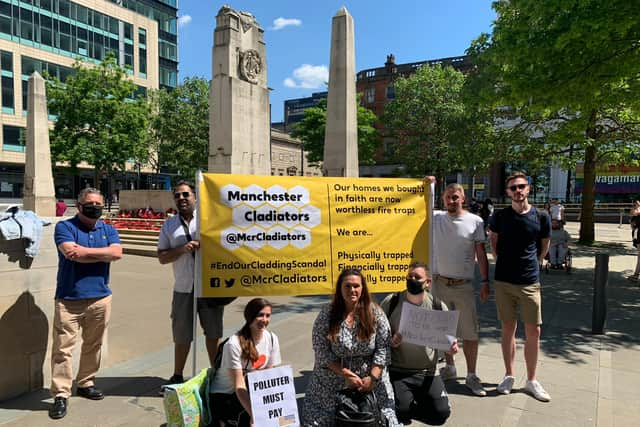 There are concerns that insufficient cash has been set aside and the group claims ministers have not been consistent in their words on the subject.
There are also problems with residents in buildings over 18 metres tall getting more help than those in 11-to-18 metre buildings, who are in line to receive a loan.
Mr Grover said: "The Government has told us not to worry and that they will restore confidence, but the uncertainty is only perpetuated.
"They say we will be protected but they've now decided to leave everything as it is.
"The funding isn't enough and is not being managed in a co-ordinated manner. It's who shouts loudest or first.
"Buildings with a tiny bit of cladding at the top will get funding and smaller buildings with more issues that are more risky won't get help."
It has been estimated that around £15 billion will be needed to fully cover remediation.
What has the effect on residents been?
The Cladiators say those living in flats have faced a mental ordeal over fire safety as well as being left seriously out of pocket.
Mr Grover lives in City Gate in Castlefield, an apartment complex which has the ACM cladding.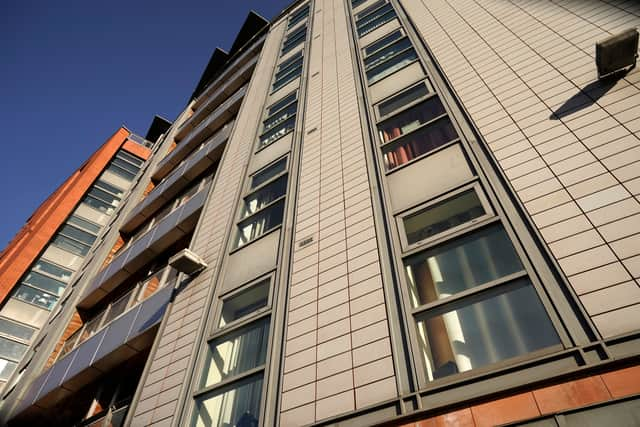 He says residents will be left with a bill of around £20,000 each unless further Government help is forthcoming.
Residents have also had to pay for things like "waking watches", which are carried out while waiting for fire alarm systems to be installed, he added.
The fear of fires breaking out in buildings with safety issues has also caused a lot of stress, particularly in the last 18 months or so when people were staying at home due to the Covid-19 pandemic.
In addition, the issue has made it pretty much impossible for residents to sell flats if they want to move out, they say.
Mr Grover said: "We've already paid thousands of pounds . Building insurance has gone up, mine has increased to around £1200 compared to £400. We've had to pay for some remediation too.
"People are still trapped, whether you look at it physically, mentally, emotionally or financially.
"During the pandemic people were in their flats for 23 hours a day. A lot of people were telling us they felt safer outside their flats than inside.
"When people first discover this they wonder how this can be happening and that they are alone, but we are all in this horror show together."
The group has been running yoga and wellness sessions to help residents cope with the anxiety of the situation.
It has also been doing activities like quizzes during the pandemic to keep a sense of community together.
Who else is supporting the residents?
The Cladiators group has gained support from political figures including Greater Manchester Mayor Andy Burnham, the Mayor of Salford Paul Dennett and Manchester Central MP Lucy Powell.
It is also being supported by Greater Manchester Fire and Rescue Service (GMFRS).
What does the Government say?
A spokesperson for the Ministry of Housing, Communities and Local Government (MHCLG) said: "We are spending £5bn to fully fund the replacement of all unsafe cladding systems in the highest-risk buildings and are making the biggest improvements to building safety in a generation.
"It is clear that excessive industry caution is leaving many leaseholders in lower-risk buildings unable to sell, or facing bills for work which is often not necessary.
"This must stop - that's why following advice from independent experts we've set out that EWS1 forms should not be requested for buildings below 18m and we urge the market to follow this approach, and welcome the support of major high-street lenders."
What does the industry say?
A spokesperson for Bellway Homes, which built the City Gate complex, said: "As a responsible developer, building safe, quality homes that people want to call home remains our biggest priority.
"All Bellway developments achieved the required regulatory approvals at the time of construction and were sold to customers with the benefit of an NHBC Buildmark warranty.
"In most cases, we are no longer the current freehold owner or the Responsible Person under the Regulatory Reform (Fire Safety) Order 2005, but as a responsible developer, we continue to invest considerable resources to fire safety issues that have arisen as a result of the Grenfell tragedy.
"In relation to City Gate, which received the required regulatory approvals at the time of completion, Bellway is not the building owner or Responsible Person for the development.
"The responsibility for fire safety for this building lies with the freeholders or managing agency for the building."
The site's management company, Rendall and Rittner, has also been approached for comment.