Cladding scandal: Manchester campaigners hit out at 'recycled' promises in Budget 2021
Campaigners and businesses alike say Chancellor Rishi Sunak has not done nearly enough to tackle the building safety crisis.
Watch more of our videos on Shots!
and live on Freeview channel 276
Visit Shots! now
Manchester campaigners and businesses affected by cladding safety issues have blasted Chancellor Rishi Sunak's measures announced in the Budget.
Residents involved in the high and medium-rise building safety crisis and businesses have each claimed efforts by the Government to tackle the problem are inadequate.
Ministers were accused of recycling old promises of funding and announcing sums that will not be anywhere near enough to cover the cost of making buildings safer.
What is the cladding and building safety crisis?
This includes the replacement of unsafe cladding, including the type that was on Grenfell Tower in London, and fitting internal safety features which should be there but were missed out.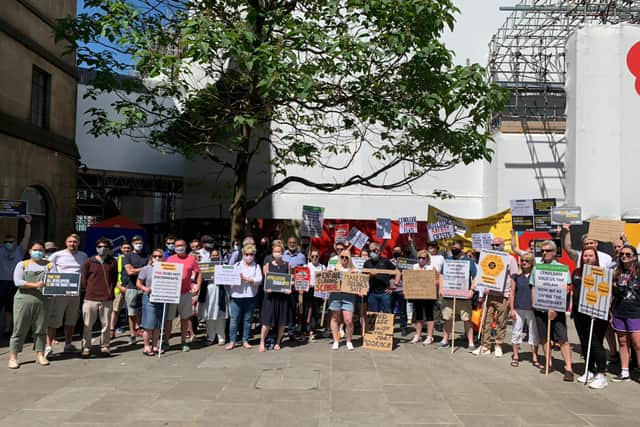 The Cladiators are adamant that poor government oversight of the construction industry over many years led to slipping standards in building, and it is therefore not leaseholders who should be picking up the bill for this work.
They have also spoken of the severe mental toll the scandal has taken on residents, especially as many of them feel trapped in flats which are essentially impossible to sell.
What has the Government announced in the Budget?
However, this is not the first time this has been announced and it has already been criticised as not being enough.
A 4% levy on developers with profits over £25m will also be introduced.
What has the reaction been?
Campaign groups blasted the Government both for recycling old promises of money and for not doing enough to tackle the crisis.
Giles Grover, from Manchester Cladiators and End Our Cladding Scandal, said: "Boris Johnson's Government seems to be operating in a time warp.
"Today's Budget marks the fourth time that ministers have recycled their announcement of a £5bn commitment to help fix defective buildings affected by the cladding scandal.
"The Chancellor has now also confirmed what we always knew - that the new developer tax, which is expected to raise £2bn, will repay current funding, rather than be additional help for innocent leaseholders.
"This £2bn developer tax spread over 10 years may sound like a lot until you realise that the estimates to fix this crisis could be between £15bn and £50bn - and that ultimately it will be homeowners who will be left to pick up the can.
"This levy is a slap on the wrist for developers - and they know it.
"This Government knows full well that its faulty regulations, along with developers' shoddy building practices and manufacturers' malfeasance are the causes of this crisis.
"Yet it appears totally content for hard-working, tax-paying leaseholders to shoulder most of the burden.
"We have already witnessed the start of bankruptcy filings and repossessions, not to mention warnings from the Bank of England and the mental health crisis brought about by the stress of financial ruin and living in flammable flats.
"It's time for this Government to end a scandal that is ruining so many lives."
Voices from within industry were also unimpressed with the Budget.
Ian Magenis, a partner at Scanlans which is a managing agent for apartment blocks, said: "It's a shame that, four years on from the Grenfell Tower tragedy, plans are still being talked about for making buildings safe when the need is immediate and urgent.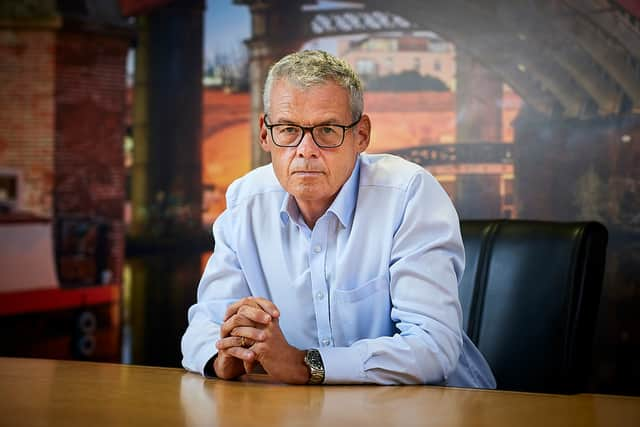 "The government is still not addressing buildings under 18 metres in height nor other vital issues such as internal compartmentation, internal fire doors, timber balconies or walkways, which are causing great concern.
"External cladding is only one aspect which requires action."
What did the Government say on Budget Day?
Explaining that large construction companies will be charged an extra levy to raise a £5bn fund to remove unsafe cladding from high-rise buildings, Chancellor Sunak said: "We're confirming £5bn to remove unsafe cladding from the highest-risk buildings partly funded by the Residential Property Developer Tax, which I can confirm will be levied on developers with profits over £25 million at a rate of 4%."