A charity's foodbanks handed out almost 60,000 emergency food parcels in Greater Manchester in a six-month period this year - and the organisation says the cost of living crisis is driving more people to seek its help.
Data from the Trussell Trust shows demand for parcels between April and September this year was up compared to 2021 in every one of the nine boroughs in the city-region where it operates. Shockingly tens of thousands of parcels are being handed out to children in Greater Manchester, and in some parts of the city-region demand has reached record highs.
The Trussell Trust says the Government needs to act decisively to combat what it calls " a tsunami of need" being created by spiralling energy bills and food prices. Meanwhile, well-known high street name Deliveroo has announced a trial scheme to get more goods to foodbanks from generous members of the public, which is running in several cities including Manchester.
What does the data show for Greater Manchester?
The data shows that across the Trussell Trust's network in Greater Manchester 59,078 emergency food parcels were handed out between April and September 2022. In the same period of last year the network distributed 43,585 parcels.
Across the city-region total number of parcels handed out was higher in 2022 than in 2021 in every one of the nine boroughs where the Trussell Trust has foodbanks. And three boroughs - Rochdale, Salford and Stockport - saw more food parcels handed out by the charity this year than in the equivalent six-month period of any year going back to 2017.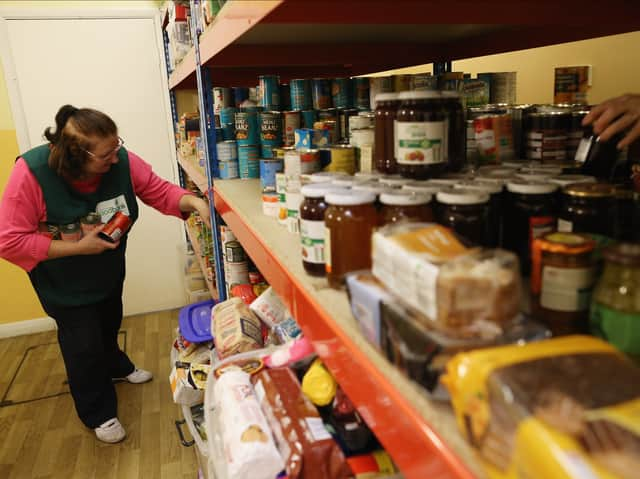 Of the local authorities in Greater Manchester the highest numbers of parcels given out were in Manchester, where the charity provided 12,999 emergency grocery packs in six months, 7,795 of them to adults and 5,204 to children. The charity also handed out more than 10,000 food parcels in Stockport, with 5,562 being given to adults and 4,800 to children.
Across the Trussell Trust's UK network as a whole 1.3m emergency food parcels were provided between April and September this year. That is a third more than were provided during the same period in 2021 and an increase of more than 50% compared to pre-pandemic levels. The charity says need is now outstripping demand for the first time in its history and it has had to launch an emergency appeal to ensure everyone requiring food gets it.
What has the charity said?
The Trussell Trust, which supports more than 1,300 foodbank centres, says the cost of living crisis has created "a tsunami of need" and the Government needs to act fast to help people struggling to make ends meet and put food on the table.
Emma Revie, chief executive at the Trussell Trust, said: "These new statistics show that, even in summer months, people are struggling to afford the essentials and we are expecting that this winter will be the hardest yet for food banks and the people they support. This is not right.
"We know that with the right support and a stable and sufficient income, people don't need to turn to food banks for support. Over the last few years, the government has acted to protect people who are struggling, and this action has had made a difference. They must now act again: with swift support now to help people through the winter, and with vision for the longer-term to ensure that social security is always enough to weather challenging times.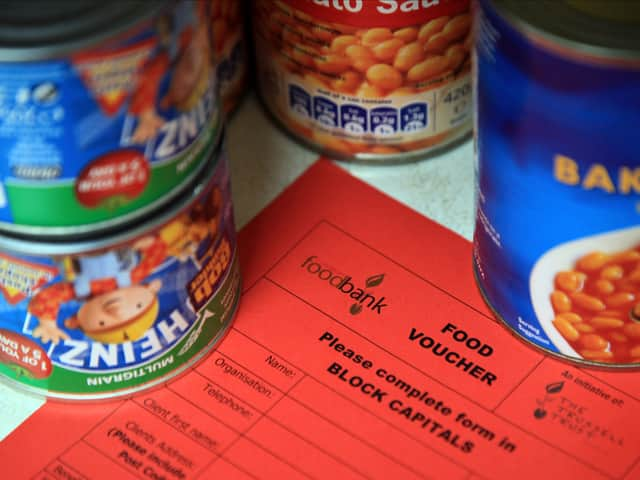 "We are calling for the Prime Minister to act decisively in next week's budget. We urge the UK government to realise their commitment of supporting people on the lowest income with a broad package of support. As well as ensuring that benefits rise with inflation as soon as possible, this must go further to close the gap between price rises and incomes over the winter."
The Trussell Trust has also said that in the past six months there has been a 40% increase in first-time visitors to foodbanks compared to 2021 and that research shows one in five people being referred to a food bank is in work but still cannot afford the essentials.
What has the Government said?
A Government spokesperson said: "We are directly supporting households in need following the aftershocks from the pandemic and Putin's illegal war in Ukraine, including sending another cost of living payment this month worth £324 to over eight million people, part of a £1,200 package for those on the lowest incomes.
"Our extensive immediate support for families also includes our Energy Price Guarantee, saving around £700 for a typical household over winter and our Household Support Fund, worth over £1 billion to help people with essential costs, combined with longer-term changes such as altering Universal Credit to help people keep £1,000 more of what they earn every year."
How is Deliveroo trying to help?
Deliveroo has joined forces with the Trussell Trust to help its search for enough food to give out by organising a mobile collection service it has called Collecteroo.
The pilot scheme is launching in five cities and Manchester is one of them. The collections are on 12 December and are taking place at four postcodes in M15, one in M5 and three in M50. You can find out which postcodes are included on the Collecteroo website here.
Anyone wanting to take part in the scheme has until 28 November to sign up. Collecteroo e-vans will then come round to pick up unopened, in-date items including tinned fruit, tinned meat or fish, UHT, tinned tomatoes, pasta sauces, sponge or rice puddings and long-life juices and take them to a nearby Trussell Trust foodbank.
Will Shu, CEO and founder of Deliveroo, said: "Our research highlights that people have food in their cupboards that they would like to donate, so working closely with the Trussell Trust, our Collecteroo service will help make it easier for people to donate by connecting local residents to local food banks. Together with our consumers, we are committed to helping to tackle hunger across the UK."
Danni Malone, director of network programmes and innovation at the Trussell Trust, said: "We are delighted to be working with Deliveroo on their collection campaign this winter. The Collecteroo initiative will make a real difference to our food banks in these cities by making it easier to donate and helping to ensure that they have the stock they need to keep going this winter."